News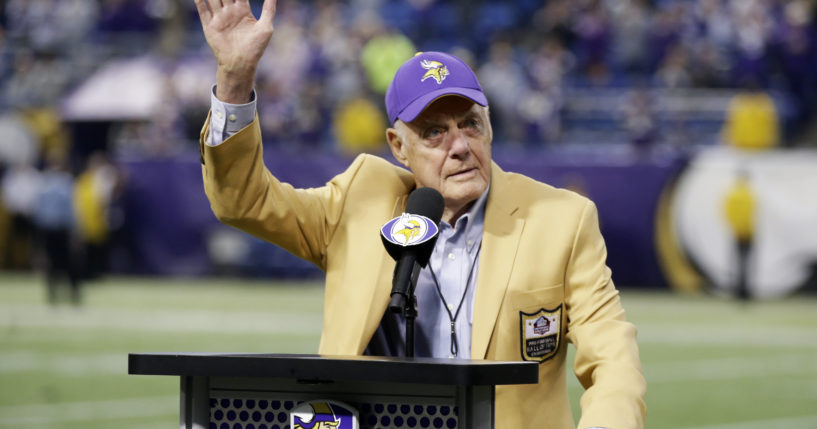 Legendary NFL Coach with Place in Hall of Fame Dead at 95
Bud Grant, the stoic and demanding Hall of Fame coach who took the Minnesota Vikings and their mighty Purple People Eaters defense to four Super Bowls in eight years and lost all of them, died Saturday. He was 95.
The Vikings announced Grant's death on social media.
"We are absolutely devastated to announce legendary Minnesota Vikings head coach and Hall of Famer Bud Grant has passed away this morning at age 95," the post said. "We, like all Vikings and NFL fans, are shocked and saddened by this terrible news."
Advertisement - story continues below
We are absolutely devastated to announce legendary Minnesota Vikings head coach and Hall of Famer Bud Grant has passed away this morning at age 95.

We, like all Vikings and NFL fans, are shocked and saddened by this terrible news. pic.twitter.com/z2NNlNAY44

— Minnesota Vikings (@Vikings) March 11, 2023
Wearing his trademark purple Vikings cap and a stone-faced demeanor, Grant's steely sideline gaze became synonymous with his teams. He was a mainstay among coaches of his era, a decorated group that included Don Shula, Tom Landry, Chuck Noll, John Madden and Hank Stram. Grant, however, had little interest in accolades.
"The only reason I can see for a head coach getting credit for something good is that he gets so much blame when something is bad," Grant once said. "The whole secret, I think, is to not react to either the good or the bad."
Advertisement - story continues below
He guided the Vikings from 1967-85, with a one-year hiatus in 1984, on his way to a 158-96-5 record with 11 division championships in 18 seasons. He went 10-12 in the playoffs. When he retired, Grant was eighth on the NFL's all-time victory list.
After replacing another Hall of Famer, Norm Van Brocklin, Grant assembled the revered defensive line dubbed the Purple People Eaters. The line — whose motto was "Meet at the quarterback" — was joined by a powerful offense that helped Minnesota reach the Super Bowl in 1970, the final edition of the big game before the AFL-NFL merger.
The heavily favored Vikings fell 23-7 to Kansas City, setting a tone for the infamous run of title game losses to Miami, Pittsburgh and Oakland from the perceived lesser conference following the 1973, 1974 and 1976 seasons.
"If you're going to succeed, survive is maybe a better word," Grant said during his Pro Football Hall of Fame induction speech in 1994 in Canton, Ohio. "You've got to handle losing. You die every time you lose, but you've got to get over it."
An avid outdoorsman who spent many an offseason on fishing trips in Alaska or hunting expeditions in Arizona, Grant also was a successful coach in the Canadian Football League who became the first person elected to the Hall of Fame in both the CFL and NFL. He won four league championships during his 10 years in Canada.
Advertisement - story continues below
Harry Peter Grant Jr. was born on May 20, 1927, in Superior, Wisconsin, and given the nickname Bud by his mother. He overcame a bout with polio as a child and became a three-sport high school star. He learned early about the coaching business after enlisting in 1945, and played on a team at the Great Lakes naval station outside Chicago run by Paul Brown, who would go on to a Hall of Fame career as an NFL coach, executive and owner.
From there, Grant played football, basketball and baseball at the University of Minnesota, a nine-time letterman who was drafted by both the NBA and NFL. He pursued basketball first, playing two seasons for the Minneapolis Lakers and winning a title with them in 1950.
But it was football where Grant truly excelled, first for the Philadelphia Eagles. He was second in the NFL with 56 receptions and 997 yards in 1952, before a contract dispute steered him to Winnipeg in the CFL. After starring as a two-way player for the Blue Bombers, once snagging five interceptions in a playoff game, he became their coach and took them to six Grey Cup games — winning the title in 1958, 1959, 1961 and 1962. Grant won 102 games as a CFL coach.
That sparked interest from the Vikings, who lured him back across the border in 1967. With such stars as Fran Tarkenton, Carl Eller, Alan Page, Paul Krause and Ron Yary — all Pro Football Hall of Famers — Grant led the Vikings to 10 Central Division crowns in 11 seasons.
Advertisement - story continues below
Disciplined to the core and insisting on sharp mental focus, Grant went so far as to have his players practice standing at attention during the national anthem. He infamously took the Vikings outdoors in the frigid winter for workouts and banned sideline heaters during games at Metropolitan Stadium.
On Jan. 10, 2016, when the Vikings staged the coldest game in franchise history in the first round of the playoffs against Seattle, at the university's outdoor stadium while their building was being built, Grant served as an honorary captain. He strolled out for the pregame coin flip in a Vikings cap and a purple short-sleeved polo shirt, looking ready for a round of golf in defiance of temperatures of minus 6 degrees Fahrenheit– minus 25 with the wind chill.
Grant retired after the 1983 season, replaced by Les Steckel, whose fiery approach was the opposite of his calm predecessor and went 3-13. Grant returned for one season, a 7-9 finish, before longtime offensive coordinator Jerry Burns was promoted to the top job.
Though Grant was done with coaching then, his influence on his team and city remained. Grant continued living in the same suburban home he bought upon his 1967 arrival, in Bloomington less than 10 miles from Metropolitan Stadium. He became an ambassador of sorts for the Vikings in the community, sometimes lending his voice in the lobbying effort to replace the Metrodome, where the team played from 1982-2013.
Advertisement - story continues below
He went on hunting and fishing trips with friends and family as often as possible. On one particularly harrowing visit to hunt in Canada in 2015, Grant's pilot safely belly-flopped a twin-engine plane after the landing gear and dashboard instruments failed.
Grant showed more of his softer side, too. At the university's return to on-campus football, at TCF Bank Stadium in 2009, the Gophers named him and eight other former players an honorary captain. His face shook and his eyes welled as fans cheered his name in the pregame ceremony.
There were also Grant's famous garage sales, where he gave autographs to those who bought at least $25 worth of his items, including memorabilia from his playing and coaching days and even used outdoor equipment. For the 2017 three-day event, there were custom-made bobblehead dolls in his likeness available for purchase. Grant would sit in a chair outside his home and sign for a nonstop line of admirers, some coming from overseas to look through the old coach's stuff.
The Vikings maintained a spacious office for him at their suburban headquarters, continuing to list him as a consultant on all team directories. Whenever a new coach or executive was hired, Grant was usually one of the first people the Vikings made sure to introduce.
Advertisement - story continues below
When he turned 95 on May 20, 2022, the team organized a Zoom call for him and several of his former players. Jim Marshall led the group in the virtual "Happy Birthday" singalong.
He is survived by his partner, Pat Smith, six children, 19 grandchildren and, as of 2021, 13 great-grandchildren. His wife of 59 years, Pat, died in 2009. One son, Mike Grant, built a powerhouse football program at Eden Prairie High School, a 15-minute drive from his father's house, winning 11 state championships in a 22-year span from 1996-2017.
The Western Journal has reviewed this Associated Press story and may have altered it prior to publication to ensure that it meets our editorial standards.
Conversation