News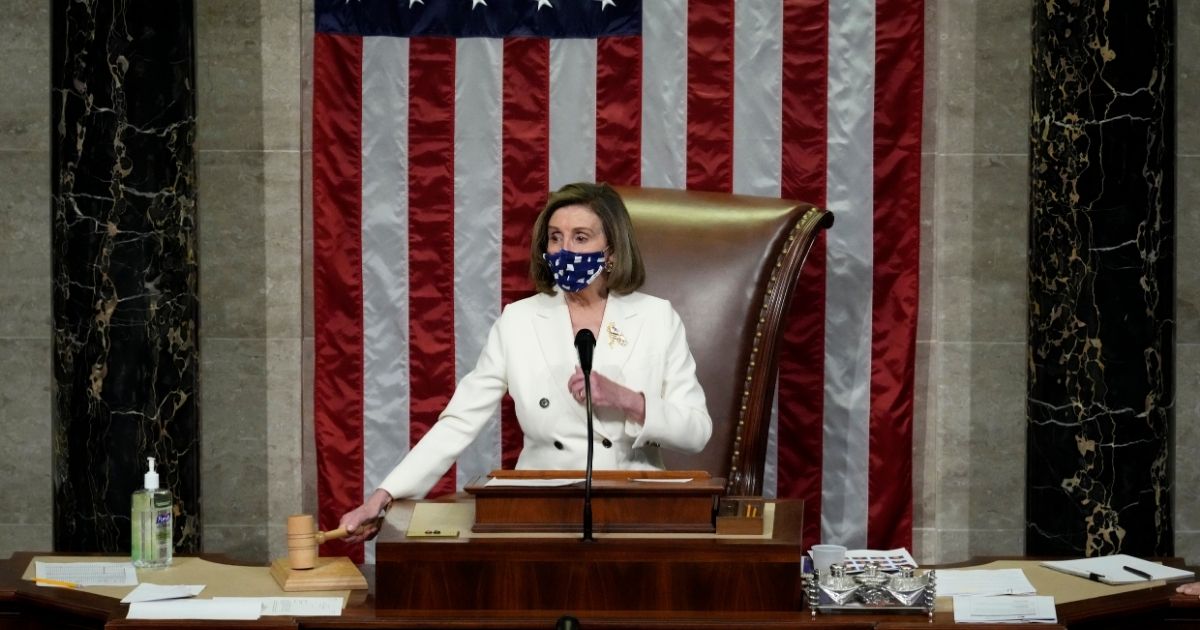 Democrats' $1.9 Trillion COVID Bill Gets Final Stamp of Approval in Divided House
A Congress riven along party lines approved President Joe Biden's $1.9 trillion coronavirus relief bill on Wednesday.
The House gave final congressional approval to the package by a 220-211 vote four days after the Senate passed the bill.
Republicans in both chambers opposed the bill unanimously, characterizing it as crammed with liberal policies and heedless of signs the economic crisis is easing as states emerge from lockdowns.
Advertisement - story continues below
"Help is here — and brighter days lie ahead," Biden tweeted moments after the vote ended.
Help is here — and brighter days lie ahead. pic.twitter.com/HSp8rPBxty

— President Biden (@POTUS) March 10, 2021
The bill provides up to $1,400 direct payments to most adults and extends $300 per week emergency unemployment benefits into early September.
Advertisement - story continues below
Also included are expanded tax credits over the next year for children, child care and family leave, plus spending for renters, feeding programs and utility bills.
Despite Democrats' slim congressional majorities, there was never real suspense over the bill's fate.
Do you support this bill?
Rep. Jared Golden of Maine was the only Democrat to oppose the measure. He said in a written statement that the bill provided hundreds of billions of dollars "in excess of meeting the most urgent needs," endangering the economic recovery.
Republicans noted that they've overwhelmingly supported five previous relief bills but said this one solely reflects the Democratic agenda.
"If you're a member of the swamp, you do pretty well under this bill. But for the American people, it means serious problems immediately on the horizon," House Minority Leader Kevin McCarthy said, referring to the added federal borrowing the measure will force.
Advertisement - story continues below
The measure has hundreds of billions for COVID-19 vaccines and treatments, schools, state and local governments and industries from airlines to concert halls.
There is aid for minority farmers, pension systems and student borrowers, and subsidies for consumers buying health insurance and states expanding Medicaid coverage.
The measure was approved amid promising signs of economic recovery.
Americans are getting vaccinated at increasingly robust rates, and the economy created an unexpectedly strong 379,000 jobs last month.
Advertisement - story continues below
Republicans said the country will pay a price for the exorbitant spending.
"It's certainly good politics to say, 'Hey, we're going to hand you a check for $1,400," Rep. Tom Rice of South Carolina said. "But what they don't talk about is what this bill costs."
An Associated Press-NORC Center for Public Affairs Research poll found last week that the relief bill is backed by 61 percent of Americans, including nearly all Democrats, 58 percent of independents and 26 percent of Republicans.
Progressive Democrats had to swallow big concessions to solidify moderate support for the bill.
Advertisement - story continues below
The most notable was dropping the House-approved federal minimum wage increase to $15 hourly by 2025.
Moderates also succeeded in trimming the emergency jobless benefits, which in an earlier version were $400 weekly, and phasing out the $1,400 stimulus checks for earners at lower levels than originally proposed.
The Western Journal has reviewed this Associated Press story and may have altered it prior to publication to ensure that it meets our editorial standards.
Conversation