News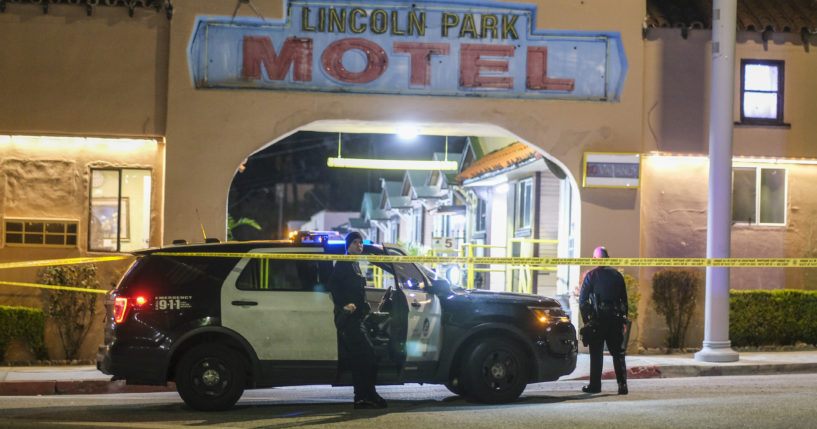 Police Identify Gunman Who Put Three Senior Officers in Hospital
The suspect who allegedly shot and wounded three Los Angeles police officers during a standoff was identified by the department on Thursday as a 32-year-old wanted parolee who was found dead hours after the confrontation.
The officers, all senior officers and members of a Los Angeles Police Department K-9 dog-handling unit, remained hospitalized in stable condition after Wednesday night's shooting in the Lincoln Heights neighborhood near downtown.
The gunman was identified as Jonathan Magana. The coroner's office will determine whether he died by suicide or was shot by police during the confrontation.
Advertisement - story continues below
The board of directors for the Los Angeles Police Protective League, the union that represents the LAPD's rank-and-file, said in a statement Thursday that the three officers are "on the path to a full physical recovery."
"Although we believe they will recover physically, each of these officers will live with the memory of almost losing their lives at the hands of a wanted fugitive in a hail of gunfire," the board wrote.
"What occurred last night to these Metropolitan Division K9 officers happens all too often to law enforcement officers and is a stark reminder of the inherent danger every officer faces when they put on their uniform each day."
Other details about the shooting were not immediately available.
Advertisement - story continues below
LAPD officers were looking for a parolee at large, later identified as Magana, at about 4 p.m. Wednesday.
But when they found him, he was barricaded in a shed and refused to obey commands to surrender, the department said.
Should politicians who want to defund the police be voted out of office?
K-9 officers were called in to help, and the officers used what police described as a gas "chemical agent" in another effort to force Magana to surrender.
"Unfortunately, that suspect responded to that chemical agent by opening the shed and opening fire on the officers," hitting three of them, Los Angeles Police Cmdr. Stacy Spell said during a news conference Wednesday.
SWAT robots were sent in to keep an eye on the suspect, and one fired gas into the shed.
Advertisement - story continues below
The situation ended shortly before 9 p.m.  Police later said the suspect was found and pronounced dead at the scene.
The lengthy time of the standoff shows the officers were "taking their time to try to de-escalate this and more importantly, resolve this peacefully," Los Angeles Police Assistant Chief Al Labrada said.
"And unfortunately, behavior of this individual did not result in that. A very deadly situation."
The Western Journal has reviewed this Associated Press story and may have altered it prior to publication to ensure that it meets our editorial standards.
Conversation