News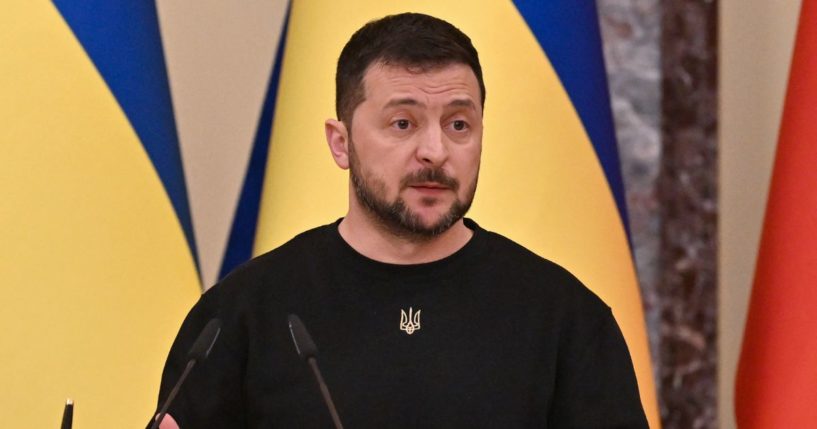 Zelenskyy's Request to Speak on Popular Show Rejected
This weekend's Eurovision Song Contest will have Ukrainian flags, Ukrainian musicians and Ukrainian fans — but not the country's wartime leader.
Organizers say they rejected a request from President Volodymyr Zelenskyy to make a video address to the final of the pan-continental music competition on Saturday. He was expected to urge the world to continue its support for Ukraine's war with Russian.
The European Broadcasting Union, a grouping of national public broadcasters that runs Eurovision, said that letting Zelenskyy participate would breach "the nonpolitical nature of the event."
Advertisement - story continues below
Zelenskyy's request "to address the audience at the Eurovision Song Contest, whilst made with laudable intentions, regrettably cannot be granted by the European Broadcasting Union management as it would be against the rules of the event," the organization said.
Zelenskyy spokesman Sergii Nykyforov denied that the president had asked to speak to the event, which will be watched by an estimated 160 million people.
"The Office of the President of Ukraine did not address the organizers of the Eurovision Song Contest to offer (Zelenskyy's) online performance during the finals or at any other stage of the contest," he said on Facebook.
In the 15 months since Russia invaded, Zelenskyy has addressed dozens of global gatherings to promote his country's cause. He has spoken to legislatures around the world by video — and a few times in person — and appealed to crowds at the Glastonbury music festival, the Grammy Awards and the Berlin Film Festival.
Advertisement - story continues below
But he reportedly was denied permission to speak at the Academy Awards in March, and Ukraine says that FIFA, international soccer's governing body, also refused Zelenskyy's request to send a video message to the World Cup in November 2022.
Prime Minister Rishi Sunak's spokesman said the U.K. government was "disappointed by the decision from the European Broadcasting Union," though there are no plans to challenge it.
Has the US sent too much to Ukraine?
"The values and freedoms that President Zelenskyy and the people of Ukraine are fighting for are not political, they're fundamental," Sunak spokesman Max Blain said.
Founded in 1956 to help heal a continent shattered by war, Eurovision strives to keep pop and politics separate. Overtly political lyrics, signs and symbols are banned.
But politics can't be shut out entirely. Russia was banned from the contest after it invaded Ukraine in February 2022. Belarus had been kicked out the previous year over its government's clampdown on dissent.
Advertisement - story continues below
Last year's contest was won by Ukraine, and the U.K. has stepped in to host on its behalf.
Acts from 26 countries will compete in Saturday's live final at the Liverpool Arena, which will be co-hosted by Ukrainian singer Julia Sanina. It will feature a performance by last year's Eurovision winner, Kalush Orchestra, and other Ukrainian performers, and images of Ukraine will be shown before each act performs.
"We believe that this is the best way to reflect and celebrate Ukraine's Eurovision Song Contest win and show we are united by music during these hard times," the broadcasting union said.
Tens of thousands of music fans from across Europe have flocked to Liverpool, which won a competition among U.K. cities to host the contest. The birthplace of The Beatles has thrown itself into the party spirit, with pubs and venues across the city holding Eurovision parties and a multinational fan zone featuring performances by Eurovision stars past and present.
Advertisement - story continues below
Organizers say they have taken steps to ensure the phone and online voting isn't disrupted by cyberattacks, working with the U.K. National Cyber Security Centre to bolster the event's defenses.
Martin Green, the BBC's managing director of the event, said that preparations were "in a really good place," though he wouldn't give details of security arrangements.
The Western Journal has reviewed this Associated Press story and may have altered it prior to publication to ensure that it meets our editorial standards.
Conversation