Sports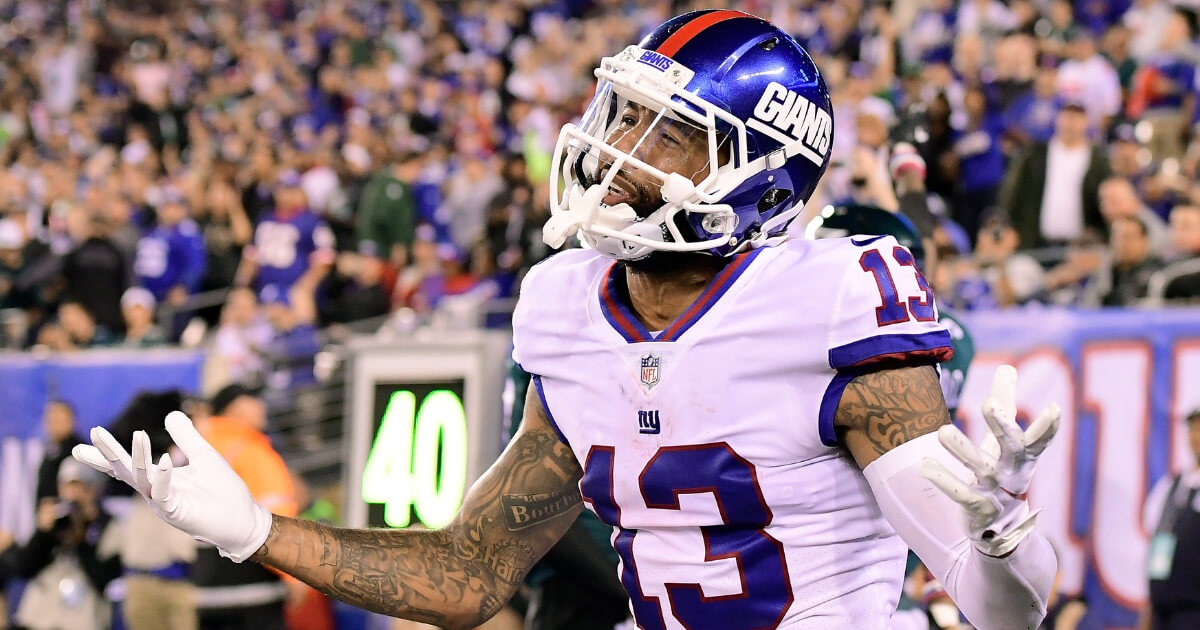 Watch: Beckham Makes Scene, Giants Drop to 1-5 with Brutal Loss to Eagles
After last week's last-second loss against Carolina, New York Giants coach Pat Shurmur said he was "done" talking about star receiver Odell Beckham Jr. and his critical comments about the team.
Six games into his first season, Shurmur still can't shake the OBJ questions. It's talk of a postseason push that's gone silent.
The Giants are 1-5 and in last place in the NFC East after a 34-13 loss to the Philadelphia Eagles on Thursday night that featured Beckham marching to the locker room before the end of the first half and slamming his head into a giant cooling fan during a second-half fit.
Advertisement - story continues below
Shurmur said Beckham went to the locker room early because of cramps.
Odell is so frustrated with the @Giants offense he headed to the locker room early 😢#PHIvsNYG | #GiantsPride pic.twitter.com/4gZC4tG29H

— Yahoo Sports NFL (@YahooSportsNFL) October 12, 2018
Beckham said his headbutt was a bit of self-motivation.
"I was just trying to get myself going," he said. "I felt like some of those plays where I was getting myself going was some of my best stuff. So I was just trying to get myself fired up. I did that and it helped me."
Advertisement - story continues below
Odell Beckham Jr headbutts a giant fan…… pic.twitter.com/oG4Z4LzEUP

— Rob Lopez (@r0bato) October 12, 2018
Beckham bemoaned the lack of downfield passes from quarterback Eli Manning and the team's subpar energy following the 33-31 loss to Carolina.
Are Beckham's antics good for the Giants?
The Giants were counting on a prime-time visit from the Super Bowl champs to get their season turned around.
Instead, poor pass protection, inconsistent offense and costly penalties have left the Giants reeling.
The Eagles' game plan on Thursday was to contain Beckham. He had six catches for 44 yards and his longest reception was 12 yards.
Advertisement - story continues below
The Giants' mistakes started early against the Eagles. Manning was intercepted on the opening drive of the game, and Philadelphia took advantage for a touchdown.
Later in the quarter, Manning was sacked at his 1 and the Giants were forced to punt. The Eagles took advantage of the favorable field position and drove for another touchdown and a 14-3 lead.
When the Giants added a field goal to get within 14-6, the defense allowed a touchdown on the next Philly possession.
The Eagles, who entered the game at 2-3, had not scored more than 23 points in a game this season entering Thursday.
Advertisement - story continues below
But they managed 24 in the opening half.
The Giants' offense continued its struggles on third downs. They didn't convert a third down until their opening drive of the second half. It was the first time in 16 tries they converted on third down going back to Week 4. The finished 4 of 14. The Eagles were 9 of 16 on third downs.
"They converted on third downs," Shurmur said. "When you're that good on third downs and you can stay on the field, you can give yourself a chance."
The biggest bright spot for the Giants was rookie running back Saquon Barkley. He had 13 carries for 130 yards, including a 50-yard touchdown, and he added nine receptions for 99 yards, including a spectacular 55-yarder where he eluded several would-be tacklers.
Advertisement - story continues below
.@Saquon will not be stopped. #PHIvsNYG pic.twitter.com/1z3sLqAmxi

— New York Giants (@Giants) October 12, 2018
Barkley is the second player in NFL history to gain at least 100 yards from scrimmage in each of his first six career games.
However, the rest of the Giants' offense struggled and couldn't consistently sustain long drives.
"We beat ourselves. Every time I looked up I felt like there was a yellow flag somewhere. We can't have that," Beckham said. "There's no way we're going to beat good teams with doing that."
Advertisement - story continues below
Manning was 24 for 43 for 281 yards and was sacked four times.
The Giants have the same record as they did last year when they finished 3-13. And they have to wait to make up any ground since they don't play again until facing the Atlanta Falcons on "Monday Night Football" Oct. 22.
"1-5 is not where we want to be. I'm not happy about it, and I'm frustrated like everybody," Manning said. "All we can do is worry about the next game."
Conversation