Commentary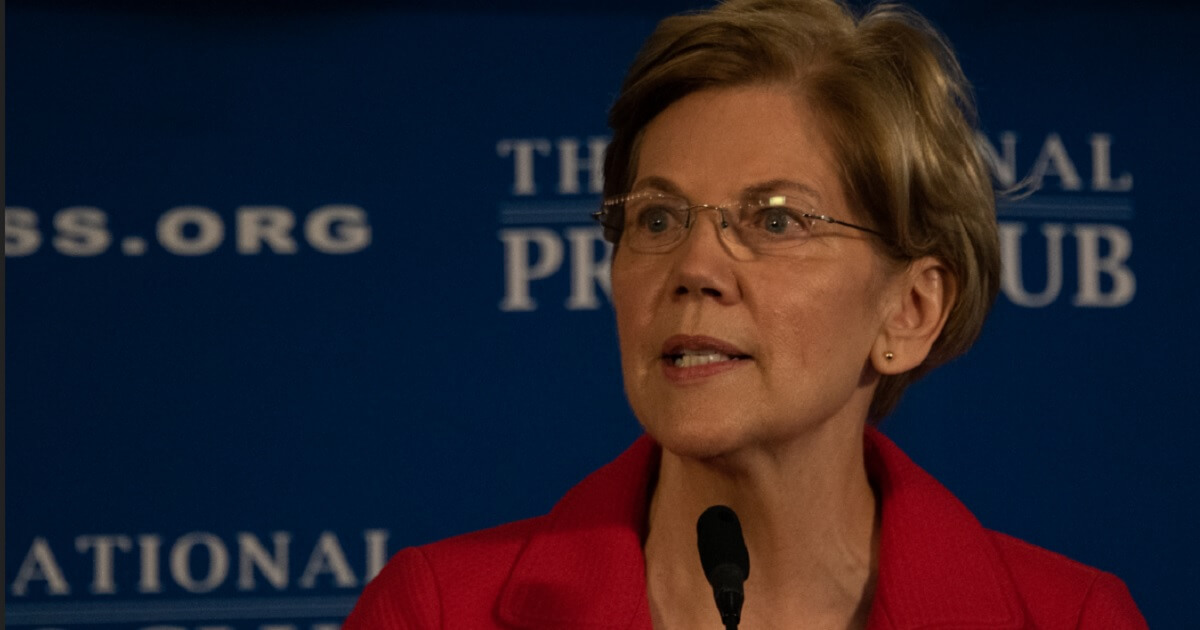 Boston Globe Doctors Headline After Accidentally Being Honest About Warren
The internet is forever. That's one of the great things about the web: Delete a tweet or change a headline to skew a narrative, and it's almost certain that there's an archive of the original.
This makes it easier than ever to point out when an agenda is being pushed, but the media apparently hasn't caught on to the fact that their games don't go unnoticed anymore.
Changing a headline is exactly what The Boston Globe did. On Monday, the left-leaning newspaper altered the title to a major story title about Elizabeth Warren, the Massachusetts senator who has infamously claimed to be Native American with no proof.
Advertisement - story continues below
"Did claiming Native American heritage actually help Elizabeth Warren get ahead? No, but it's complicated," declared the original headline published by The Globe.
Did claiming Native American heritage actually help Elizabeth Warren get ahead? No, but it's complicated. https://t.co/jhW9yIX5dF pic.twitter.com/PBMuiTUpYU

— The Boston Globe (@BostonGlobe) September 1, 2018
It was a defensible title. The newspaper dug into reports that the woman who is now the senior senator from Massachusetts used a claim of minority status as an advantage in her academic career, and couldn't show that declaring herself Native American demonstrably helped her.
The "it's complicated" part was also on target. Reporters found that Warren definitely did request an official ethnicity change on her University of Pennsylvania Law School paperwork, right about the time that there was a push for schools to make more affirmative action hires of minorities.
Advertisement - story continues below
"In its report, The Boston Globe reveals that faculty members were being pressured by activists to make hiring decisions in part based on identity politics. Warren was already calling herself a Native American when she was at Penn before applying to Harvard," The Daily Wire reported
In other words, it seems absolutely possible that Warren's intent was to claim Native American status to help her climb the rungs of academia, even if it didn't have a clear benefit after all.
Do you believe this headline change was to run cover for Warren?
It was a solid headline. Then, inexplicably, it changed.
Liberals everywhere must have panicked when they realized the Globe headline seemed to question Warren's claim of Native American ancestry.
Seemingly getting cold feet about the story, the newspaper scrubbed the original "it's complicated" title to a headline that appeared to defend the senator's career as the result of her own merits.
Advertisement - story continues below
Now it states woodenly: "Ethnicity not a factor in Elizabeth Warren's rise in law." (Just makes you want to read every word of it, doesn't it?)
*Interesting* change of headline by @BostonGlobe from "it's complicated" about Elizabeth Warren to definitive No re whether her claim to be minority helped her pic.twitter.com/QzEJtxZWPH

— Legal Insurrection (@LegInsurrection) September 3, 2018
Conservative pundits quickly noticed the dramatic headline shift. "They got a call," theorized Glenn Reynolds, a law professor like Warren who also runs the popular blog Instapundit.
It's worth noting that Warren's decades-old claim to be part Native American seems to be based on absolutely nothing but a family fairy tale, if anything.
Advertisement - story continues below
"The problem, of course, is that there's zero evidence that Elizabeth Warren is even part Indian," we reported earlier this year.
At the time, the senator was spreading a story that her grandparents on her father's side — Grant Lesie Herring and Ethel Virginia Herring, according to geni.com — disapproved of her father marrying her allegedly part-Native American mother so strongly that the couple was forced to elope.
But experts looked into the claim and found that Warren was likely either lying about her mother's ethnicity or flat out wrong about the entire bizarre claim.
"Despite the facts showing that the senator is lying or simply wrong, she keeps repeating the falsehood… and she just implied that her own family was racist in order to keep the fake narrative going," as we reported in March.
Advertisement - story continues below
"Her genealogy shows no indication of Cherokee ancestry. Her parents' wedding doesn't resemble an elopement. And additional evidence doesn't show any indication of her Herring grandparents being Indian haters," Twila Barnes, an expert on Cherokee genealogy said in that report.
Warren has flatly declined to take a DNA test that would settle the issue once and for all. It seems narratives are more important than truth these days … both for the far-left senator, and for the liberal Boston newspaper defending her.
Conversation