Sports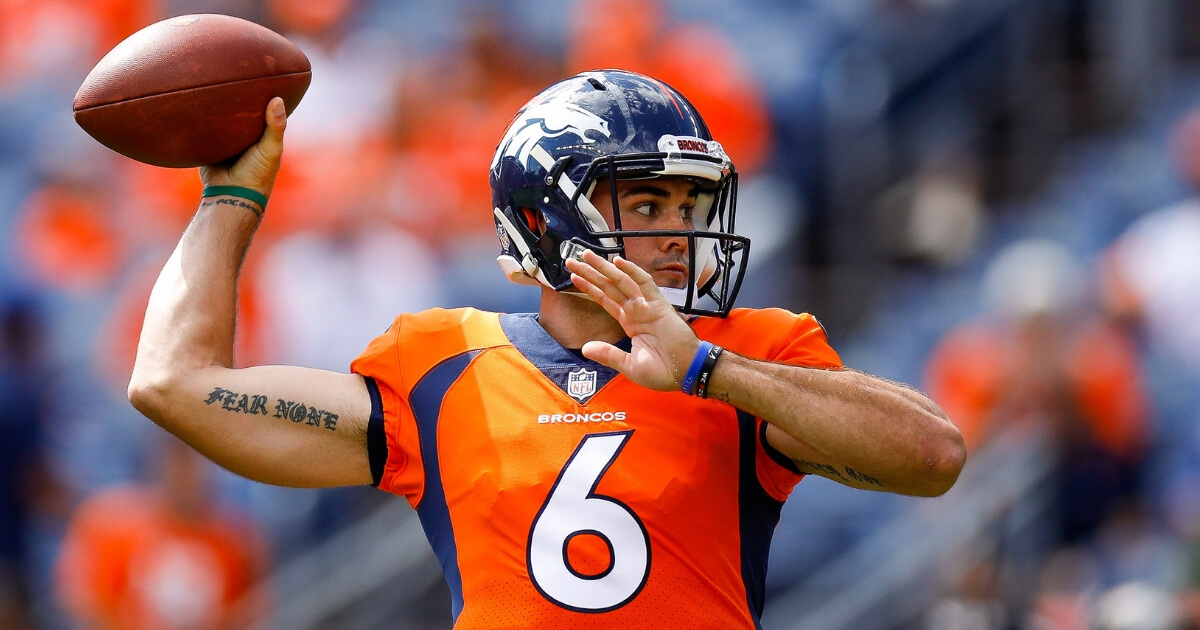 Broncos QB Arrested, Charged with Criminal Trespassing
Denver Broncos quarterback Chad Kelly was arrested Tuesday and charged with criminal trespassing after he entered a couple's home in Englewood, Colorado, without their permission, according to police.
The Denver Post reported officers were called at 1:16 a.m. because a man was lurking outside the apartment. By the time they arrived, he had entered the building.
The couple and their young child were in the home when Kelly allegedly walked in and sat on the couch next to the mother, the report said.
Advertisement - story continues below
The former Ole Miss star was "mumbling incoherently," according to The Post, which cited an Englewood police news release.
The homeowner struck Kelly in the back with an aluminum vacuum-cleaner tube, the report said.
JUST IN: Broncos backup QB Chad Kelly arrested in connection with criminal trespassing https://t.co/yJpI6TqEDN

— The Denver Post (@denverpost) October 23, 2018
Advertisement - story continues below
Broncos general manager John Elway said the organization was "very disappointed" in the young quarterback.
"We're obviously very, very disappointed in Chad and the situation that he put himself into," Elway said. "We are in the process of getting all the facts and talking to Chad, and then we'll figure out exactly which direction we're going to go. But obviously very disappointed in Chad."
Will Chad Kelly be out of football for good after this incident?
It's not the first time the 24-year-old Kelly, a nephew of Hall of Famer Jim Kelly, has been in trouble.
He was "Mr. Irrelevant" in the 2017 NFL draft, picked last mainly because of off-field character issues that have plagued him at every step of his career.
Kelly was kicked off the team at Clemson in 2014 for "conduct detrimental to the team" by coach Dabo Swinney.
Advertisement - story continues below
Swinney, at the time, said of Kelly that "he has had a pattern of behavior that is not consistent with the values of our program. I hope he will mature and grow from this and become the man and player I know he can be. I wish him nothing but the best in the future academically and athletically."
When Kelly played poorly in the 2014 spring game for the Tigers and got chippy with the coaching staff, Swinney said, "You're not going to have guys crossing a line with the coaches just because they're frustrated with whatever. He got frustrated and reacted the way your leader can't react. It's just that simple."
Eight months later, Kelly got in a bar fight with bouncers in Buffalo, New York, all while he was still too young to legally drink — he was 20 at the time.
He eventually pleaded guilty to a non-criminal charge of disorderly conduct.
Advertisement - story continues below
After Kelly was kicked off the Clemson squad, he played college ball first at East Mississippi Community College and then at Ole Miss, where he was named second-team all-SEC in 2015 and 2016. Kelly threw for 6,800 yards and 50 touchdown passes with the Rebels.
His off-the-field issues hurt him in the 2017 draft, but he held on and earned his way on to a team.
There was speculation that Kelly could challenge Case Keenum for the starting job in Denver, since the Broncos, going nowhere at 3-4 and sitting 19th in the league in passing yards, could use a shakeup.
After his arrest, however, Kelly just has to hope Elway won't send him packing.
Conversation