Lifestyle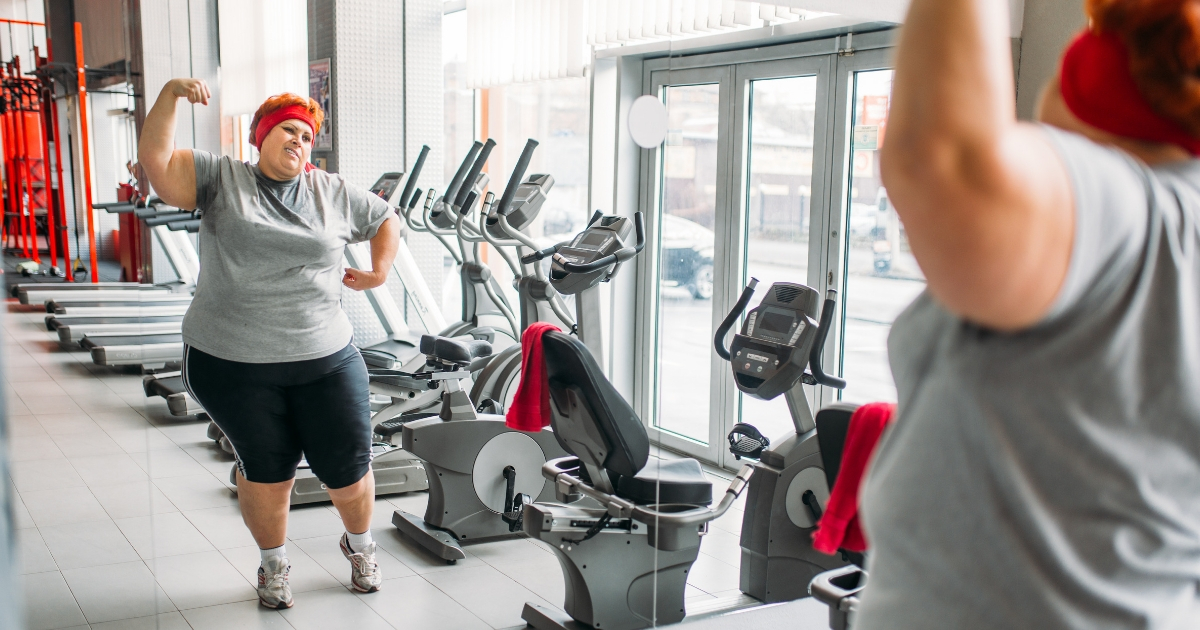 Bullies Laugh & Film Grieving Woman Trying To Work Out at Gym, Stranger Steps In To Stop It
"New year, new you." It's a common saying that plays off the fresh possibilities that a new year offers. During this time many people take stock of themselves and their lives, and decide to change things.
For many people in this land of plenty, that change is health-related. Eating better and being more active leads to feeling better, and who doesn't want that?
Taking the first steps toward a healthier lifestyle can be daunting in many respects, but one major source of anxiety is the gym. Even if you're relatively fit, there can be a sense of inferiority or competition when you see someone in much better shape than you.
Advertisement - story continues below
There's a post that's been going viral on this topic. It's difficult to tell where it originated and whether or not it actually happened, but it seems plausible enough, and even if this exact scenario did not take place, it's close enough to instances that have happened to be instructive.
A Redditor named JohnSnow1982 posted this as a response to the query "Gym goers of Reddit, what is something (protocol, etiquette, tips, etc.) that new year resolution-ers should know about the gym?"
JohnSnow1982 wrote that this story was found on Facebook, and shared it as encouragement (and warning).
Advertisement - story continues below
"For all of those "annoyed " with the New Year Newbies overcrowding the gyms this month and next, a real post from a group I'm in from today….
Well… it happened," the story began. "I was at the gym this morning and a group of two women and a man were very obviously laughing at/talking about another woman who was clearly new and nervous about being there."
"I didn't realize that this was happening at first because I had my headphones in, but then I saw one of the women pull out her phone to take a video. The woman they were making fun of knew it was happening and was almost in tears… she got off the treadmill and went back towards the locker room."
JohnSnow1982 then reported the incident and went back to the locker room, where they found the woman in tears.
"When I went back to the locker room, the woman was crying and she quietly told me that she didn't know what she was doing but was trying to learn. She explained that she had recently lost her parent to a weight-related heart attack, and the doctors said that she was headed down the same path if she wasn't careful."
Advertisement - story continues below
"I told her that we all start somewhere, and after talking for a bit, I told her that her somewhere starts today and helped her up. I asked her to finish working out with me and that I would help her learn what I know, because I was in her place a year ago. For the remainder of the workout… she had a smile on her face. In the end…three members got permanently banned today, and I made a new friend."
"The point of this is simple. I know we all get frustrated when the gym is busier at the beginning of the year, but it's hard to really understand how much of an impact we can have on other people's journeys. I have no doubt in my mind that this woman would not have returned to the gym if her only experience had been being made fun of. Please, PLEASE help others feel welcome… you don't even have to talk to them. Just give them a smile or a nod. We're all there to better ourselves, no matter how quiet or busy the gym gets. Spread the love and positivity, y'all. You could be changing somebody's life."
Perhaps you've even been in this position yourself, feeling awkward at the gym and not really knowing how to use the equipment properly. But if a person of any make and model is walking, running, biking or otherwise exercising, they're to be commended. They are out there, changing their lives one step at a time, and that's not easy.
Advertisement - story continues below
Other Redditors offered encouragement to first-time gym users too, saying that even though they might think they stand out, other people are usually too busy to notice.
"I used to be a fitness instructor," wrote Sokilly. "I feel like new people way over estimated how much other people were watching or judging them. Even incredibly fit people are often more focused on their own form or their own insecurities than on others."
So if you're thinking of getting out there and trying something new, go for it! And if you're noticing people trying new things around you, make sure you're not contributing to their anxiety.
Truth and Accuracy
We are committed to truth and accuracy in all of our journalism. Read our editorial standards.
Conversation