A Vatican expert who's written nine books on the Holy See and the men who lead the Catholic church called Monday's meeting between Pope Francis and Muslim leader Sheikh Ahmed el-Tayeb proof that the current pope has the most credible claim to the title "Friend of Islam" in the world.
Veteran journalist John Allen wasn't without evidence, according to Breitbart London. Francis condemned the plan for Western strikes in Syria back in 2013, which earned him the love of Grand Mufti Ahmad Badreddin Hassoun.
On Holy Thursday, he washed the feet of Muslim inmates, and has become a champion for the cause of Muslim refugees.
Advertisement - story continues below
He has also criticized Western powers for attempting to install our form of democracy on places like Iraq and Syria.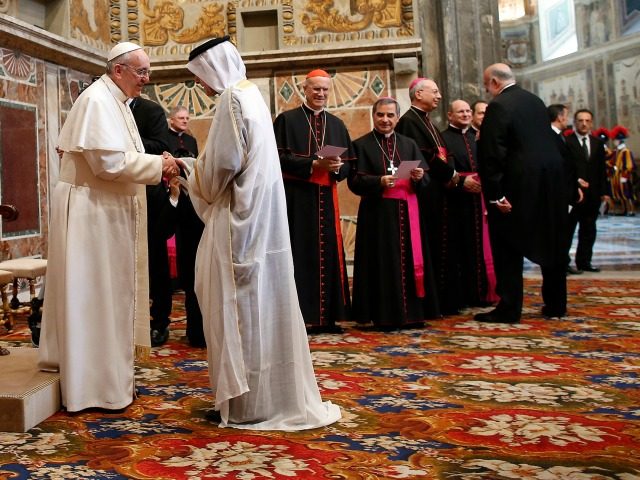 TRENDING: Kavanaugh Sends Statement to Grassley Regarding Senate Questioning: 'I Will Be There'
When he met with el-Tyeb, he offered him a hug that has been dubbed "hugely symbolic." He told a small entourage of reporters that "(their) meeting is the message."
So far, all of this is within reason — here's the issue. Although the Vatican didn't release any form of transcript from the conversation, it did say the men focused "on the common commitment of the authorities and faithful of the great religions to peace in the world, the rejection of violence and terrorism, the situation of Christians in the context of conflict and tension in the Middle East, and their protection."
Advertisement - story continues below
This piece can easily slide into the appearance of hate-mongering — that is not its end. This is about the pope not doing his job correctly.
The pope, the leader of the Catholic Church, does not have the authority to acknowledge the authority of another major religion as though it were also the truth.
If orthodox Christianity is true, then Islam is a lie. While Christians can and should work with others of differing faiths to do good in the world, to be called a "friend of Islam" is to be called a friend of a lie. That is not a title the pope or any Christian should wear proudly.
That does not mean those of the Christian faith go around and curse Muslims, either. But the fact of the matter is if the pope were more focused upon the spread of the Gospel than politics he would be working to undermine those whose relationships he cherishes through evangelism. A friend of Muslims, absolutely; a friend of Islam, no way.
Advertisement - story continues below
If you're a friend of Islam, you have turned your back on the essentials of orthodox Christianity. That's the textbook definition of apostasy, and one would think that a spiritual leader like the pope would know that.
Please share this on Facebook and Twitter and let us know your thoughts!
Do you think he is over the line? Scroll down to comment below.