Ladies and gentlemen, it is time for those who wish to weigh in on the gun control argument to do so with more than what they picked up from the last action movie.
Fortunately for gun lovers everywhere, NBC's Tom Brokaw called for the ban of a firearm that we can all get behind. In the wake of the Orlando shooting that occurred early Sunday, he has demanded the ban of the dreaded "AR-14" assault weapon, a gun which does not exist in two different ways.
"But let's say it's a domestic shooting, we've got to do something about that. You know, I'm a gun owner, I've been saying this for months now. It's time for people to come together and say 'enough.' If he had an assault weapon, an AR-14, [retired Gen.] Stan McCrystal has said [that it's] not to be in civilian hands."
Advertisement - story continues below
TRENDING: Hillary Calls For 'Defending Diplomats:' Blindsided when Benghazi Survivor Brings Up Dead Brothers
Now, this is the firearm he meant. This is the AR-15. This rifle is the descendant of the M4 and M16 family of rifles. AR-15s are a staple of the shooting community and serve many purposes — they are excellent hunting rifles, used for everything from varmints to coyotes to deer. For those who choose to utilize a rifle in home defense, they perform well in that capacity, as well. They are ergonomic, lightweight, and in a widely-available caliber, they are a viable option for many.
Here is what an AR-15 is not — automatic. AR-15s are not automatic, and anyone telling you differently is dead wrong. For those readers who are not familiar with the difference, it is this — if you pull the trigger once, and a single round is fired, you have a semi-automatic, if not slower action, rifle.
Advertisement - story continues below
Now, if you pull the trigger once, and multiple rounds, whether it be a burst or a continuous expenditure of cartridges, come out, you now have an automatic rifle. Automatic rifles are actually regulated far beyond what most gun activists would hope for — they are simply not in the streets.
Even the term "assault weapon" is incorrect. For those who do not know, "AR" stands for "ArmaLite Rifle," the corporation that first sold the design. The company then sold the rights and the rifle became all the more popular, but retained the umbrella-term "AR," much like people asking for facial tissue would ask for "Kleenex."
People assume it's an assault weapon for two reasons: one, because its granddaddy, the M16, is (its direct predecessor, the M4, is an assault carbine), and two, heck, it looks so mean. It looks like an assault weapon like we've seen in movies.
Again, we need to define terms. What is an assault weapon, if not an AR-15? Well, the assault weapon came to us first in 1944, when the German army recognized the need for an intermediate-sized round between the pistol-caliber submachine gun and the full-size cartridge of a full-size rifle.
The answer was — you guessed it, the assault rifle. An intermediate-sized cartridge that was more powerful than a pistol cartridge, but small enough to be fired automatically, like a submachine gun, was chambered, and the STG-44, or "Stormrifle," 1944, was born.
Advertisement - story continues below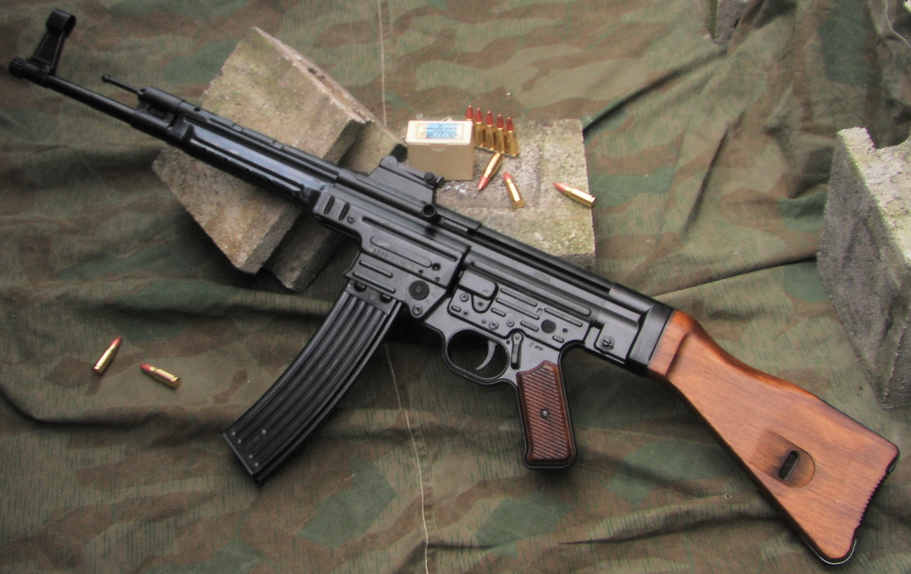 If it reminds you of anything, that's is because Kalashnikov borrowed from it heavily in the creation of the famed AK series.
That is where the assault rifle was born. However, as said before, civilians don't have these. They have semi-automatic rifles that shoot the same cartridge. They are, by necessity, not the same rifle.
Advertisement - story continues below
One may ask, "If they're the same cartridge, why not just ban the assault cartridge?" But you don't. This ties back to my previous point — people who are uninformed fear them because they are just plain scary-looking. Take a look at the two photos below:
Does the rifle on the left look less threatening than the one on the right? To the informed eye, it shouldn't be. That rifle on the left is the Ruger Mini-14, a popular rifle, and they both fire the same cartridge, and can utilize the same capacity magazines. Can you remember the last time there was a call for a ban on its sales?
To further illustrate the point, take a look at these three rifles.
They certainly don't look the same, but these are all variants of the same weapon, the Ruger 10/22 — it doesn't even use the same cartridge as the AR-15; it shoots the tiny .22 round!
Advertisement - story continues below
Many people have very strong opinions on gun control without a full understanding of even the terms with which they debate. Hopefully, this will help some in knowing the terms to frame a proper debate.
The only gun control that needs amending here is the Florida law that prohibited weapons that could have been used in self-defense to be carried into that nightclub Saturday night.
And Brokaw — not even close.
Check out the video below:
Advertisement - story continues below
NBC's Brokaw Calls For Banning Gun That Doesn't Exist [VIDEO]
H/T Daily Caller
Please share this on Facebook and Twitter — a lot of people need to hear this.
Do you think Brokaw even knows what he's talking about? Scroll down to comment below.