Bernie Sanders fans are very, very angry.
Democratic socialist Bernie Sanders conceded the Democrat presidential nomination to presumptive nominee Hillary Clinton on Tuesday, and after swearing to take the race all the way to the convention, he fell just short.
What follows was written by some of his former fans and, although I filtered it as I could, is extremely profane. For those who are offended by strong language — this article is not for you.
Advertisement - story continues below
Bernie fans skew heavily younger, with a LOT of 20-somethings excited about free programs. If there's anything a 20-something knows how to make, it's a meme.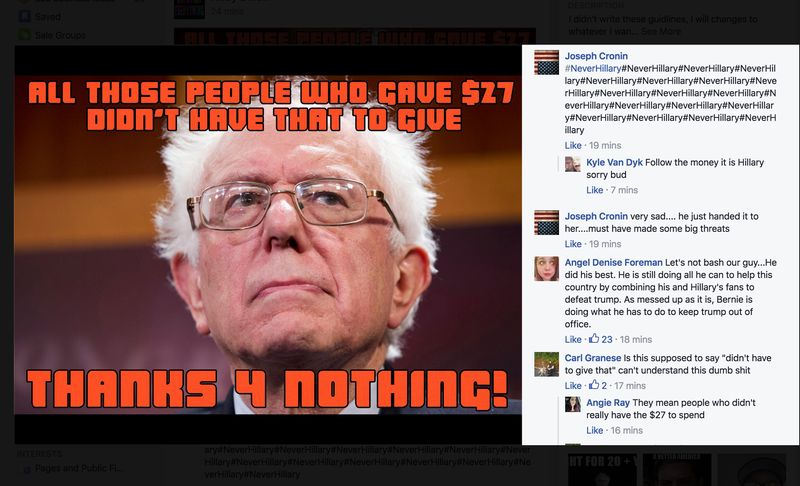 TRENDING: A 2nd Witness Destroys Narrative, Denies All Accusations Against Kavanaugh
Although it's extremely unlikely that anyone reading this article is a socialist — there's a point here that we can all empathize with.
The anger from Tuesday's endorsement has spilled into his followers' memes in a big, big way. Some are in denial. Some are just hurt.
Advertisement - story continues below
A disenfranchised group, tired of establishment politicians, hurt because their maverick champion didn't make it all the way to the finish line. That hurts.
While some, many even, will rally behind Hillary Clinton, many are looking to other options: Green Party's Jill Stein and Libertarian Gary Johnson are having a field day.
It's paving the way for GOP nominee Donald Trump, who is rapidly catching up in the polls.
Can't complain about that.
H/T Gawker (But be warned: We edited out most of the Gawker language, which is rarely pretty.)
Advertisement - story continues below
Please share this on Facebook and Twitter and let us know if you think Sanders' endorsement of Hillary Clinton will actually help Donald Trump more.
Do you think Bernie did Trump a favor in conceding? Scroll down to comment below.