After the funeral of former Israeli president Shimon Peres, President Barack Obama himself had to get out of Air Force One to usher former President Bill Clinton into the plane.
As you well already know, Clinton has a tendency to be late, lagging a bit behind, or anything else about staying and hanging out with friends and the media. According to ABC News, Clinton was doing just that when Obama just couldn't take it anymore.
Hey, look: If I had no job and had to go home to Democrat presidential nominee Hillary Clinton, I might have stayed a little longer on the tarmac myself. Maybe he was hoping the plane would leave without him.
Advertisement - story continues below
"Bill, let's go! I gotta get home," Obama called to Clinton — partly as a joke, partly in frustration.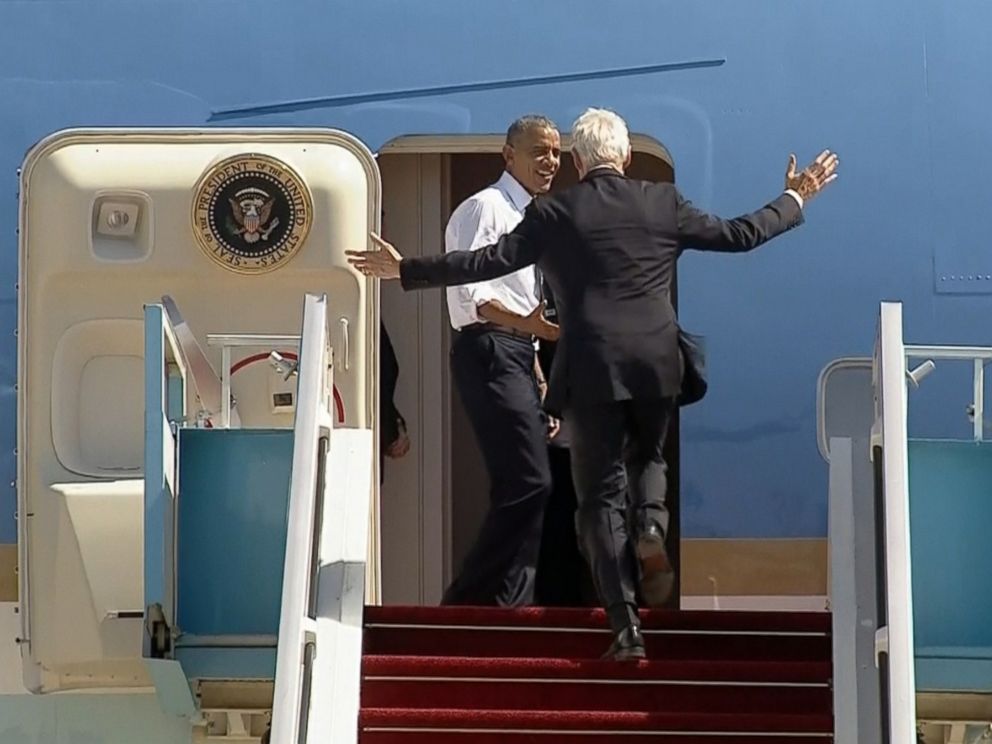 TRENDING: Daughter of Lifelong Democrat City Elections Chief Charged in Massive Fraud Scandal
Clinton eventually followed, looking not entirely unlike a 5-year-old who has been called home to dinner by his dad.
Seriously, though, that may be the most Bill Clinton-looking picture ever taken.
Advertisement - story continues below
Well, maybe the second-most. The most Bill Clinton-looking picture came from the funeral itself:
Of course, it's not all fun and laughter — both politicians came to say goodbye to one of the most versatile and long-serving politicians in the free world. Shimon Peres served during his 20s until his retirement in 2014.
Although President Obama is not the most Israel-friendly president we've ever had, he can recognize a great politician when he sees one.
Obama issued a statement about Peres' death, and he actually highlighted one of his own greatest failings as a president:
"Shimon was the essence of Israel itself — the courage of Israel's fight for independence, the optimism he shared with his wife Sonya as they helped make the desert bloom, and the perseverance that led him to serve his nation in virtually every position in government across the entire life of the State of Israel."
Advertisement - story continues below
"As Americans," he continued, "we are in his debt because, having worked with every U.S. president since John F. Kennedy, no one did more over so many years as Shimon Peres to build the alliance between our two countries — an unbreakable alliance that today is closer and stronger than it has ever been."
Did you catch the lie there?
We'll have to wait for GOP nominee Donald Trump to win in November and take the oath in January before we have an alliance with Israel that is "stronger than it has ever been."
Please share this on Facebook and Twitter and let us know what you think about Bill Clinton's behavior in Israel.
Do you think that Obama was annoyed with Bill? Scroll down to comment below.