In January of last year, Hyphernkemberly Dorvilier (yes, that IS her name) was arrested after she doused her baby in WD-40 and setting her on fire. The child died from the atrocity. Dorvilier was 23.
A year after the murder, a year filled with courts, Dorvilier has been sentenced to a paltry 30 years in prison, according to The Associated Press.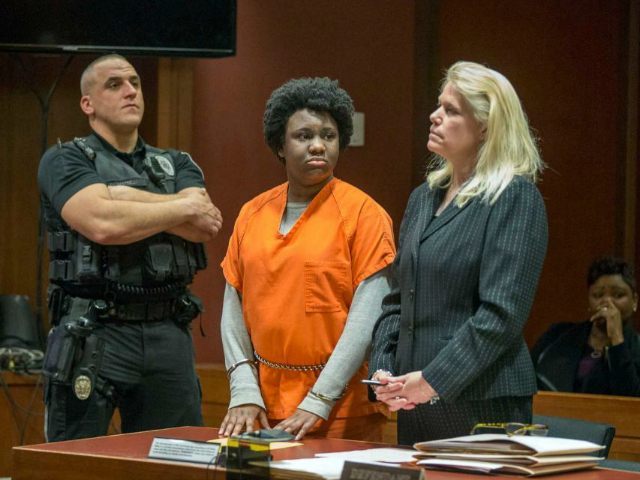 Advertisement - story continues below
On Friday, she spoke to the court: "I was on a downward spiral. I believe I hit my rock bottom.
"I apologize first and foremost for not giving my daughter, Angelica, the life she deserved. She deserved so much better."
TRENDING: Usually Reserved Huckabee Erupts, Hits Hillary Like Bare-Knuckle Boxer
She made a plea for leniency, which Judge Terrence Cook denied out of hand — he insisted the 30 years was "the sentence that justice requires."
"The crime in this case was committed against the weakest of the weak, a helpless newborn," Cook said. "All she knew was the extreme excruciating pain of being set on fire by her mother, the person who was supposed to love and protect her."
Advertisement - story continues below
Dorvilier swore until February that she didn't do it, then she fessed up. During the initial 911 call, "It's not mine, it's not mine… I didn't do it, I didn't do it, I didn't do it."
Prosecutors claimed Dorvilier hid her pregnancy from her family, and her plan was to kill the baby after it was born to keep them from catching on.
The body was found with the umbilical chord and the placenta still attached.
Prosecutors requested 30 years, and the judge consented. That means the 23-year-old will be out while she's still a relatively young woman. Her baby will never get a chance to live at all.
However, it sounds like she needs to spend a lifetime in a mental institution.
Advertisement - story continues below
H/T Breitbart
Please share this on Facebook and Twitter — that's not what she deserved.
Facebook has greatly reduced the distribution of our stories in our readers' newsfeeds and is instead promoting mainstream media sources. When you share to your friends, however, you greatly help distribute our content. Please take a moment and consider sharing this article with your friends and family. Thank you.