Commentary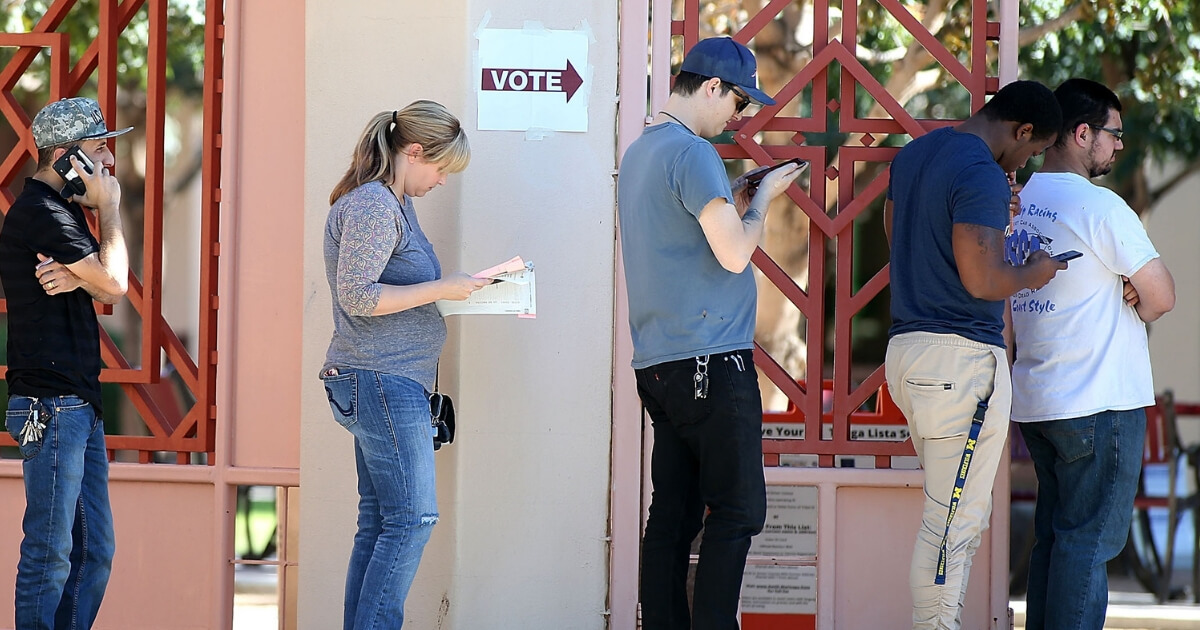 Dems Opened Emergency Voting Centers To Get More Votes During AZ Race
Maricopa County Recorder Adrian Fontes was questioned earlier this week about emergency voting centers as debate continued over the handling of voters' ballots in Arizona's U.S Senate race.
As reported by the Arizona Republic, the emergency voting centers were opened in Maricopa County, Arizona, from 8 a.m. to 5 p.m. on the Saturday and Monday before Election Day.  What constituted as an "emergency" was left entirely up to the discretion of the voters, according to the Recorder's Office.
Republicans have been critical of Arizona's use of emergency voting centers, seeing them as being used as a way out of following voting election deadlines set by law.  GOP officials sent letters to all the county recorders in Arizona, expressing their concern over the legality of some of the methods used to collect ballots.
Advertisement - story continues below
They singled out the Maricopa County Recorder's office, writing, "It has come to our attention that the Maricopa County Recorder's office may be systematically permitting electors to cast in-person early ballots between Saturday, November 3 and Monday, November 5, irrespective of whether such individuals have cited any articulable emergency."
"If true, this practice impermissibly circumvents the statutory deadline and constitutes a de facto extension of general early voting," the letter continued.
Republicans officials requested that county recorders separate the ballots that came from emergency voting centers for clarification in case legal issues arose, with the Arizona Republic estimating that there were around 3,000 ballots at issue.
However, the Arizona Republic reports that "(Fontes) would not confirm whether the office is complying with the request and separating the ballots."
Advertisement - story continues below
Earlier this week on "Sunday Square Off" on local NBC associate 12News, reporter Brahm Resnik interviewed Fontes on the question of the emergency voting centers favoring Democratic voters due to their locations in the state.
Do you think the emergency voting centers favored Democratic voters?
"There were five of them open on Saturday and Monday … two of them along I-10, Avondale and Tolleson. Not very far apart … there were none in the northwest valley, and some other areas didn't have any."
"How fair is this when vast swaths of the valley (Phoenix metro area) — and maybe some Republican districts some might argue — were left out of these voting centers while you have two very close to each other in a Democratic area?" Resnik asked.
"Here's what's interesting about this. On the one hand, we have people complaining that I shouldn't be doing something in the first place. And on the other hand, when I do it they criticize me for the way it happens. And that's fair. I'm an elected official, and I've got big shoulders," Fontes said by way of an answer.
Advertisement - story continues below
Fontes also clarified that the request to open the emergency voting centers came from the Democratic mayor of Tolleson, Anna Tovar. Tovar had endorsed Democratic Senate candidate Krysten Sinema almost a year ago.
After Fontes acknowledged that this was the first time Maricopa County offered early voting, Resnick asked Fontes about the integrity of emergency voting centers.
"I could have gone, without any illness and — for any reason I could have gone to one of these centers for any reason at all," Resnick prompted.
"You would have had to have had an emergency," Fontes responded.
Advertisement - story continues below
"Democratic candidates were putting this number and address out on door hangers saying, 'Just show up,'" Resnick pressed.
Fontes told him that by law, states can have emergency voting available, but admitted that those who voted at the emergency voting centers weren't evaluated for whether they had emergencies.
"It's not my business what your emergency is, Brahm. I've got HIPPA (Health Insurance Portability and Accountability Act) laws that prevent me from asking. You've got your privacy that I have to respect, and by the way, what, pray tell, is the problem with giving voters access to the ballot box? That's my first question," Fontes said.
Arizona law states that early voting should end on the Friday before Election Day; however, the law also provides for emergency voting centers created after this time.
Advertisement - story continues below
The details of emergency voting statutes have spurred ongoing debate, with this instance of possible misapplication adding to the controversy.  Many see the timing and locations of the emergency voting centers in Maricopa County as giving Democratic voters the upper hand during the elections.
Conversation