Sports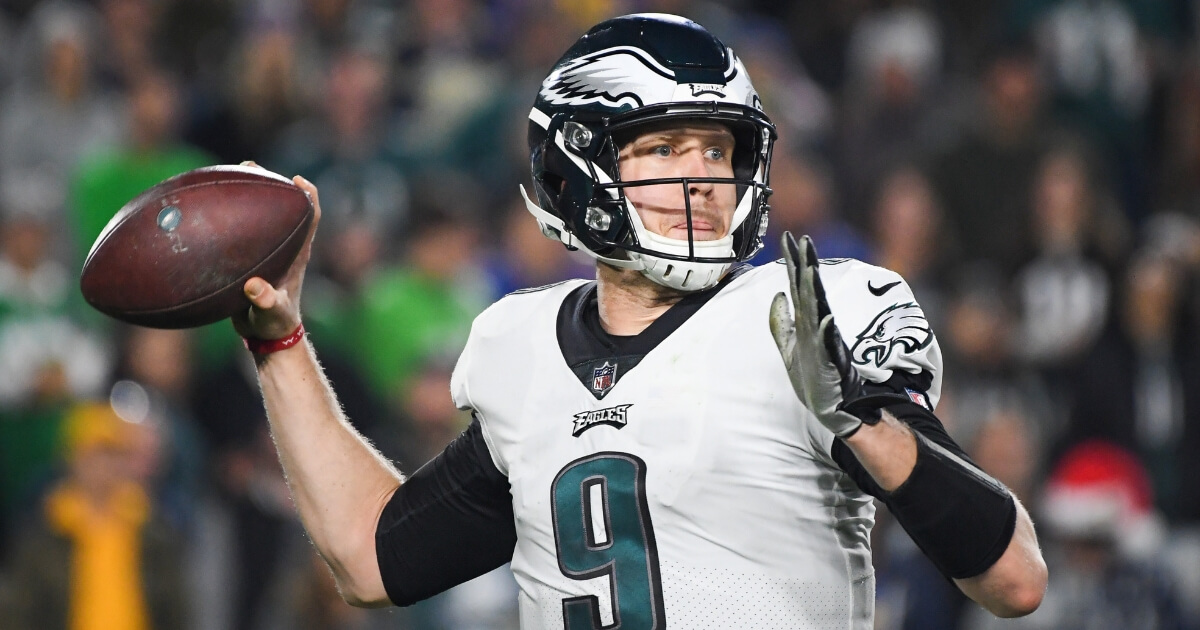 Eagles Officially Build a Shrine for Their Backup Quarterback
Wow, things sure get awkward in Philadelphia when Carson Wentz gets hurt, don't they?
Last year, Wentz got injured with the team 11-2, and everyone wrote off the Eagles as basically the heir apparent to the 2014 Arizona Cardinals, who limped into the playoffs after a 9-1 start when Carson Palmer got hurt and actually started Ryan Lindley in January, bowing out meekly to the Carolina Panthers.
But instead of a desert disaster, Nick Foles came in as a starter, went 2-1 in the rest of the regular season and led the team to a Super Bowl victory.
Advertisement - story continues below
This year, things are far more dire for Philadelphia, as they started 6-7 before Wentz went down, but there was Foles, in Los Angeles, completing 24-of-31 passes against the Rams as Philly, its season surely about to end at the hands of one of the NFC's powerhouses, instead emerged victorious.
Philadelphia sits a game behind the Dallas Cowboys in the NFC East, half a game behind Minnesota for the second wild card, and a full game behind Seattle (which by virtue of conference record holds the tiebreaker on the Eagles) for the No. 5 seed.
What happens if Foles runs the table? Does Wentz get traded? Do they put a statue of Foles outside of Lincoln Financial Field?
And if the Eagles win out, go 9-7, and miss the playoffs as Wentz finishes the year 5-6 as a starter and Foles ends up at 4-1, do all of those things happen anyway?
Advertisement - story continues below
Philadelphia defensive end Chris Long appears to have picked a side. He built a shrine to Foles in the locker room to try and curry favor with the football gods.
The makeshift shrine, featuring religious candles along with a copy of Foles' book and a framed photo of the signal caller, has become a conversation piece since Long put it on the shelf of his locker Thursday.
Chris Long shrine to Nick Foles: pic.twitter.com/8kEb7SVqmV

— Jeff McLane (@Jeff_McLane) December 20, 2018
Long even provided helpful instructions on how teammate Fletcher Cox should engage in the ritual purification of the pocket.
"The big ones. Don't light the small ones. It's important that you do it in that order," Long said, according to ESPN.
Advertisement - story continues below
Cox, using one of those stick lighters you use on a grill, said, "All right, bro. Don't start a fire."
Fletcher Cox lights the Nick Foles shrine candles ?? pic.twitter.com/WPkRPUwYtF

— SPORTSRADIO 94WIP (@SportsRadioWIP) December 20, 2018
Explaining the shrine, Long said of Foles, "He's been there to bail us out when we've had injuries before. And this weekend, no different. I know he's going to show up big."
Advertisement - story continues below
Can Foles run the table this year and lead the Eagles to another championship?
The Eagles have a tough hill to climb against the 10-4 Houston Texans, but with Minnesota playing an equally vicious 11-3 Kansas City Chiefs team trying to secure a first-round bye and potential hosting of the AFC championship game, Philadelphia could take the coveted "controls its own destiny" to the nation's capital when it faces Washington next week.
And from there?
Ask Patriots fans what happens when you run into Nick Foles as the Eagles' starting quarterback on the biggest stage.
Conversation