Sports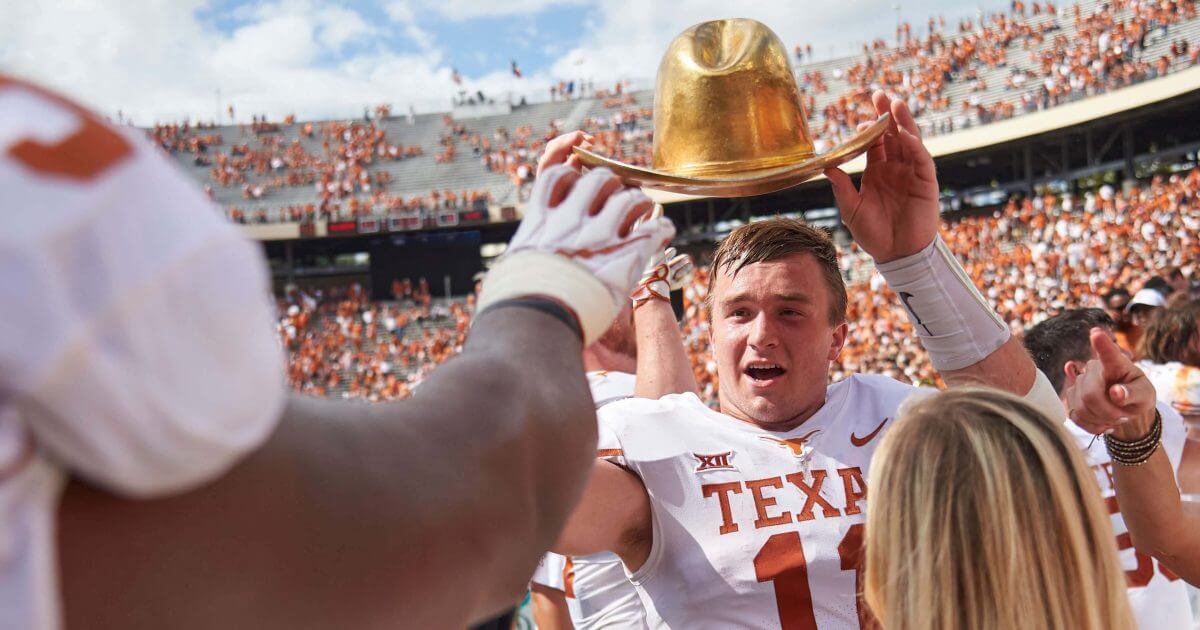 'Dicker the Kicker' Hooks 'Em: No. 19 Texas Beats No. 7 Oklahoma on Late FG
Texas quarterback Sam Ehlinger flashed the "Hook 'Em Horns" sign to the ecstatic burnt orange end of the stadium after his third rushing touchdown, and soon after that threw his second scoring pass.
A year after briefly putting the Longhorns ahead late in their Red River rivalry game against Oklahoma when he started as a freshman, Ehlinger had Texas ahead by three touchdowns going into the fourth quarter Saturday.
But Ehlinger still needed one more drive to win the game, and he delivered, setting up freshman Cameron Dicker's 40-yard field goal with nine seconds left to give 19th-ranked Texas a 48-45 victory over the No. 7 Sooners after Kyler Murray had rallied them with three touchdowns in a six-minute span.
Advertisement - story continues below
"The first three quarters were very impressive. But maybe that last drive was the most impressive to me because when we had really given up a lot of the energy and certainly in a tie ballgame, to let them back in," Texas coach Tom Herman said of Ehlinger. "For him to go shut the door, with his teammates, that says a lot about his grit."
Ehlinger was 24-of-35 passing for 314 yards, and ran 19 times for 72 yards. He converted third-and-3 on Texas' final drive with a 4-yard keeper and his 8-yard draw to the middle of the field set up the winning kick in the highest-scoring game in the 113-game series.
"I still can't put to words how incredible this rivalry and to be able to be a part of it, I honestly can't," Ehlinger said.
Especially after a big victory for the Longhorns (5-1, 3-0 Big 12), who have their first five-game winning streak since 2013 after winning the annual meeting at the State Fair of Texas, where the crowd of 92,300 at the Cotton Bowl Stadium was split 50-50, burnt orange and crimson, as always.
Advertisement - story continues below
Oklahoma (5-1, 2-1), the three-time defending Big 12 champion, lost to the Longhorns for the third time in six seasons — this was the first time in that span Texas was ranked.
"Obviously, it's not a good feeling. I feel like if I didn't turn the ball over, we'd have a better shot at winning the game," Murray said quietly. "We knew coming into this game it would be a four-quarter game. It's just tough."
The Longhorns led 45-24 in the fourth quarter before Murray threw a 19-yard TD pass to Lee Morris and ran 67 yards for a score on a one-play drive. Trey Sermon ran 7 yards for the tying touchdown with 2:38 left.
Murray completed 19 of 26 passes for 304 yards and four touchdowns, and ran for 92 yards. But he also had two turnovers, only his third interception of the season and a big fumble in the third quarter when he lost control of the ball when scrambling.
"To get it back there in a tight game and have a great chance to win a football game says a lot about what we have in the locker room and says a lot about the culture that we have here at Oklahoma," coach Lincoln Riley said.
Advertisement - story continues below
But, as he pointed out, "It wasn't our best performance."
Five plays after Murray's fumble, not long after his 77-yard TD pass to Marquise Brown to get Oklahoma within a touchdown, the Longhorns led 38-24 when Ehlinger burst into the end zone on a 2-yard run. He then threw a 15-yard TD to Lil'Jordan Humphrey in the final minute of the third quarter.
With the most impressive of their three victories this season over Top 25 teams, even with the late comeback by OU, the Longhorns are suddenly a front-runner for the Big 12 title. They haven't won the Big 12 since 2009, the last time they played in a national championship game. Only Texas and No. 9 West Virginia, which visits Austin on Nov. 3, made it through the first three conference games without a league loss.
The Sooners have plenty of time to recover and make it into the Big 12 championship game, and even the College Football Playoff. In 2015, Oklahoma lost to Texas and went on to the reach the playoff.
Truth and Accuracy
We are committed to truth and accuracy in all of our journalism. Read our editorial standards.
Conversation