Sports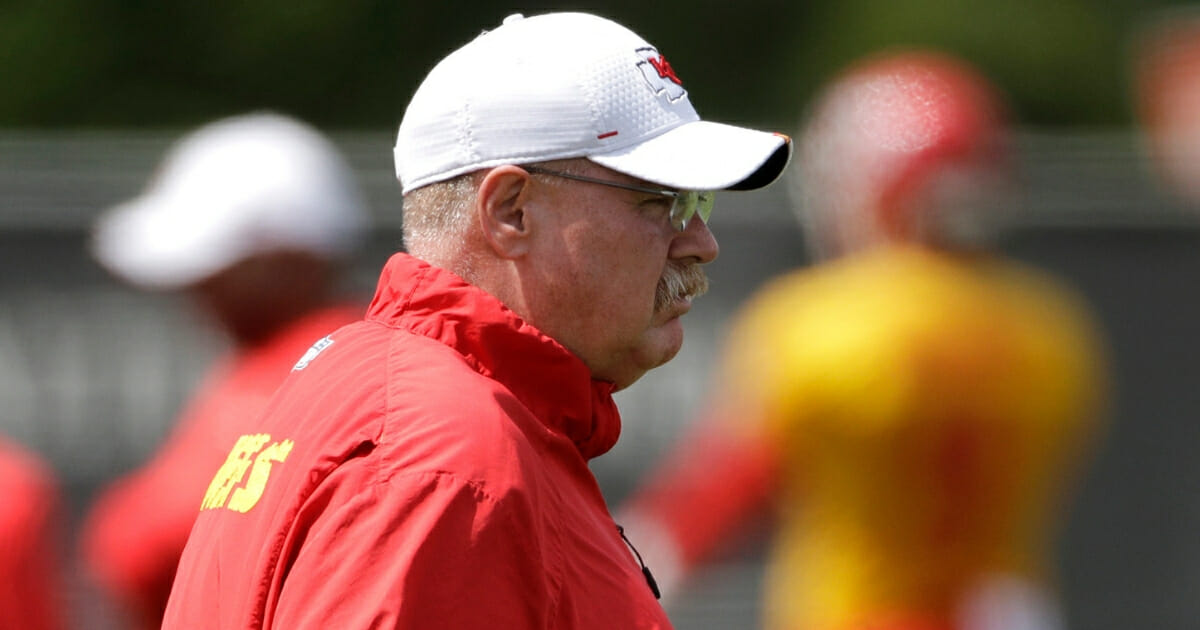 Host Pulled from Air Indefinitely After Inappropriate Comments About Andy Reid's Family
Sports talk radio has a reputation that's somewhere between a viper's nest, a sewer and the Mos Eisley Cantina from "Star Wars."
But even in that wretched hive of scum and villainy, there are lines that simply should not and cannot be crossed without consequences.
One example would be going after an athlete or coach's family, which, according to Sports Illustrated is what just got Kansas City sports shock jock Kevin Keitzman suspended indefinitely from his job at WHB-AM.
Advertisement - story continues below
On Monday, Keitzman talked on his show about the ongoing trouble involving Chiefs wide receiver Tyreek Hill, who is still awaiting word from the NFL whether he will be eligible to join his teammates in Kansas City when training camp opens in July.
Hill remains suspended by the Chiefs in relation to child abuse allegations that surfaced earlier this year. The team banned him from all team activities April 26, and although Johnson County District Attorney Steve Howe characterized the case as "not an active investigation" June 7, that suspension remains in effect.
Keitzman addressed Reid's ability to handle the Hill issue, saying, "The thing is, [the Chiefs] probably think they can fix [Hill], but they thought they could fix him before and they failed. Andy Reid does not have a great record of fixing players. He doesn't. Discipline is not his thing."
That comment was certainly "Between the Lines" — which is the name of his show — but he then veered wildly, jumped the median and ran head-first into oncoming traffic.
Advertisement - story continues below
"It did not work out particularly well in his family life, and that needs to be added to this, as we're talking about the Chiefs," Keitzman said. "He wasn't real great at that either. He's had a lot of things go bad on him, family and players."
"Family" in this instance clearly refers to Reid's sons Garrett, who died of a heroin overdose in 2012, and Britt, who served jail time for gun and drug crimes in 2007 and 2008.
Should Kevin Keitzman be fired for his comments about Andy Reid's son?
Union Broadcasting, which owns WHB, wasted no time getting out in front of public backlash, issuing a statement on the station's website Tuesday.
"We are aware of the controversial comments made by Kevin Kietzman during yesterday's broadcast of Between the Lines," the company said. "We have decided to take the immediate step to take Kevin off the air until further notice as we review this matter.
"We take Kevin's comments and those of all on-air staff seriously. Kevin's comments were clearly not to his or our standards. Please know that we will take necessary appropriate actions. We sincerely apologize to Andy Reid and his family, the Kansas City Chiefs organization and our loyal listeners and share their concerns."
Advertisement - story continues below
Keitzman forgot a fundamental rule of broadcasting: You can criticize a prominent figure, but the moment you go after that person's loved ones — especially a loved one who died after a too-short and troubled life — you run the risk of forfeiting the privilege of having your words heard by a large media audience.
ESPN personality Louis Riddick went after Keitzman on Twitter, calling him a "clown":
Whoever this clown is that said this, you are trash for referencing Andy Reid and his family and his son. You don't "fix" people dumb ass. To speak about another man's child is out of bounds. Embarrassing what people will do to try and be relevant. https://t.co/MW9QMveDbN

— Louis Riddick (@LRiddickESPN) June 25, 2019
Advertisement - story continues below
Even Oakland Raiders fans, a group not known for acts of kindness toward anything related to the Chiefs, agreed that Keitzman went way too far.
#RaiderNation feels that the host crossed a line bringing up Andy's deceased son as a punch in the gut. Way too far. pic.twitter.com/V0iQIt7IZB

— ʜᴀᴍᴘᴛᴏɴ ʀᴏᴀᴅs ʀᴀɪᴅᴇʀs ᴄʟᴜʙ (@HRRCVA) June 25, 2019
On Monday, Keitzman claimed on Twitter that he wasn't referring to Garrett Reid, saying that would be "despicable."
Advertisement - story continues below
Holy hat what's going on here? I never mentioned one word about the tragic death of Andy Reid's son and quickly corrected a caller who did. I was talking about the owner's record of "fixing" players, the team's record and Andy's record. I was referencing the drug (1/3)

— kevin kietzman (@kkwhb) June 25, 2019
addiction and convictions for dealing drugs. When they served time and Reid hired them to work for his football teams, it was no longer a private matter. But blaming a parent for the death of their child in these circumstances is unthinkable and reprehensible. Period. It (2/3)

— kevin kietzman (@kkwhb) June 25, 2019
Advertisement - story continues below
was NEVER mentioned or discussed and NEVER entered my mind. It makes me sad that somehow that's what some of you thought I was saying. That would be despicable. (3/3)

— kevin kietzman (@kkwhb) June 25, 2019
A day later, he maintained that his intentions were innocent while issuing a public apology to Reid.
With sincerest apologies to coach Andy Reid. pic.twitter.com/sVYpYBChbU

— kevin kietzman (@kkwhb) June 25, 2019
Advertisement - story continues below
Keitzman will no doubt have plenty of time to go to his room and think about what he said.
Hopefully, when he comes back — if he comes back — he'll have learned a lesson in broadcast professionalism and human decency.
Conversation