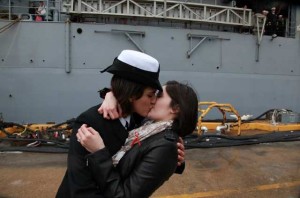 This picture speaks a thousand words about how Barack Obama has changed the US Military. Once a conservative institution focused on protecting America, Obama has twisted it with social experiments and the promotion of his left-wing agenda.
Once Sodomy was illegal, now homosexuality is actively encouraged. This report from the LA Times tell the story. This kiss was staged for the media. We all should be deeply saddened:
Advertisement - story continues below
A public embrace between two female sailors from California is being hailed as "the kiss heard 'round the world" by activists who fought for a repeal of the ban on gays and lesbians serving openly in the military.

Petty Officer 2nd Class Marissa Gaeta from Placerville shared a kiss with partner Petty Officer 3rd Class Citlalic Snell of Los Angeles on Wednesday as Gaeta's ship, the amphibious landing ship Oak Hill, returned to base at Virginia Beach, Va., after an 80-day deployment to Central America.

"It's something new, that's for sure," Gaeta, 23, told reporters after the kiss. "It's nice to be able to be myself. It's been a long time coming."

The two met while training to maintain and operate weapons systems aboard ship. They've been dating for two years.
Read more from the LA Times Here:
What do you think? Scroll down to comment below.