Commentary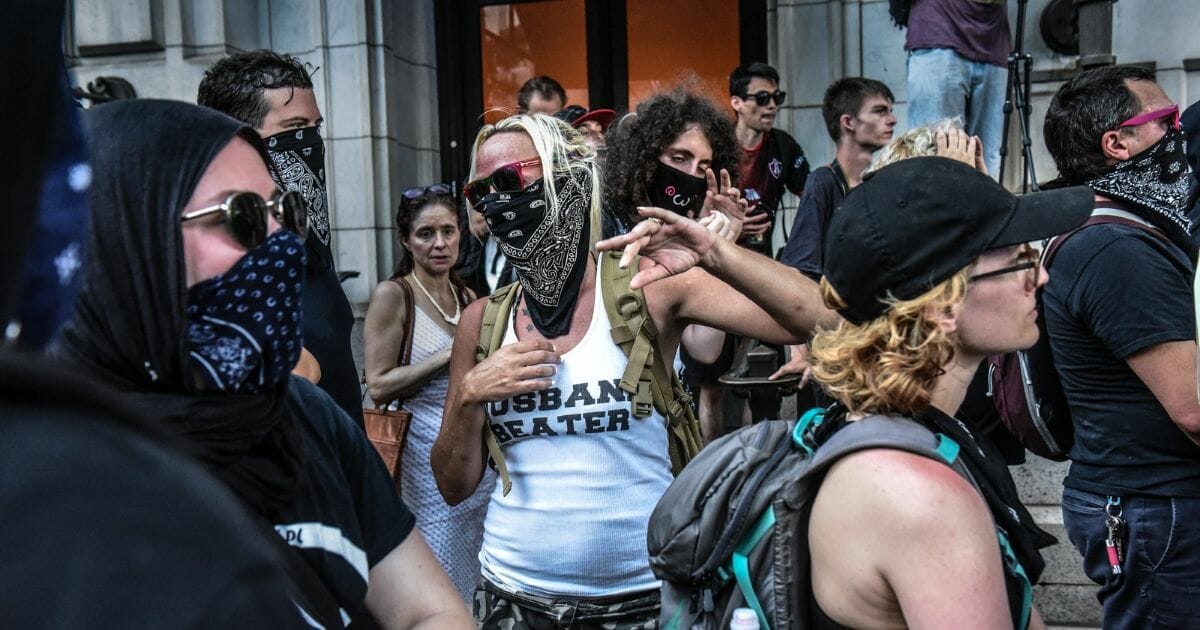 Leftists Double Down on Violence, Celebrate Terrorist Who Died Attacking ICE Facility
Based off recent events, the left apparently has a domestic terrorism problem. But instead of doing everything it can to condone it and contain it, many are doing just the opposite.
On July 13, a "comrade" of the oftentimes-violent, far-left Antifa group showed up to an Immigration and Customs Enforcement holding facility in Tacoma, Washington, and launched an attack using improvised incendiary devices. He was also carrying a rifle.
The suspect, a 69-year-old man, was shot dead by Washington State Police before he was able to do even more damage with his vicious attack on the facility.
Advertisement - story continues below
According to The Daily Wire, Antifa members reportedly held a memorial for their "fallen comrade" on Wednesday.
Information on the memorial service was posted by an "Occupy ICE PDX" Twitter account on Monday, complete with an image of the attacker and words of remembrance.
Stand with us to honor our fallen comrade, #WillemVanSpronsen, this Wednesday, 8:30pm, at 4310 Sw Macadam Ave. pic.twitter.com/16AIaKh6VG

— OCCUPY ICE PDX (@OccupyICEPDX) July 15, 2019
Advertisement - story continues below
"Join OccupyICEpdx as we remember a fallen comrade who gave their life in order to stop the separation of families. Rest In Power Willem Van Spronsen!" the image read.
Not only is the left lionizing the attacker, they apparently believe that violence is the answer to solving the immigration crisis. Do they truly believe that attacking ICE facilities will somehow liberate the thousands of illegal aliens being detained in those holding centers?
Do you think Antifa should be designated as a domestic terrorist group?
Conservative journalist Andy Ngo, who unfortunately experienced Antifa's violent brand of leftist "tolerance" after he was beaten and essentially left for dead while reporting on a recent Antifa protest, pointed out on Sunday that a Seattle faction of the group posted a type of sick eulogy for the ICE facility attacker on Sunday.
"When our good friend and comrade [name] took a stand against the fascist detention center in Tacoma, he became a martyr who gave his life to the struggle against fascism," Seattle Antifascist Action's Facebook post said.
They doubled down and labeled Van Spronsen as a "martyr" and promised not to let his death go "unanswered," which is a scary thought given their history of violence.
Advertisement - story continues below
""He was kind and deeply loved by many communities; we cannot let his death go unanswered," the post said. "May his death serve as a call to protest and direct action."
Prominent leader of the Black Lives Matter movement, Shaun King, chimed in on Monday about the ICE firebomb attack.
According to The Daily Wire, in a series of since-deleted tweets, King also labeled the attacker as a martyr and reportedly encouraged further action.
"[Name] just became the first martyr attempting to liberate imprisoned refugees from a for-profit detention center in Tacoma, Washington," King reportedly tweeted.
Advertisement - story continues below
"His actions will be called terrorism and people will call him crazy, but neither are true. His mind was very clear. He is now 'arm in arm with John Brown.' These camps must be shut down," King wrote.
The left is doing everything it possibly can to demonize and attack President Donald Trump and his administration's immigration policies and they aren't afraid to use violence on anyone with whom they disagree.
It's outrageous, but extreme leftists are actually doing their best to turn Van Spronsen into a legend, as if what he did was acceptable and necessary. They want him to be the hero. And that's going to set a scary precedent.
At this point, unfortunately for the fine men and women who work at the facilities that house illegal aliens, future attacks seem to be inevitable. And a nasty snowball effect could even occur if attackers are glorified and placed upon such high pedestals.
Advertisement - story continues below
Until the U.S. government labels Antifa for what it truly is, a domestic terrorist group, and until radical Democratic lawmakers dial down the false rhetoric about the immigration crisis, it will be incredibly difficult to stop future attacks.
Conversation