Commentary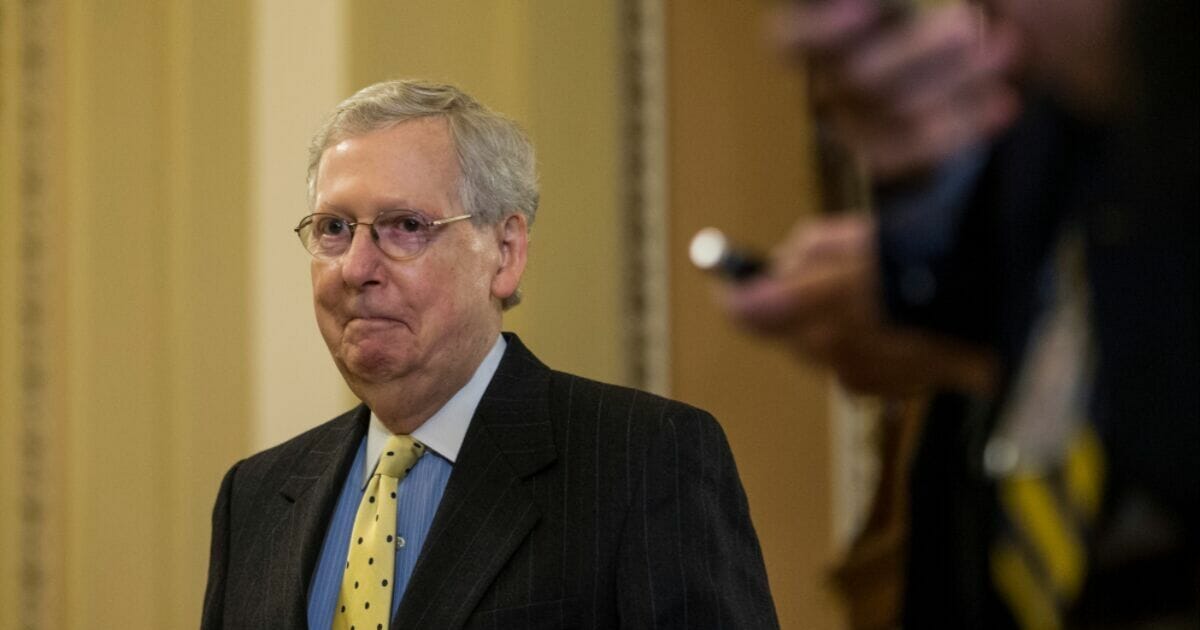 McConnell: Dems' 'Unhinged Smears' over Differences of Opinion the 'Modern-Day McCarthyism'
Senate Majority Leader Mitch McConnell, much maligned as "Moscow Mitch" in recent weeks by commentators on the left, responded on Monday in an impassioned speech on the Senate floor.
The Kentucky Republican drew the ire of many in the Democratic party and establishment media when he blocked two election security bills in the Senate on Thursday. McConnell rejected the bills as "partisan legislation" and "not a serious effort to make a law," according to The Hill.
Senate Minority Leader Chuck Schumer of New York and Sen. Richard Blumenthal of Connecticut, both Democrats, had requested to pass a pair of bills by unanimous consent.
Advertisement - story continues below
Schumer's bill would require the use of paper ballots in elections; Blumenthal's proposed legislation would require candidates to "notify the FBI of assistance offers from foreign governments," The Hill reported.
In Monday's speech, McConnell dismissed the Democrats' requests as mere partisan posturing.
"I was called unpatriotic, un-American and essentially treasonous by a couple of left-wing pundits on the basis of bold-faced lies," he said.
"These theatrical requests happen all the time here in the Senate," he continued. "I promise that nobody involved, including my friend the Democratic Leader who made the request, actually thought he'd get a Republican Senate to instantly, unanimously pass a bill that got one Republican vote over in the House."
Advertisement - story continues below
"This kind of objection … doesn't make Republicans traitors or un-American; it makes us policymakers with a different opinion," he continued.
Do you agree with McConnell on the left's theatrics?
In addition to defending his refusal to grant the requests, McConnell called out left-leaning outlets for accusing him of "what amounts to treason."
Specifically, the Senate majority leader noted that "the smear that I am a 'Russian asset' ran in the opinion pages of The Washington Post; the accusation that I am 'un-American' was broadcast on MSNBC."
"This is the state of left-wing politics in 2019," he later added. "These people have worn out the volume knob so badly that they have nothing left but the most unhinged smears.
"Welcome to modern-day McCarthyism. McCarthy-like tactics out in the open for everyone to see."
Advertisement - story continues below
Watch McConnell's speech below.
McConnell wasn't exaggerating: Dana Milbank really did call him a "Russian asset" in The Post (it's in the very title of his article!).
On MSNBC's "Morning Joe," co-host Joe Scarborough really did accuse McConnell of being "un-American" and even of "aiding and abetting Vladimir Putin's ongoing attempts to subvert American democracy."
Advertisement - story continues below
Watch Scarborough's hysterics below.
The Senate majority leader is right: the response of left-wing pundits to his actions in the Senate last week has been dishonest, unserious and partisan.
If the left disagrees with McConnell on the merits of Schumer's and Blumenthal's proposals, so be it, but smearing him as "Moscow Mitch" is no way to address real policy concerns.
Conversation