Sports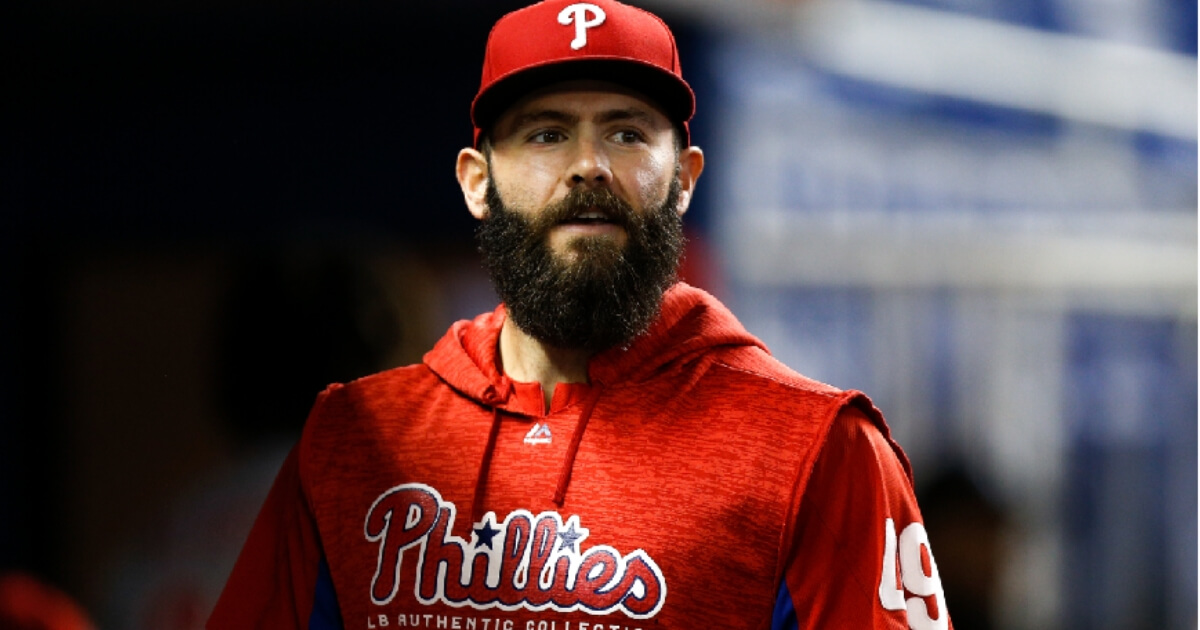 MLB Star Issues Warning to Young Players: The League Is Trying To Squeeze You for Money
Back in the 1980s, Major League Baseball owners colluded to artificially drive down salaries and depress the free agent market.
Tensions between owners and players kept getting worse, and the players eventually went on strike from 1994 until 1995.
It's for this reason that the old saying about "those who do not learn from history are doomed to repeat it" came to mind when Phillies pitcher Jake Arrieta issued a warning to younger players on Saturday.
Advertisement - story continues below
The warning boiled down to this: Owners are not your friends. In fact, they'll try to chisel you out of money whenever they can.
"All of you 1-3 yr players out there better be paying attention to what's going on in our game," Arrieta wrote. "You're next."
Arrieta may seem like a strange candidate to be arguing about systemic worker oppression as if he's Karl Marx. After all, the right-hander is entering the second year of a 3-year, $75 million contract, with all of that money fully guaranteed.
Advertisement - story continues below
On the other hand, it wasn't too long ago that players of Arrieta's caliber had dump trucks full of money backed up to their doorsteps. They were getting contracts so big that the Powerball would have to go a few weeks without someone hitting it to reach the numbers involved.
And salaries were actually down league-wide last season; the average player made less money for only the fourth time in the last 50 years.
Will MLB players go on strike when the current CBA expires in 2021?
Granted, the drop was a whopping $1,436 from 2017 to 2018, but if your job started paying you even a dime less an hour, you'd start thinking the boss was out to put one over on you.
The first of those four declines came in 1987, during the infamous collusion scandal where owners were discovered to have been intentionally agreeing to keep salaries down.
The second came in 1995, after the labor strike wiped out the 1995 World Series. The third was a 2.5 percent drop in 2004, and the fourth was last year.
Advertisement - story continues below
These days, players like Sean Doolittle of the Nationals are complaining that owners keep too much of the incoming revenue.
According Forbes, who cited anonymous industry sources, MLB "spent 54.2% of revenues on player compensation, the second-lowest amount dating back to 2010."
For comparison, MLB players might look to the NBA, where Larry Coon's excellent Salary Cap FAQ breaks down in detail how the pie is divided.
Advertisement - story continues below
There's always a chance they might decide another strike is in order when the current CBA expires in 2021.
And if the players don't think they're getting a fair shake, we may be in for the kind of nightmare that happened in baseball in 1994 and in hockey ten years later (when a lockout wiped out the entire 2004-05 NHL season).
Arrieta and Doolittle are saying in public what used to be covered under, "What happens in the clubhouse stays in the clubhouse."
And they're already trying to rally the fans to their banner in the hopes that the public won't fall back on the "millionaires fighting against billionaires" problem players unions have always had when all the fans want is to watch the game.
Conversation