Sports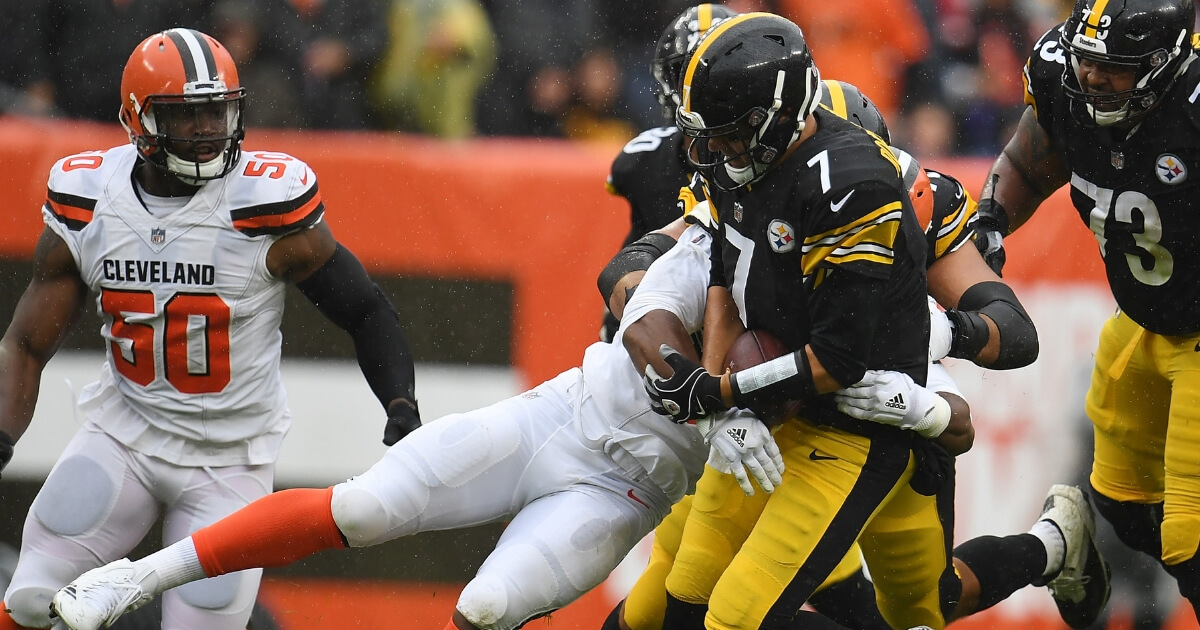 NFL Admits Game-Changing Penalty in Steelers-Browns Game Was Incorrect
The good news for Cleveland Browns fans is their team didn't lose on Sunday, settling for a 21-21 tie with their division rival Steelers.
The bad news is that a muffed call by the referees may have snatched away their first win since 2016.
Al Riveron, the NFL's head of officiating, told NFL.com Monday that officials erred when they penalized Browns defensive end Myles Garrett for roughing the passer in the second quarter.
Advertisement - story continues below
The officials ruled that Garrett violated the league's new "Aaron Rodgers rule" and threw his body weight onto Ben Roethlisberger as he took the Steelers quarterback to the ground.
Roughing the passer call on Myles Garrett. Landed on Roethlisberger with his body weight. A fourth down stop turned into a touchdown the very next play. pic.twitter.com/fHGgRYTWSP

— Ollie Connolly (@OllieConnolly) September 9, 2018
It came on an incomplete pass by Roethlisberger that would have put the Steelers at third-and-goal from the Browns 8-yard line. Instead, the Steelers had a first-and-goal from the Browns' 4.
On the next play, running back James Conner ran it in for the touchdown to put Pittsburgh up 7-0.
Advertisement - story continues below
"The rule specifically says 'most, if not all, of your body weight,'" Riveron told NFL.com's Tom Pelissero.
Do you agree that this roughing should not have been called?
"Well, they have to not put the weight on the quarterback. And this one (on Garrett) yesterday showed, even though there is some body weight on Ben (Roethlisberger), this is not what we would consider contact that rises to the level of a foul," he said.
So, had a penalty not been called here, the Steelers would have been on the 8-yard line, not the 4. They probably would have passed instead of handing off to Conner.
It won't end the #Browns' winless streak, but the NFL's head of officiating told me #Browns DE Myles Garrett shouldn't have been flagged for roughing the passer, leading to a #Steelers TD in Sunday's tie. Four other calls for landing on QB were correct. https://t.co/jWqj8oITWp

— Tom Pelissero (@TomPelissero) September 10, 2018
Now, they might have scored a touchdown anyway, but it would certainly been more challenging. And if they wound up kicking a field goal here instead, it could have impacted the outcome of the game.
Advertisement - story continues below
"The call on Myles Garrett, I do not get that," Browns coach Hue Jackson said after the game, reported the Cleveland Plain Dealer. "They said that it was roughing the passer. That led to a touchdown."
Garrett didn't get it either.
"It wasn't a very sensical explanation," Garrett said, reported the Plain Dealer. "I don't know how from that angle I can hit him and put him into the ground, so you don't want to tackle him. You kind of just have to tackle him into the ground. So you don't you put your body weight or almost all your body weight into him, so I have to torque myself out of the way. So hopefully that gets adjusted or something's changed about that, but we'll see. I'm not going to change how I'm hitting because that's how I've always been taught. …
"Honestly, I thought that was a perfectly legal hit. When I hit him, I just had momentum, so of course he went down pretty quick, but I don't know what is a proper way to take him down. I'm going to need some evidence or them to demonstrate for me themselves."
Advertisement - story continues below
#NFL admits Myles Garrett shouldn't have been flagged for roughing in 21-21 tie with #Steelers. It led to a TD on the next play https://t.co/MinE8psUsZ

— Mary Kay Cabot (@MaryKayCabot) September 11, 2018
Roughing the passer penalties were widespread in the NFL's Week 1: There were 14 such calls, which is about double the weekly average, according to NFL.com.
Of those 14, Riveron told Pelissero, 12 were correct, including four of five violations of the body-weight rule. The one that was wrong, of course, was called on the Browns.
Truth and Accuracy
We are committed to truth and accuracy in all of our journalism. Read our editorial standards.
Conversation