Sports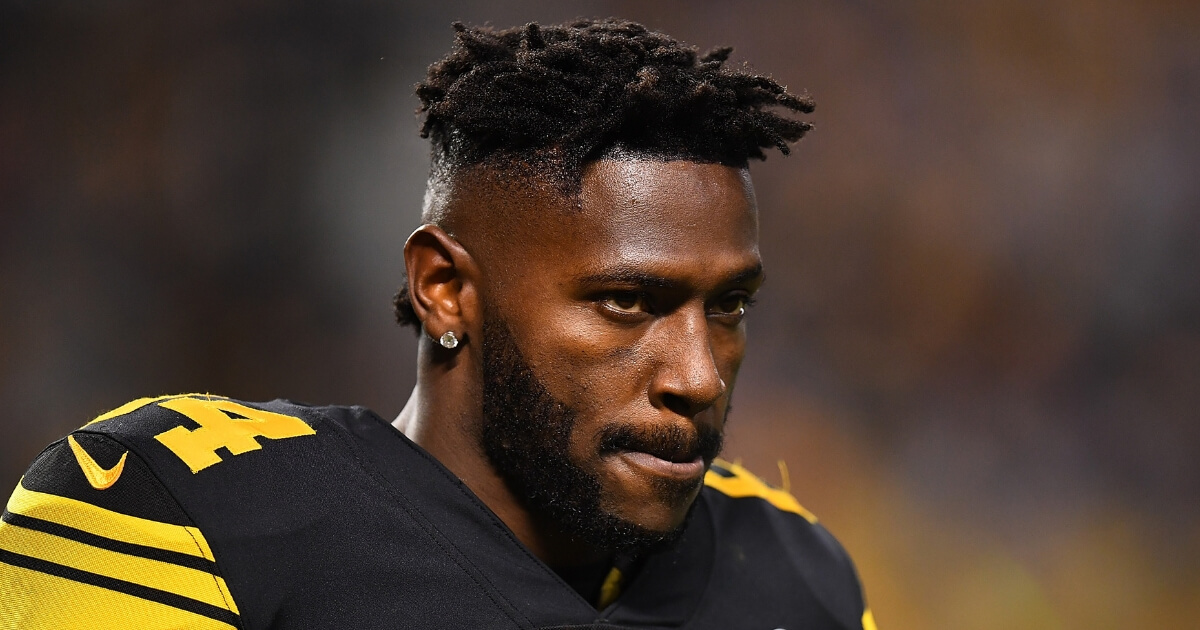 NFL Superstar Reportedly Threw Tantrums, Skipped Practices and Meetings as Team Missed Playoffs
Not since Three Mile Island has the state of Pennsylvania seen anything quite as radioactive as the Pittsburgh Steelers over the last six weeks of the 2018 NFL season.
Pittsburgh, which at one point stood 7-2-1 and in possession of what would've been a first-round playoff bye had the season ended that day after they beat the Jacksonville Jaguars, finished its season 9-6-1, barely scraping by the Cincinnati Bengals but watching its playoff hopes die when the Baltimore Ravens beat the Cleveland Browns.
It doesn't help that the Steelers' game preparation for the Cincinnati game seemed to include preparing for a player who wasn't going to be in the game, injured Bengals tight end Tyler Eifert.
Advertisement - story continues below
It turns out that wide receiver Antonio Brown was very much ready and willing to give up on the season before kickoff, as he reportedly skipped several practices during the week and "went off" on his teammates in the lead-up to the game.
The Pittsburgh Post-Gazette reported that Brown was benched for the final game after a dispute with quarterback Ben Roethlisberger.
While the nature of the dispute was not revealed to the media, what is known is that Brown chucked a football at Roethlisberger and refused to practice for the rest of the week.
Not only did Brown miss the team's walkthrough practice on Saturday, he also missed the Saturday night team meeting.
Advertisement - story continues below
As a result, even though Brown showed up Sunday fully expecting to play, coach Mike Tomlin was having none of it and stuck Brown's rear end on the pine for the game.
Players referred to Brown's gameday attitude as "embarrassing" and "the worst I've seen," according to the report.
The acrimony between the star receiver and his team appears to be headed for divorce. Brown has asked to be traded, according to NFL reporter Jason LaCanfora.
Antonio Brown has requested a trade. Im told it was not a demand but he has asked to be dealt. Very unlikely Rooney would capitulate. Brown has issues with Mike Tomlin and Ben Roethlisberger. Feels like the coach is too aligned with the QB.

— Jason La Canfora (@JasonLaCanfora) January 1, 2019
The Steelers listed Brown as "questionable: coaches' decision" on Wednesday before altering the injury report to read "questionable: coaches' decision/knee" on Thursday, but if Brown had a knee injury, there wasn't a medical report or news of an MRI, as would be customary, to go with it.
Advertisement - story continues below
Tomlin said Brown's knee would be "tested" on Friday, but several team sources told the Post-Gazette that no medical tests were ever scheduled.
Brown finished the season with 104 catches for 1,297 yards and an NFL-leading 15 touchdowns, and along with JuJu Smith-Schuster became half of the sixth tandem in NFL history to notch 100 catches and 1,000 yards receiving each.
Brown has been the Steelers' petulant problem child and clubhouse cancer all year long.
Will Antonio Brown be on the Steelers next season?
Advertisement - story continues below
He verbally attacked a pair of media members during the season, and when he felt that the team's PR department wasn't giving him his due for his value to the team, he shot back on social media, answering questions of his value with "trade me and let's find out."
Brown was also in legal trouble from an incident involving thrown furniture that came crashing out the window of his hotel room and nearly landed on a small child standing 14 stories below.
The Steelers saw running back Le'Veon Bell hold out for the entire season because he wasn't happy with his contract, and with Brown about to see a huge rise in his cap hit for the Steelers starting next season and with no opt-out clauses in the contract until 2021, he might become a trade chip as the Steelers decide they're better off with someone else.
Which, with two prime skill position players gone and the quarterback about to turn 37 during the offseason, could mean it's time for Pittsburgh to embark on the painful process of a franchise teardown and rebuild in 2019, not exactly the New Year's resolution they had in mind six weeks ago when they were 7-2-1.
Advertisement - story continues below
Which in turn makes the Steelers less Three Mile Island and more Chernobyl.
Conversation