Lifestyle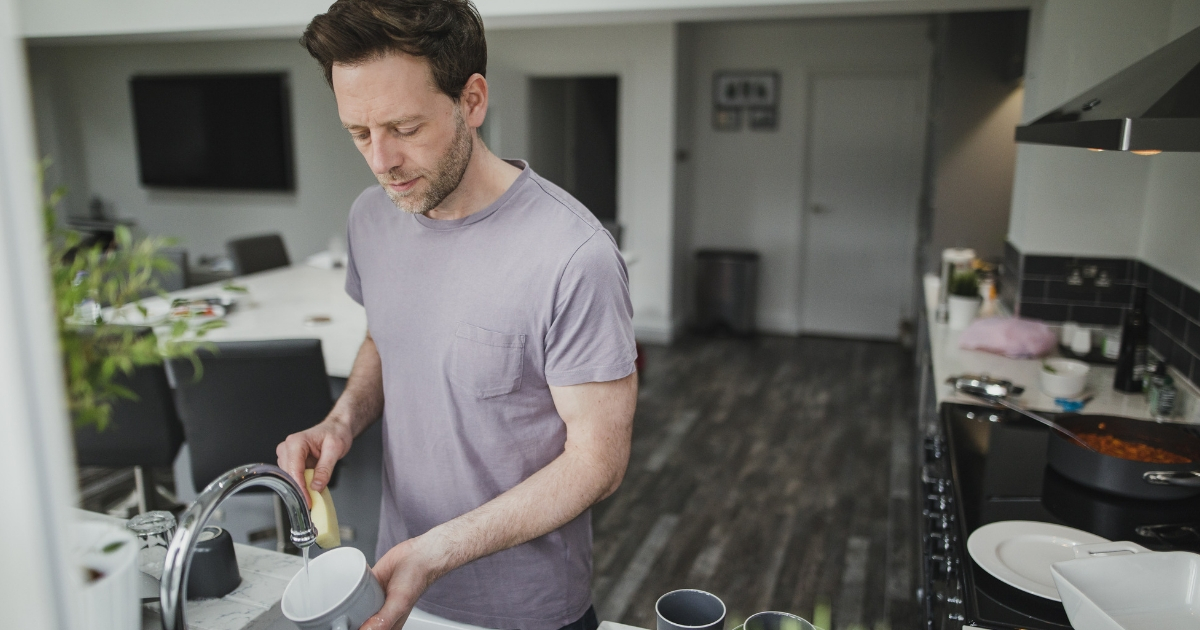 DGLimages / Shutterstock
'I Do Not Help My Wife': Viral Post Explains Exactly What That Really Means
The internet is a wonderful place, at least in part because of how easy it is to share things that inspire us. Photos, messages, stories, videos … with the click of a button, all of our friends can have access to the things we find interesting.
Part of the problem with this easy access is that it can be difficult to track down where or how a post originated. There are a lot of stories out there that are "he said, she said" or nearly impossible to verify.
So we'll call this a story, a fable — but it has a very clear, very poignant takeaway, and many people are finding it a useful piece of instruction whether or not this actual conversation took place (and, based on structure of the dialog, it probably didn't — at least, not verbatim).
Advertisement - story continues below
According to Facebook posts and dates, this image and story were shared by Toni Hatinger on June 25, 2017. She later posted it again in 2018, saying the writer was an "unknown author," but the picture displayed was one of her husband.
John Hoxie shared the same image/story combo in July 2017, and between the two of them, the post has received over 16,000 comments and 500,000 reactions — solid proof that this story has made an impact.
"A friend came to my house for coffee, we sat and talked about life," the tale began. "At some point in the conversation, I said, 'I'm going to wash the dishes and I'll be right back.'"
Advertisement - story continues below
"He looked at me as if I had told him I was going to build a space rocket. Then he said to me with admiration but a little perplexed: 'I'm glad you help your wife, I do not help because when I do, my wife does not praise me. Last week I washed the floor and no thanks.'"
Do you agree that keeping a house clean is a team effort?
"I went back to sit with him and explained that I did not 'help' my wife. Actually, my wife does not need help, she needs a partner. I am a partner at home and through that society are divided functions, but it is not a 'help' to do household chores.
"I do not help my wife clean the house because I live here too and I need to clean it too. I do not help my wife to cook because I also want to eat and I need to cook too. I do not help my wife wash the dishes after eating because I also use those dishes."
Advertisement - story continues below
"I do not help my wife with her children because they are also my children and my job is to be a father. I do not help my wife to wash, spread or fold clothes, because the clothes are also mine and my children.
"I am not a help at home, I am part of the house. And as for praising, I asked my friend when it was the last time after his wife finished cleaning the house, washing clothes, changing bed sheets, bathing her children, cooking, organizing, etc. You said thank you.
"But a thank you of the type: Wow, sweetheart !!! You are fantastic!!!"
In many relationships, there is a clear division of work. Some people prefer to stay home and take care of domestic duties, and feel fulfilled in a role that others would find suffocating. Sometimes, serious conversations are needed to determine who does what so that the family is cared for and fed. But, in the end, life with a partner is a team effort, and that's what this story highlights.
Advertisement - story continues below
"Does that seem absurd to you?" the story continued. "Are you looking strange? When you, once in a lifetime, cleaned the floor, you expected in the least, a prize of excellence with great glory … why? You never thought about that, my friend?"
"Maybe because for you, the macho culture has shown that everything is her job.
"Perhaps you have been taught that all this must be done without having to move a finger? Then praise her as you wanted to be praised, in the same way, with the same intensity. Give her a hand, behave like a true companion, not as a guest who only comes to eat, sleep, bathe and satisfy needs … Feel at home. In his house.
Advertisement - story continues below
"The real change of our society begins in our homes, let us teach our sons and daughters the real sense of fellowship!"
Truth and Accuracy
We are committed to truth and accuracy in all of our journalism. Read our editorial standards.
Conversation