Commentary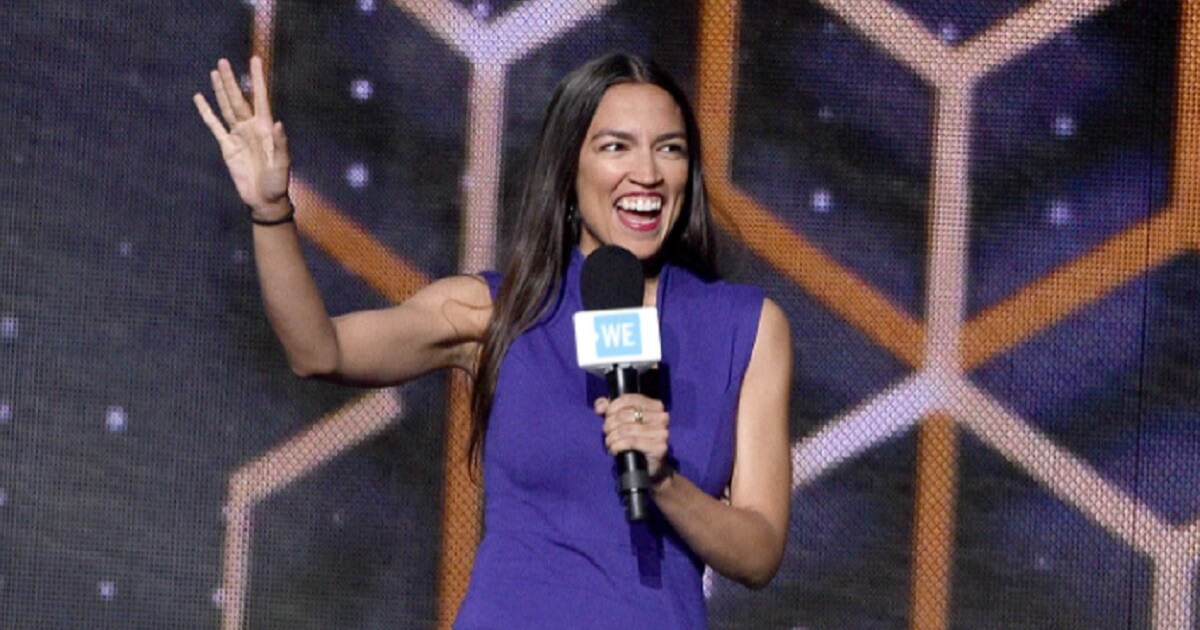 Ocasio-Cortez Has the Perfect Solution To End Global Warming.... Nazis
The revolutionary element in the West has always been distressingly easy to fool.
From the American left's love affair with self-promoters like Pentagon-levitator Abbie Hoffman and race-baiters like Al Sharpton to the fact they made spoiled millionaires out of the soi disant communists in Rage Against the Machine, credulity seems to be a pervasive element among the same people who mock those taken in by the seedier televangelists on the high-numbered channels on DirecTV.
Over the past few months, I've become increasingly convinced New York congressional candidate Alexandria Ocasio-Cortez is a troll in this mold.
Advertisement - story continues below
It's not just her inability to articulate her basic policy positions (particularly if said policy positions are controversial) or the fact that she doesn't seem to understand the basic legislative mechanisms of how the U.S. House she'll almost certainly be taking a seat in come January actually operates.
Instead, it's the fact that every third utterance out of her mouth seems expressly designed to elicit both laughter and rage in equal measure. For your consideration, I give you the candidate's recent peroration on how she's going to stop global warming: By treating it like as if it were the Nazi regime.
Ocasio-Cortez fired the first shot in the anti-global warming Carbon-credit Scheme of the Bulge during a campaign event on Friday.
"So when we talk about existential threats, the last time we had a really major existential threat to this country was around World War II," Ocasio-Cortez said. "And so we've been here before and we have a blueprint of doing this before."
Advertisement - story continues below
"None of these things are new ideas. What we had was an existential threat in the context of a war. We had a direct existential threat with another nation, this time it was Nazi Germany and the Axis, who explicitly made the United States as an enemy, as an enemy.
Do you think Alexandria Ocasio-Cortez is the new voice of the Democrats?
"And what we did was that we chose to mobilize our entire economy and industrialized our entire economy and we put hundreds of thousands if not millions of people to work in defending our shores and defending this country. We have to do the same thing in order to get us to 100 percent renewable energy, and that's just the truth of it.
"It may seem like really big, it may seem really ambitious, it may seem really 'radical' as us people like to say," the congressional candidate continued. "But the fact of the matter is we are dealing with a radical truth and a radical reality, and the more we choose to ignore it the worse we are doing by our children, and our grandchildren, and frankly ourselves in this lifetime."
Well, okay then. First, I don't think someone who already has a relationship with the Jewish community that could best be described as "contentious" ought to be flinging around references to the NSDAP in such a nonchalant manner.
Advertisement - story continues below
This isn't just Godwin's law at play here; Ocasio-Cortez seems to have a sense of Jewish history — in particular what members of the faith might find legitimately problematic — that's nonexistent at best and deliberately warped at worst. Pro tip for Ocasio-Cortez (and any politician, really): If you don't have to reference the Nazis to make your point, you don't reference the Nazis.
But yes, let's put our nation into a permanent state of command economy to fight the pernicious "Nazi" climate change threat. I'm going to assume Ocasio-Cortez doesn't mean we should build carbon-fueled tanks and planes to shoot at greenhouse gases (there are so many things wrong with this metaphor, really) but instead that we ought to sustain huge, nationally subsidized losses in order to convert to green power.
There's little appetite for a plan like this with most Americans, mind you, but let's say that our socialist friend finds a way to sign such legislation into power upon her "inauguration" to Congress. Such a permanent mobilization — far longer than the four years that World War II lasted — would cost millions of jobs and trillions of dollars.
There's also no sign it would be much more effective than our current course, which has seen the U.S. reduce greenhouse gas emissions more than any other country of late despite the fact that we've never been a signatory of any of the major supranational climate change treaties for any length of time.
Advertisement - story continues below
But that's not the point for Ocasio-Cortez — her audience wants privation. The congresswoman-to-be is beloved by those who believe the United States is decadent and depraved and needs to undergo self-flagellation for the multifarious sins of capitalism.
While she retains an unmatched capacity to consistently deliver sound bites of such inanity that she brings a new definition to John Rawls' "veil of ignorance," I don't think Alexandria Ocasio-Cortez is as unenlightened as she appears. Instead, like a throng of leftist hustlers before her, she knows what her base wants and expends as little energy as possible to deliver it.
Hence, absurdities like fighting climate change like we fought the Germans back in World War II.
It may not make any sense on a legislative, economic or rational level. It makes sense to the acolytes of one Alexandria Ocasio-Cortez, however — and that's all that matters.
Conversation