Commentary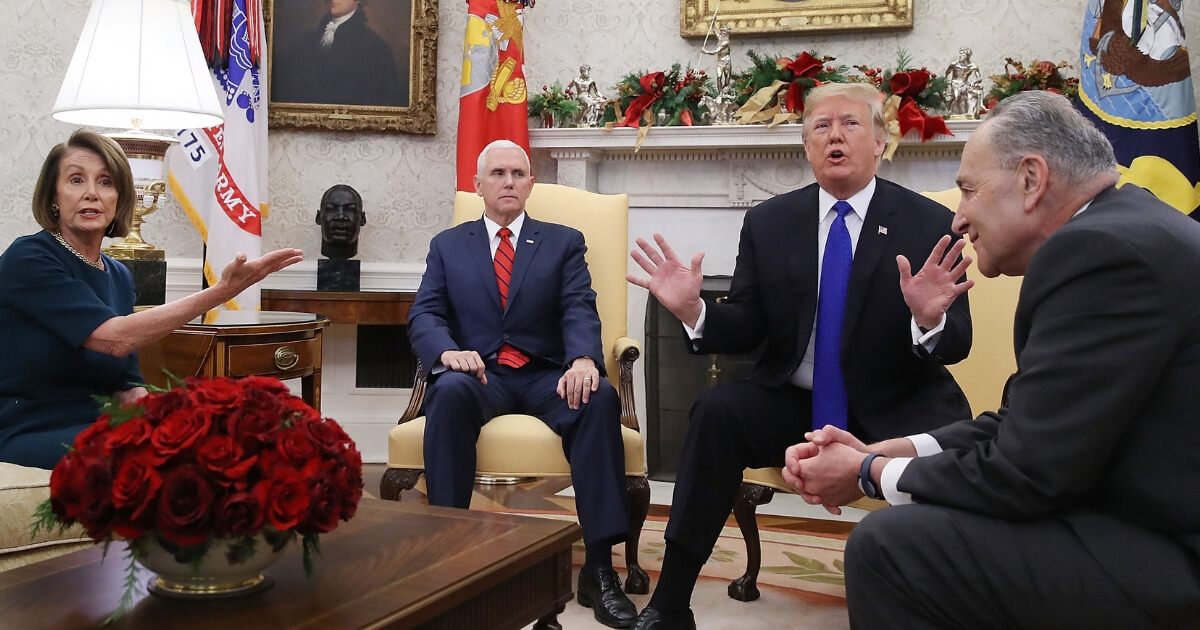 Rare Video of Heated Oval Office Meeting: Trump Promises Schumer He'll Shut Down Gov't
President Donald Trump and Vice President Mike Pence joined top Democratic leaders Senate Minority Leader Chuck Schumer and House Minority Leader Nancy Pelosi for a meeting in the Oval Office on Tuesday morning ahead of a major spending bill debate and potential government shutdown.
Trump opened the meeting by mentioning the strong bipartisan support for a criminal justice reform bill and an agriculture spending bill, before shifting his focus to border security, specifically the border wall.
"And then we have the easy one, the wall. That'll be the one that will be easiest of all," the president said. "What do ya think, Chuck, maybe not?"
Advertisement - story continues below
"It's called funding the government, Mr. President," Schumer flatly replied.
The president reiterated that over the next several months the border wall would be built, noted that several sections of the wall had already been constructed and cited various statistics that showed how effective the wall was at significantly reducing illegal border crossings in those areas.
While it is not at all unusual for a president and opposition party leaders to hold a meeting in the Oval Office, media cameras are typically only allowed in for a brief photo-op and the conversation is generally rather mundane … but things went a little different this time.
Pelosi initially offered the standard platitudes about bipartisanship before shifting gears and accusing Trump of wanting to shut down the government, which prompted Trump to interject with replies that turned into a rarely seen back-and-forth discussion about the necessary votes to pass the spending bills in the House and Senate.
Advertisement - story continues below
That development seemed to throw Pelosi off a bit, as she lamented, "We are here to have a conversation in a careful way, so I don't think we should have a debate in front of the press on this," as the media's cameras clicked away incessantly. After a bit more back-and-forth, Pelosi said, "Again, let us have our conversation and we can meet with the press again."
An argument ensued as to whether Trump had the necessary votes in the House to approve funding for his border wall — Pelosi said he didn't, while Trump insisted he did, and only refrained from calling for a vote as he knew he needed additional support from Democrats in the Senate for that vote to even matter.
Would you support a government shutdown over border security funding?
Then it was Schumer's turn to speak, who with an accusatory finger pointed at Trump, attempted to place all of the blame for a potential eventual government shutdown on Trump, while he insisted that both he and Pelosi had "solutions" that could pass both chambers and would avoid a shutdown.
But Trump fired back that those "solutions" would be pointless to him if they didn't include "border security" and after more increasingly heated back-and-forth between them, Schumer pleaded, "Let's debate in private."
Eventually Trump said, "I think we can all agree that we need border security," to which both Pelosi and Schumer agreed, which prompted Trump to joke toward the media, "Good. See, we get along." He then opened up the meeting to allow a few reporters to ask questions.
Advertisement - story continues below
The first question was in regard to whether Trump would be satisfied with "border security" that didn't include a wall, to which he replied, "You need the wall, the wall is part of border security … you can't have very good border security without the wall."
Of course, both Pelosi and Schumer disagreed with Trump on that notion of border security and a border wall being inextricably tied together, and the argument continued. Pelosi said, "This is most unfortunate. We came in here in good faith, and we're entering into this kind of a discussion in the public view …" Trump interrupted, "But it's not bad. It's called transparency."
Toward the end of the 16-minute-plus meeting, Schumer accused Trump of wanting to shut the government down if he didn't get his way. Trump said, "You want to know something? You want to put that on me, OK, I'll take it. You know what I'll say? Yes, if we don't get what we want, one way or the other, whether it's through you, through our military, anything you want to call, I will shut down the government, absolutely."
"And I am proud to shut down the government for border security, Chuck, because the people of this country don't want criminals and people who have lots of problems and drugs pouring into our country, so I will take the mantle, I will be the one to shut it down — I'm not gonna blame you for it, the last time you shut it down it didn't work — I will take the mantle of shutting it down, and I'll shut it down for border security."
Advertisement - story continues below
Conversation
The Western Journal is pleased to bring back comments to our articles! Due to threatened de-monetization by Big Tech, we had temporarily removed comments, but we have now implemented a solution to bring back the conversation that Big Tech doesn't want you to have. If you have any problems using the new commenting platform, please contact customer support at
commenting-help@insticator.com
. Welcome back!