Commentary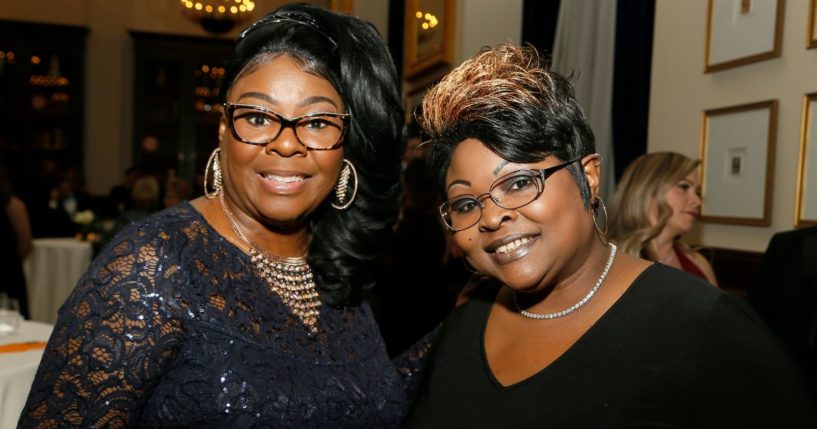 Commentary
Remembering Diamond: Top 6 One-Liners from Diamond and Silk
On Jan. 9, Lynette "Diamond" Hardaway, 51, passed away unexpectedly due to an unknown cause.
A strong political commentator, many Republicans, including former President Donald Trump, took to social media to memorialize Diamond and highlight her faith and contributions to conservative political commentary.
Editor's Note: The following article was written in May 2018 and is being run as a tribute to Diamond. 
Advertisement - story continues below
Some may dub April 2018 Diamond and Silk month in the media as Lynette "Diamond" Hardaway and Rochelle "Silk" Richardson took their concerns about social media censorship to a House Judiciary Committee hearing. They also made the rounds in the media talking about Facebook and their Facebook page.
The two outspoken North Carolina sisters have become well-known, boasting more than 1.6 million fans [2.4 million in January 2023] on their Facebook page, over 700,000 followers on their Twitter profile [1.9 million in January 2023] and more than 220,000 followers on Instagram [1.2 million in January 2023]. By amassing such a large audience, Diamond and Silk have been able to produce videos like "Chit Chat Live," where they employ pre-show banter and hilarious commentary about today's current events. They also have videos where they drop in on various shows, creatively superimposing themselves on top of the program to voice their own opinions and become "part" of the show.
Really, unless you've been hiding under a rock, these ladies need no further introduction. So … here are the top six one-liners from Diamond and Silk that we've found:
No. 1: "Comey is not our homie … Clink-clink"
Advertisement - story continues below
This video is fantastic as the ladies "drop in" on a press briefing by White House Press Secretary Sarah Sanders. Sanders calls on a reporter in the gallery where she is asked about the conduct of former FBI Director James Comey. As Sanders begins to respond, the ladies cheer her on, and when the reporter presses for more information, it really gets good. The ladies take over and step up to the microphone … wait for the "Clink-clink." Enjoy.
No. 2: "Trump's yo president, so get over it"
In the middle of one "Chit Chat Live" show, Diamond and Silk drop a quick promo for their ringtone "Trump's Yo President." The chorus from the song said, "Trump's yo president, so get over it." This is a great one-liner complete with a melody that will stick in your head for days to come. You're welcome.
Advertisement - story continues below
No. 3: "Shut up, Joy"
What can we say about "The View"? Well actually we've reported on it plenty, including co-host Joy Behar's comparison of Christianity to a mental illness and its remark that it's not possible to be a Christian and a supporter of President Trump. Well, Diamond and Silk "drop-in" on a segment of "The View" … with a few views of their own. Love it.
No. 4: "We classy, and we sassy, but if you cross us, things may get a little nasty"
Advertisement - story continues below
Diamond and Silk spoke at the NRA's annual meeting, and the women received a standing ovation after they struck their signature pose and closed their speech with that line. Earlier in the speech they got in another zinger: Talking about the constitutional rights of Americans and referring to opponents of the 2nd Amendment, they said, "We don't need to rewrite the Constitution, you need to reread the Constitution." Got 'em.
No. 5: "We did not lie on that show, we did that show on the 11th. We were contacted … by Facebook on the 12th. … Don't try to mince my words."
The ladies did not back down in their House Judiciary Committee hearing and respectfully let Rep. Sheila Jackson Lee have it, giving her a lesson in basic mathematics on the timeline for when they appeared on Fox News' "Ingraham Angle" (April 11, 2018) and when they were contacted by Facebook via Twitter (April 12, 2018). April 12 comes after April 11, a concept Jackson Lee simply couldn't grasp.
Advertisement - story continues below
They weren't done there. After the hearings, Diamond and Silk took to Facebook and posted this status update along with a video of the full segment with Jackson.
"If Sheila Jackson can't figure out that the number 11 comes before 12 and the number 12 comes after 11 then we advise Ms. Nasty Jackson to go back to preschool or retire," they said. "If she is having a problem hearing the same answer, then maybe she didn't do a good job of cleaning out her ears or better yet, just get a hearing aid."
No. 6: "If the shoe was on the other foot and Mark Zuckerberg was a conservative and we were liberals, all fences and chains would've broke loose. You know it, and we know it."
Advertisement - story continues below
Diamond and Silk let everyone know exactly where they stood before the House Judiciary Committee, in case there was any doubt. Just before they went on to speak with Lou Dobbs, the Fox Business show played this clip from the hearing.
In the comments below, be sure to share some of your favorite quotes from Diamond and Silk.
Conversation