Sports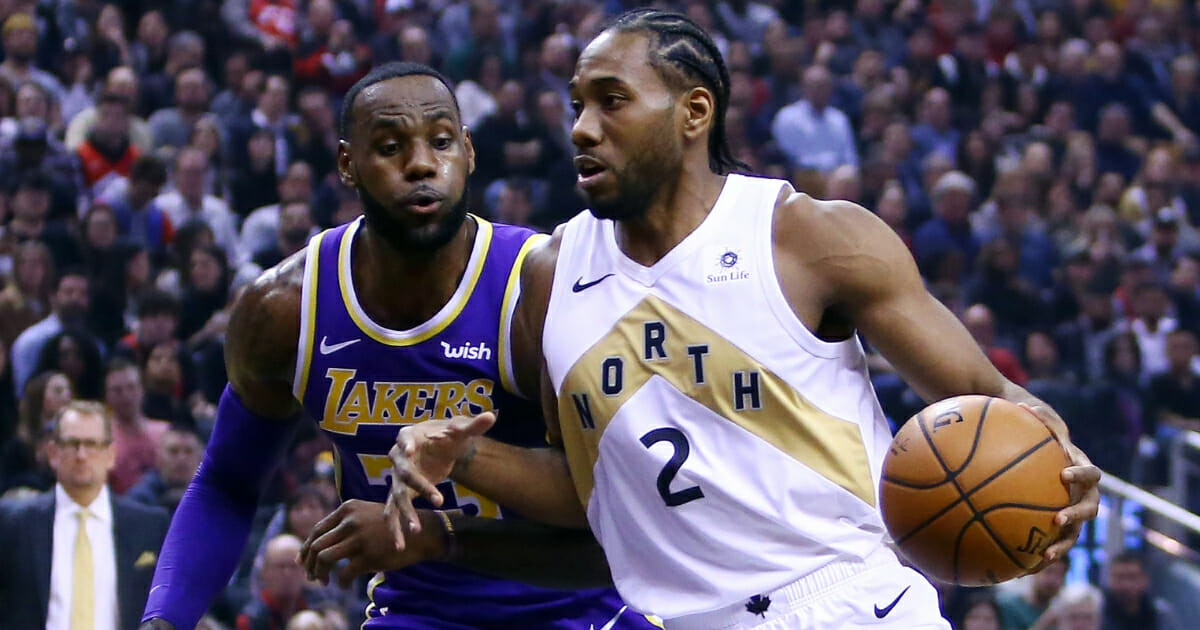 Report: Kawhi Leonard's Contract Sets Up the Beginnings of Another Wild Free Agent Class
Every so often, the stars align in a figurative way in the NBA, and as a result, stars — as in top basketball players — align in a literal way for a wild summer of free agency.
It happened in 2016, the year a new TV contract kicked in and the salary cap jumped so far overnight that some teams didn't know what to do with all their extra cap space and ended up signing the likes of Ian Mahinmi and Timofey Mozgov to $60 million-plus deals.
And after the way Kawhi Leonard structured his contract with the Los Angeles Clippers, get ready for more craziness in 2021.
Advertisement - story continues below
According to ESPN, Leonard signed a three-year, $103.1 million deal with Los Angeles that will pay him $32.74 million in 2019-20 and $34.37 million in 2020-21. He then gets a player option on $36.01 million in 2021-22.
Leonard will be 30 in the summer of 2021 and will have two years of playing alongside Paul George on the Clippers. He will at that point have a decision to make whether he wants to exercise the option or hit the open market, which is the culmination of a superstar trend that started with LeBron James in Cleveland back in 2014 and has now become the norm for superstar free agents throughout the NBA.
Players used to lock in super-long-term deals, so much so that two separate collective bargaining agreements hit lockout snags in part because owners didn't like to be on the hook for too many years and too much guaranteed money.
In the 1990s, players signed seven-year contracts right out of high school or college, and, if they didn't pan out, they left teams in salary cap nightmares for players who were dead money albatrosses preventing those teams from moving on and rebuilding.
Advertisement - story continues below
After the 1999 and 2011 lockouts, that seven-year limit dropped to the point where now, only teams re-signing their own players with full Bird rights are allowed to go for even five years (the so-called supermax extensions) while teams acquiring new players are limited to four years in contract length.
But for superstars, they want more flexibility than that, and that's setting up not just a player option for Leonard in 2021 but for George as well.
Are the Clippers instant Finals contenders in the West?
Thanks to the way other contracts are structured around the league, if everyone who can opt out in 2021 does opt out, and considering players initially on rookie deals who signed qualifying extensions and will hit full unrestricted free agency that summer, the free agent class looks absolutely stacked.
Besides Leonard and George, Giannis Antetokounmpo, Victor Oladipo, Blake Griffin, Bradley Beal, C.J. McCollum and Rudy Gobert will also be unrestricted free agents in 2021.
In addition, LeBron James' Lakers contract includes an opt-out on his fourth year, so if he decides to exercise that and is still effective, there may be a bidding war for a legend who, even at 36 when free agency hits in 2021, might still have the ability to command big money for a team banking on his ability to assemble one last championship run.
Advertisement - story continues below
Every other major 2021 free agent on that list except Griffin (who will be 32) will be between 28 and 31, still in his prime.
And that's before we even consider that there may be plenty of players who, after the 2019-20 season, decide to sign one-year deals for 2020-21 in order to get a chance to be part of the build-your-own-superteam frenzy. After all, if Antetokounmpo decides to sign somewhere on a team with a couple of max salary slots, whether it's staying in Milwaukee with the Bucks or moving to a big-market destination like New York or Los Angeles, that could provide an attractive incentive for players who want to team up with him to chase a title.
Making matters juicier still, the 2017 draft class will hit restricted free agency in 2021.
That adds the likes of Jayson Tatum, De'Aaron Fox and John Collins to the potential talent pool, and all three of those guys have shown the potential to be All-Stars by then.
Advertisement - story continues below
But what Leonard and George have done is shown the NBA that teams, if they want to retain superstar free agents, will have to build champions around them.
James started that in 2014 with Cleveland when he kept signing two-year deals with player options that both maximized the available salary the Cavaliers could offer him and forced them to put a Finals-quality team around him lest he bolt in free agency, which he finally did in 2018.
Even players signing max deals with the full four years are including opt-out clauses. Kyrie Irving and Kevin Durant both have fourth-year player options on their deals in Brooklyn, for example.
It seems to be becoming a trend that superstars want fewer years and more chances to force teams to put contending teams around them. If so, 2021 may be the beginning of a seemingly annual event of NBA free agency completely rewriting the season preview columns in the fall to look nothing like the previous year's version.
Advertisement - story continues below
But in the meantime, Kawhi Leonard gets to try and become the first player in NBA history to win Finals MVP with three different teams.
Conversation