Commentary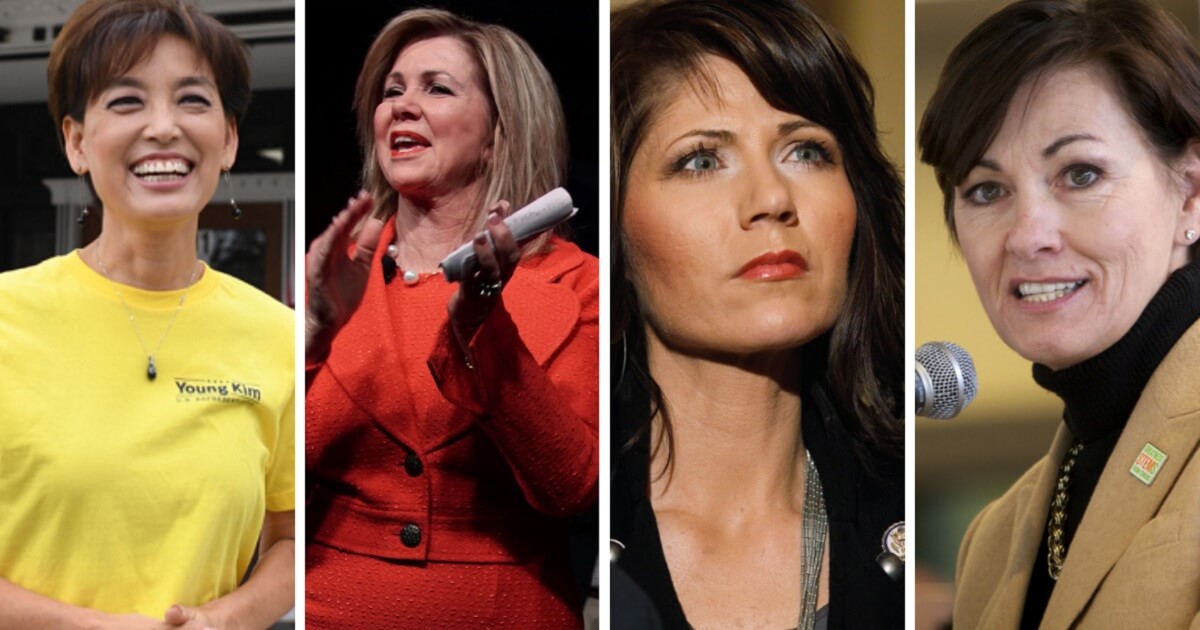 Republican Women Made History on Election Night, Even if the Media Ignored It
This week's midterm elections have seen many women making history in their states. But some won't be given any media recognition for their achievements, simply because they are Republicans.
The biased reporting from the establishment media shows how liberal feminism isn't really about equality.  It's about furthering leftist ideas under the guise of "women's rights," while tearing down or ignoring women with non-liberal views.
Here are some of the Republican women who scored wins in Tuesday's election.
Advertisement - story continues below
On Tuesday, voters put Californian Young Kim on the verge of became the first Korean-American woman elected to Congress, the Golden State's 39th Congressional District. An immigrant from South Korea, Kim lived in Guam and Hawaii before moving to California to attend the University of Southern California, according to NBC News.
A self-made businesswoman, she managed a clothing manufacturing firm before starting her own business in the same line.
She spent 21 years working for GOP Rep. Ed Royce, starting when he was a state senator. Working in Royce's office, she built up experience in the district as a director of community and Asian affairs and in 2014 she became the first Korean-American Republican woman to win a seat in the California House.
She is leading the race for Congress, but it hadn't been called yet, according to Fox News.
Advertisement - story continues below
Tennessee just elected its first female senator ever, despite the efforts of liberals and celebrities like Taylor Swift. Former Rep. Marsha Blackburn, who represented Tennessee's 7th Congressional District, is known for her staunch conservative views, supporting traditional marriage and the pro-life movement.
According to her website, Blackburn has also focused on fighting human trafficking. She was at the forefront of the crusade to shut down backpage.com, a website which was investigated and found to have facilitated human trafficking.
Do you think liberals downplay women in the GOP?
South Dakota also welcomed its first female governor on Tuesday.  Republican Kristi Noem served previously in the South Dakota House of Representatives before her gubernatorial run.
Before politics, she helped run her family's farm while building up college credits, according to an interview with Human Events.
Her time as a state representative saw her opposing Medicaid expansion in her state, with a focus on cutting taxes. She also promoted legislation to fight sexual slavery and is strongly pro-life. According to The Wall Street Journal, she has promised to maintain a 100 percent pro-life voting record in Congress.
Advertisement - story continues below
In Iowa, Republican Kim Reynolds, the first female governor of the state, won a full term, sending local Democrats into a tizzy.
According to the Des Moines Register, Iowa Democrats found her win against her male opponent "confusing" and "unbelievable."
Reynolds, the former lieutenant governor who became governor in 2017 when former Gov. Terry Branstaad was appointed U.S. ambassador to China, has helped bring to fruition one of the country's most restrictive anti-abortion laws, according to the Des Moines Register. The law prohibits most abortions when a heartbeat can be detected.
While this election has been characterized by the media's focus on demographics, little attention has been given to the wins these women achieved.
Advertisement - story continues below
The same liberals who applaud the what they see as forward thinking by Democratic voters usefully ignore the trailblazing done by Republican women this election cycle.
But Republican women make history, too.
Conversation