Commentary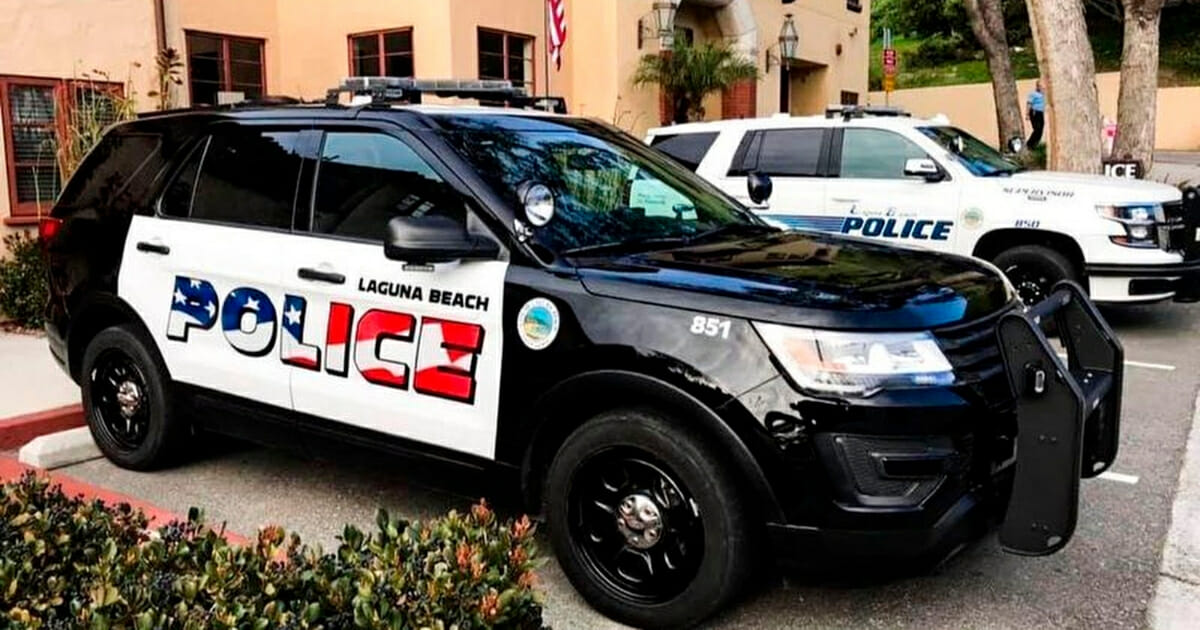 They're Saying Cali City's New Police Car Design Is Too 'Aggressive,' But We Think It's Ultra Patriotic
Can a police car be too patriotic?
Apparently, some people in Laguna Beach, California, think so.
The city rolled out a new design on its patrol vehicles, and got an unexpected reaction: fear on the streets.
Advertisement - story continues below
According to the Los Angeles Times, the Laguna Beach City Council plans to take up the subject of how its police cars are painted at its meeting on Tuesday, after hearing complaints that the American flag-themed paint job is too "aggressive."
One of the complaints came from Carrie Woodburn, a Laguna Beach artist who attended the council's March 19 meeting to say the town needs to tone it down.
Woodburn said it was "shocking to see the boldness of the design" on the patrol cars, according to the Times.
"We have such an amazing community of artists here, and I thought the aesthetic didn't really represent our community," Woodburn said. "It feels very aggressive."
Advertisement - story continues below
"People are actually ridiculous enough to bring up comments about our cop cars having American flags on them," Councilman Peter Blake said https://t.co/gHblbEsLqJ

— KTLA (@KTLA) April 13, 2019
Would you like to see your local police cars decorated like this?
Not everyone agreed.
According to the Times, attorney Jennifer Welsh Zeiter told the council at its April 2 meeting that complaints about the cars were unfounded — and really a symptom of complaints liberals have with much bigger questions.
"They are so filled with hatred toward this … office of the president of the United States and the current occupant of that office," she said, "that they cannot see through their current biases to realize that a police vehicle with the American flag is the ultimate American expression."
Advertisement - story continues below
The new design  on the patrol cars was the product of a council meeting in February, according to the Times, when council members agreed to repaint the black-and-white vehicles with an American flag running through the word "police."
A local designer identified as Chris Prelitz told the Times he had seen some reactions to the police cars and it wasn't good. While recently out to dinner with his wife, he said, he saw a commotion – parents and small children were scattering.
"There was like a little panic going on, and I was like, 'What's happening?'" Prelitz said.
It was caused by several police cars arriving at once to a scene.
Advertisement - story continues below
"When one of them's there, it works. But all of a sudden, I saw, wow, when there are three, maybe four of them together, folks thought it was a SWAT team, federal agents. So it had a very striking, strong impact, so much so that I think there might be some unintended consequences."
Judging by the reaction on social media, though, the flag-themed patrol cars are more than a little bit popular – they're a smash hit.
I 💙the police and I love America. 🇺🇸I think they look great!

— YoCheerMama (@YoCheerMama) April 13, 2019
Advertisement - story continues below
This is absolutely ridiculous that people find offense to it in America. But yet those from other countries can fly theirs proudly??? 🇺🇸 🇺🇸🇺🇸🇺🇸🇺🇸 makes me want to fly mine everyday and put one on my car!!! 🇺🇸🇺🇸🇺🇸🇺🇸🇺🇸🇺🇸🇺🇸🇺🇸🇺🇸🇺🇸🇺🇸🇺🇸🇺🇸🇺🇸🇺🇸🇺🇸🇺🇸🇺🇸🇺🇸🇺🇸🇺🇸🇺🇸🇺🇸🇺🇸🇺🇸🇺🇸🇺🇸🇺🇸🇺🇸🇺🇸🇺🇸🇺🇸🇺🇸🇺🇸🇺🇸🇺🇸

— Krismutt (@ChristyKrismutt) April 13, 2019
Love the look on the cop cars. Don't bow to any of this nonsense from the very few and misguided.

— K I P  C O L B O U R N E (@ColbourneKip) April 13, 2019

And here's someone who should know.
Advertisement - story continues below
I live in Laguna Beach and I live this, it is ok to love America that's not racist it is actually he exact opposite bc everyone is accepted in America if the do it the right way

— LagunaCanyonAutoBody (@CanyonAutoBody) April 13, 2019
Meanwhile, according to the Times, Laguna Beach Police Cpl. Ryan Hotchkiss, president of the Laguna Beach Police Employees Association, said the department had gotten nothing but compliments from the public.
"Every time I came to a stop sign, every time I came to a red light, somebody is telling me the car looks great," Hotchkiss said at the March meeting. "Every one of our members that drives the car loves it, and we look forward to keeping them the way they are."
Advertisement - story continues below
Now that the story is hitting the national media, it's likely to get reaction from far outside the town. In fact, it's almost a given that critics will come out of the woodwork, complaining that police patrol vehicles with an American flag theme smack of fascism and demanding more #Resistance.
Rep. Alexandria Ocasio-Cortez might weigh in, along with the clown car of Democratic presidential aspirants who have yet to find a liberal cause they don't want to champion.
But if the continuing reaction is anything like what's been showing up on social media around this story, most Americans think the answer to the question that started this story is "No."
A police car can't be too patriotic — not for patriotic Americans, anyway.
Truth and Accuracy
We are committed to truth and accuracy in all of our journalism. Read our editorial standards.
Conversation