Commentary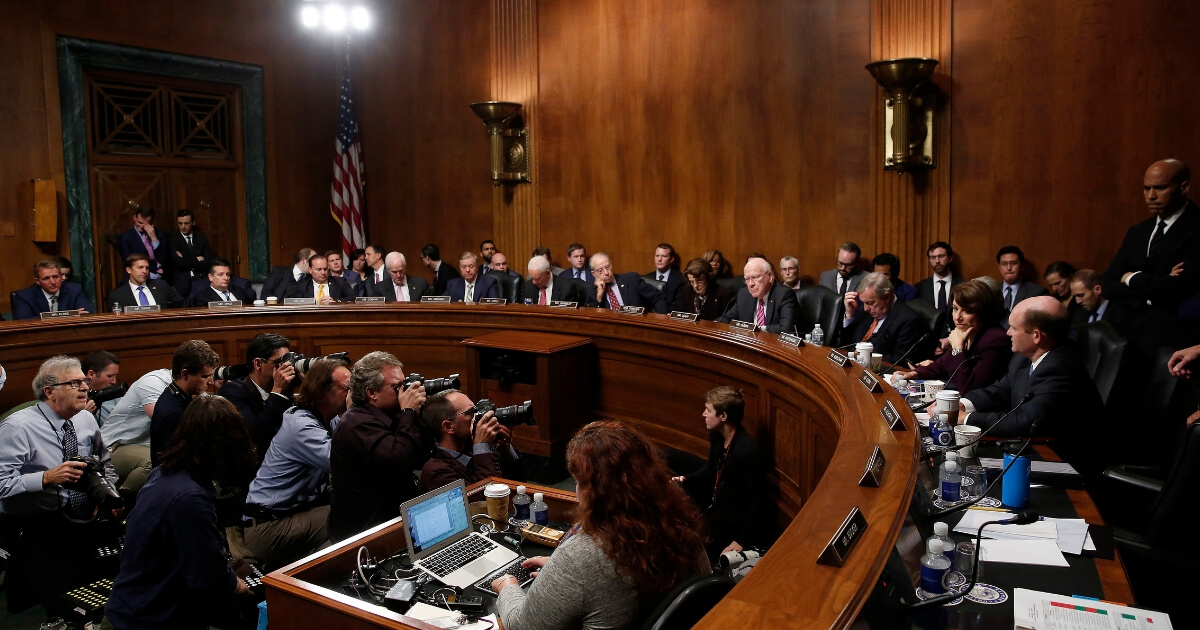 Search for Source of Kavanaugh Leak Narrows to Inside Congress
At the end of the Kavanaugh/Ford hearings on Thursday, there was a moment that I'm not entirely sure many people caught. It involved California Sen. Dianne Feinstein, the ranking Democrat on the Senate Judiciary Committee, blaming Christine Blasey Ford for her anonymous letter leaking to the press.
"Mr. Chairman, let me be clear, I did not hide Dr. Ford's allegations. I did not leak her story, she asked me to keep it confidential and I kept if confidential as she asked," Feinstein said when asked about how the letter got out.
"It's my understanding that her story was leaked before the letter became public, and she testified that she had spoken to her friends about it and it's most likely that that's how the story leaked, and she had been asked by press.
Advertisement - story continues below
"But it did not leak from us," she said. "I assure you of that."
The truth of that statement depends on who you consider "us." If it encompasses those around Feinstein — in particular the Democrats on the Senate Judiciary Committee — that's apparently a lie.
Let's go back to where the story was originally published, in The Intercept. While Glenn Greenwald's far-left journalistic baby may indeed be problematic in so many ways, we can pretty safely say they're not typically going to lie about where their sources came from.
So, let's take a look at the original article on the Ford letter, written by Ryan Grim and published on September 13: "The letter took a circuitous route to Feinstein, the top-ranking Democrat on the Judiciary Committee. It purportedly describes an incident that was relayed to someone affiliated with Stanford University, who authored the letter and sent it to Rep. Anna Eshoo, a Democrat who represents the area.
Advertisement - story continues below
"Different sources provided different accounts of the contents of the letter, and some of the sources said they themselves had heard different versions, but the one consistent theme was that it describes an incident involving Kavanaugh and a woman while they were in high school. Kept hidden, the letter is beginning to take on a life of its own.
"Eshoo passed the letter to her fellow Californian, Feinstein. Word began leaking out on the Hill about it, and Feinstein was approached by Democrats on the committee, but she rebuffed them, Democratic sources said," the article continued.
Do you think the knowledge of the letter was leaked by Democrats?
"Feinstein's fellow senators want their own opportunity to gauge whether or not the letter should be made public, rather than leaving it to Feinstein to make that call unilaterally. The sources were not authorized to speak on the record, and said that no senators on the committee, other than Feinstein, have so far been able to view the letter."
Now, we can tell several things. The first is that, when it came to the chain of possession of the letter, Democrats were the sources.
In the second case, it's pretty clear that the sources were familiar enough with the letter and its import that they were likely either Democrat lawmakers or aides to those lawmakers.
Advertisement - story continues below
Leaving aside the possibility that the "leak" of the letter was, in fact, a very controlled one, the article makes it clear just who did it: Democrats inside Congress.
The question of who leaked to The Intercept isn't just a parlor game here. Remember, no less than Democrat House Minority Leader Nancy Pelosi has said that Christine Blasey Ford was victimized by having her anonymity blown.
If they truly believe this — and I'll just say that's a matter of much question at this moment — then she was victimized by them. The intruder, so to speak, is inside their own house.
It's curious how they're not making too much effort to find out who it really was, especially since it definitely wasn't one of Ford's friends.
Conversation