Commentary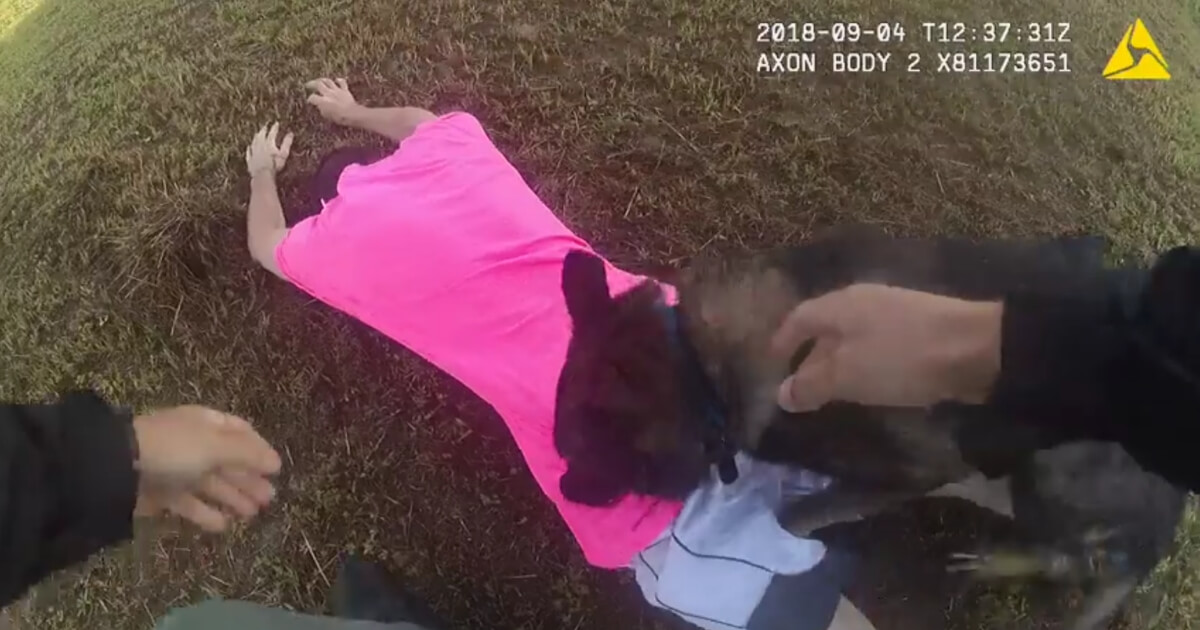 Suspect Has Worst Day Ever When Cop Can't Make K9 Let Go of His Butt
For a police officer, there is extreme value in having a four-legged partner, as this heart-pounding chase demonstrates.
Deputy Nick Carmack's body camera recorded how his partner, K9 Shep, demonstrated why suspects should never resist arrest.
Particularly when one of the arresting officers has canine teeth.
Advertisement - story continues below
WARNING: The following video may be disturbing to some viewers. Viewer discretion is advised.
According to Fox News, it all began when Carmack was in pursuit of "a robbery suspect who fled from a traffic stop." The man had been in an "allegedly stolen vehicle" when Carmack attempted to stop him.
When the suspect fled from the vehicle, Carmack released Shep from his own vehicle and gave him the order to pursue the suspect.
Advertisement - story continues below
His command of "Get him, Shep! Get him, Shep!" could be enough to turn any fleeing suspect's blood to ice. Now a canine officer was hot on his trail, too.
It's easy to spot the suspect in the video as he ran away at top speed, all while wearing a bright pink T-shirt. Shep was hot on his trail, quickly scrambling over a wire fence that stood between him and his prey.
Do you think K9 Officers are too dangerous for suspects?
Carmack quickly caught up to the man, who by that time had a ferocious furball attached to him. By the teeth.
No matter what the suspect did, no matter how he moved, Shep did not let go. He kept his teeth tightly clenched onto the suspect's rear end through the whole process of Carmack getting him onto the ground and cuffed.
Throughout the arrest, the suspect was squealing, howling, wriggling and writhing around. Still, Shep held tight.
Advertisement - story continues below
Eventually the suspect was cuffed and Carmack tried to get Shep off him. It looked to be a bit of a challenge but the officer finally got Shep calmed down and released from the suspect's hindquarters. He then told the dog "good boy" for his job well done.
Carmack then made a call for help, asking responders to assist with a dog bite.
But Carmack and Shep were not the only K9 unit responding to the situation. Fox News reported that Deputy Rob Wilkins and K9 Knox were able to apprehend the second suspect who fled from the vehicle.
The Pasco Sheriff's Office posted the video on Facebook with a summary of events. While it is unclear if both suspects may be able to compare bite marks, they both have something else they can share in common: their charges.
Advertisement - story continues below
"Both suspects were charged with Grand Theft Auto, Fleeing to Elude, Criminal Mischief, and Child Neglect as there was an infant child in the vehicle during the pursuit and who was left in the car when the suspects fled from the vehicle." The sheriff's office went on to congratulate both teams for their work.
Congratulations also appeared on Twitter. Carmack and Shep seem to have gained a little bit of a fan base, actually:
We are still not sure why people try and get away from K9 Shep and Deputy Carmack I guess they never saw an episode of #LivePD when Shep always finds the bad guy. Check out Deputy Carmack and K9 Shep catching another bad guy. #LivePDNation #WeAreLivePDNation Good job boys! ?? pic.twitter.com/celNeaDJ2V

— #LivePDNation (@LivePDNation) September 5, 2018
There were no congratulations, however, for the suspects who seemed to have made made one dumb choice after another. Not the least of those was allegedly abandoning an infant in a vehicle as they ran from police.
Advertisement - story continues below
There is a saying about stupid choices coming back to bite people in the rear end. This may serve as a very clear example of that very thing happening. For real.
Canine officers are officially recognized members of law enforcement who sometimes end up giving their lives in the line of duty, just like their two-legged human counterparts.
Fortunately in this instance, all four walked away, supposedly unscathed.
Conversation