Commentary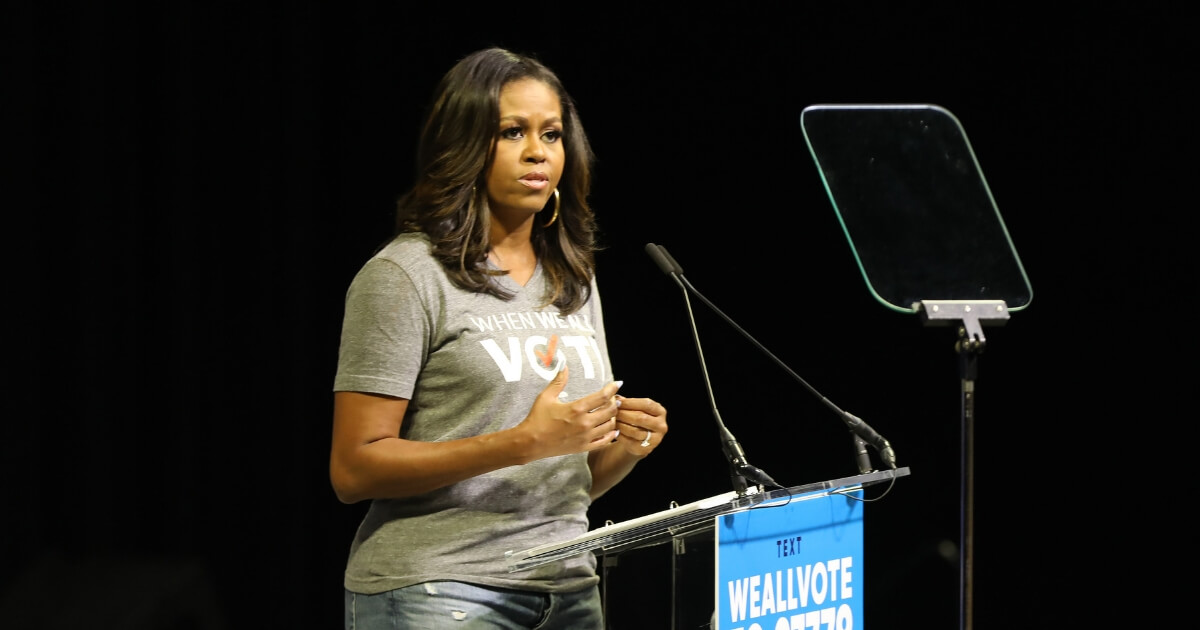 Trump Has Perfect Response After Michelle Obama Says She Can't Forgive Him
"When they go low, we go high."
Those were the words of former first lady Michelle Obama back in 2016. It was actually a nice sentiment: Don't be dragged into the mud by your detractors or enemies, but instead meet them with compassion. Turn the other cheek and stay above the fray.
A lot can change in two years. The first lady's noble rhetoric has apparently been replaced with bitterness, if her own memoir is to be believed.
Advertisement - story continues below
Obama has penned a book titled "Becoming," which is due to appear on store shelves shortly. As is often the case, media outlets were given advance copies — and The Washington Post just revealed part of the memoir that suggests its author has rejected her own good advice.
A passage of the book declares that Michelle Obama will "never forgive" Donald Trump for floating questions about her husband's birth certificate years earlier.
"The whole (birther) thing was crazy and mean-spirited, of course, its underlying bigotry and xenophobia hardly concealed," the fairer Obama wrote.
Then she went even further, claiming — with scant evidence — that questioning Barack Obama's eligibility for the White House somehow incited violence.
Advertisement - story continues below
"But it was also dangerous, deliberately meant to stir up the wingnuts and kooks," she continued.
"What if someone with an unstable mind loaded a gun and drove to Washington?" she breathlessly asked.
Do you think Michelle Obama should be blaming Trump for this?
Well ma'am, one did, and then deliberately targeted Republican lawmakers at a baseball field.
"What if that person went looking for our girls?" Obama worried. "Donald Trump, with his loud and reckless innuendos, was putting my family's safety at risk," she declared. "And for this I'd never forgive him."
So much for "we go high."
Advertisement - story continues below
Trump himself jabbed back against the soon to be published memoir. On Friday, the president responded to the claim that Michelle would "never forgive him" for asking birth certificate questions, according to Fox News.
"I'll never forgive (Barack Obama) for what he did to our United States military," he declared. "It was depleted."
He could probably have said the same about any number of Obama-era gaffes, from Mexican gun-walking to the Veterans Administration debacle to Benghazi. Michelle may be obsessed with mean words, but her husband committed real-life blunders.
If you think about it, Michelle Obama is making a very bizarre and thin argument. She has essentially created a hypothetical scenario about something happening to her family, and in this non-existent timeline, pinned it on Trump asking about the birth certificate while declaring she can't forgive him.
Advertisement - story continues below
Politics aside, no good person wanted or now wants any harm to come to the Obama's and especially the former first daughters. Yet it's odd for Michelle to fixate on the "birther" questions as somehow putting her family at high risk, as if this made her husband any more of a target for kooks than, say, being the first black president in America.
Where was the left's deep concern for dangerous rhetoric impacting a first family when one of their own, Kathy Griffin, literally talked about attacking the president's children and then acted out the beheading of the president on film?
Where was the left scrambling to defend Republican Ted Cruz against "bigotry and xenophobia" when liberals tried to question his eligibility to be president?
It seems leftist outrage is a selective trait, a sanctimony switch to be turned off and on when needed. It's become a bit predictable … and why Michelle Obama thinks nobody has noticed is the real mystery.
Conversation