Commentary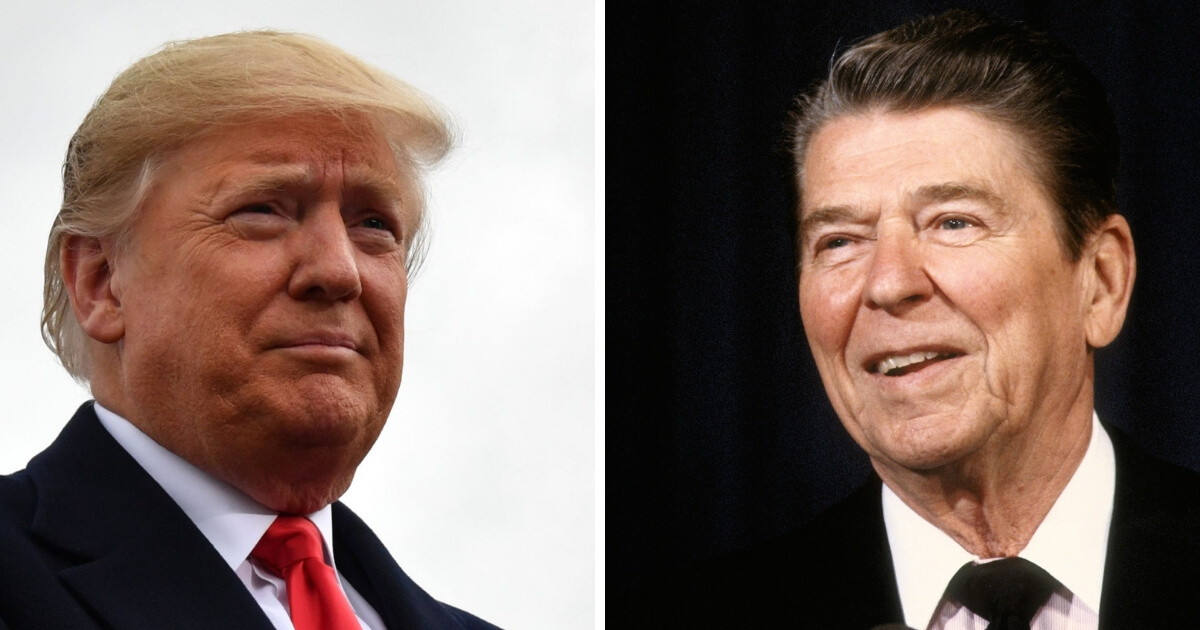 By the Numbers: Trump's 1st Midterm Results & Reagan's Look Almost Identical
There is the narrative the establishment media attempts to push and then there are the facts.
If the establishment media is to be believed, President Donald Trump is unpopular with voters.
The midterm election results, however, tell a different story. And it's one that should have the Democrats very worried.
Advertisement - story continues below
When reviewing midterm results for prior presidents and comparing them with Trump's, we see that his party, the Republican Party, did really well — better than "popular" Presidents Barack Obama and Bill Clinton.
President Ronald Reagan did well in the midterms as well. And Trump's numbers are very similar to his.
'82 mid terms R's lost 26 House & 1 Sen, '94 – D's lost 54 House & 9 Sen, '10 – D's lost 63 House & 6 Sen, '18 R lost 33 House & Gain 3 Sen.

— Jack Williams (@JackJeffco) November 8, 2018
Advertisement - story continues below
Consider the losses each president experienced.
In 1982 under Reagan, Republicans lost 26 seats in the House of Representatives and one in the Senate.
In 1994 under Clinton, Democrats lost 54 seats in the House and nine in the Senate.
In 2010 under Obama, Democrats lost 63 seats in the House and six in the Senate.
Now look at Trump. With several races still too close to call, Republicans appeared to lose about 30 House seats in Tuesday's midterms — fewer than both Clinton and Obama lost. The House losses were only slightly more than what happened under Reagan.
Midterm election most House seats lost by President's party in power;

2010 Obama: -63
1994 Clinton: -52
1958: Eisenhower: -48
1974 Ford (Nixon): -48
1966 Johnson: -47
1946 Truman: -45
2006 Bush: -30
1950 Truman: -29
1982 Reagan: -26
2018 Trump: -26

That's not a "blue wave".

— Paul Joseph Watson (@PrisonPlanet) November 7, 2018
Advertisement - story continues below
In the Senate, while Republicans and Democrats, respectively, all lost seats in the midterms under Reagan, Clinton and Obama, that isn't what happened under Trump. This year's midterms saw the Republicans gain three seats in the Senate — four more than even Reagan did.
This is absolutely newsworthy in terms of numbers and comparisons. But is the establishment media noting Trump's historic victory for the Republicans?
Do you believe Republicans are on track for big wins in 2020?
Advertisement - story continues below
If the president, his agenda and his policies are so unpopular, as continually claimed by the establishment media, how on earth did that GOP victory happen? Something doesn't quite add up.
The numbers point to most American voters being in favor of what they are seeing, almost more so than even with the very popular Reagan. If Trump continues to push positive changes for the country, he and the Republicans may be a true force to be reckoned with in 2020.
Bear in mind that this victory occurred in spite of the best efforts of the establishment media and Hollywood to undermine Trump and his agenda. The wins occurred despite all the "fake news," smears and negative stories on an almost 24/7 cycle.
The Democrats might not have the kind of power, control and influence they thought or hoped they had. If they continue to push things Americans have been rejecting — such as mobs, violence and divisiveness — they might face another unpleasant surprise in 2020.
Conversation