Commentary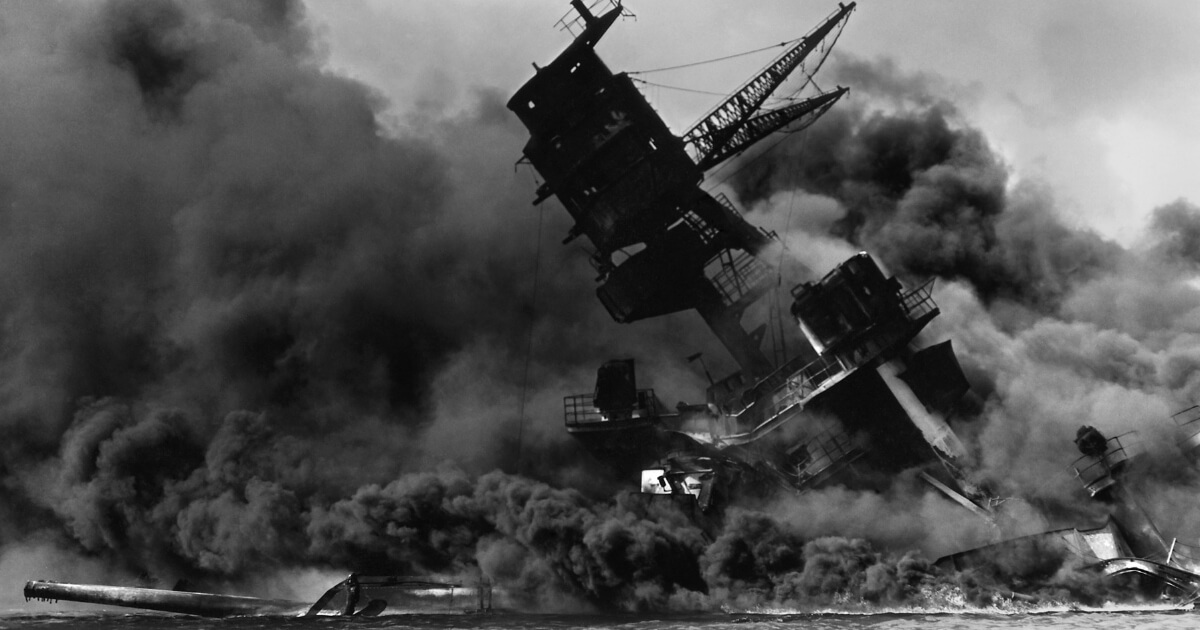 Twitter Attacks Veterans During Pearl Harbor Commemoration
During a live-tweet session commemorating the Pearl Harbor attack, one Twitter user found their account under attack, according to Twitchy. Twitter 'restricted' the USSArizona account for a period of eight minutes.
Earlier, during our live tweeting of the attack on Pearl Harbor as it happened in 1941, our account was suddenly restricted by @Twitter and no tweets were able to be sent for a period of about 8 minutes. We apologize and are looking into this. @TwitterSupport

— USSArizona (@USSArizona) December 7, 2018
Advertisement - story continues below
But that wasn't all that happened to the account. One user reported it was labeled with a warning for Twitter users who viewed it.
Twitter also had a 'suspicious activity' warning for anyone clicking on your profile. #AlgoFail

— Jimmy (@JimmyPrinceton) December 8, 2018
The account bio makes it very clear that the purpose of the account is one thing: Pearl Harbor remembrance. "Honoring the Officers and Men of the USS Arizona (BB-39)."
Advertisement - story continues below
"Remember the USS Arizona. Remember December 7th. Remember Pearl Harbor."
Prior to the account 'restriction,' the tweets published by the account simply told the story of the historic day, including glimpses of the current commemoration service. The first tweet from the account on the 7th was a retweet pointing interested individuals to where they could follow live coverage of the commemoration service.
Do you believe Twitter is politically biased?
Join us tomorrow as we cover the 77th Pearl Harbor Commemoration. We will be sharing photos, stories and events as they happen live. "We are not makers of history. We are made by history." #PearlHarbor77 #WeRemember pic.twitter.com/IS61G8ab6F

— Joint Base Pearl Harbor-Hickam (@JointBasePHH) December 7, 2018
Other examples of USSArizona's activity for the day include tweets and retweets featuring stories of the lives lost, mentions of those who survived and are still alive today, and historical images and video clips of the attack. There was nothing remotely 'offensive' in the content.
Advertisement - story continues below
Shortly after the attack ended, the USS California lists to port while burning oil from ships including oil form the USS Arizona threaten to engulf California as crewmen are abandoning her from the starboard side. #PearlHarbor77 pic.twitter.com/WCeJKYGeX0

— USSArizona (@USSArizona) December 8, 2018
From the @USSUtah Mr. Meyer says hello. Still has his humor! One of three survivors off of USS Utah still living. #PearlHarbor77 pic.twitter.com/a8PB1hJERU

— USSArizona (@USSArizona) December 8, 2018
Advertisement - story continues below
Fifteen Navy personnel are awarded the Medal of Honor for their actions, which include numerous acts of devotion by officers and men who sacrifice their own lives so that shipmates may escape capsizing and sinking battleships. #PH77

— U.S. Naval History (@USNHistory) December 7, 2018
But despite the simple historical content, along with what could arguably be called "news coverage" of the commemoration ceremony, the account was still hit with a 'restriction' and warning for other users during the live tweeting. Based on the reactions shared on Twitchy, as well as in the comments on the USSArizona post about what happened, no one could figure out a legitimate reason for what happened.
What did come up, and is the 'elephant in the room,' is the fact that accounts that truly do post vile things have often been allowed to remain posted by the powers-that-be at Twitter. These accounts tend to be left-leaning, while often the accounts hit with shadow-banning, restrictions, suspensions, and lifetime bans tend to be reportedly right-leaning.
Advertisement - story continues below
One example of an account posting vile things that is allowed to remain active and such posts allowed to remain up is found with Louis Farrakhan. In addressing the charge that he led a chant of "Death to America" while in Iran, he countered that he didn't lead it, he just asked how to chant it in Farsi. In the video provided in his retweet, he is saying it, in Farsi, and making sure he is doing it correctly.
"I never led a chant calling for death to America… I asked a question about how to pronounce the chant in Farsi during my meeting with Iranian students and an examination of the video shows just that."~Min. @LouisFarrakhan

Hear more of the audio: https://t.co/7KTabCjpHy pic.twitter.com/29PGxSqM05

— The Nation of Islam (@OfficialNOI) November 9, 2018
The retweet and video was posted on his account on November 9. As of December 9 it was still posted. So, learning how to chant "Death to America" in Farsi, while in Iran where such chants occur, is totally okay to post. Twitter won't take it down or shut down your account. At least not if you are Louis Farrakhan.
Advertisement - story continues below
But share America's history, in which America was attacked, and BOOM! Down you go. At least temporarily, and with a warning to other users.
If you are honoring the memory of military personnel lost and paying tribute to the veterans who survived a horrific attack from another country, that may be deemed "suspicious activity" by Twitter. But learning how to call for "death to America" in another language is fine.
And it just gets worse. Farrakhan also posted a video clip to Twitter in which he equated Jews with termites. That was on October 16. As of December 9, it is still posted.
I'm not an anti-Semite. I'm anti-Termite. pic.twitter.com/L5dPQcnVg4

— MINISTER FARRAKHAN (@LouisFarrakhan) October 16, 2018
Advertisement - story continues below
The Daily Wire wrote that Twitter left the post up and did not ban Farrakhan for anti-Semetic speech. They did remove his blue checkmark, though.
BuzzFeedNews reporter Joe Bernstein shared the scoop on why Twitter didn't ban Farrakhan. The reason is a doozey.
Just in from a @Twitter spokesperson: Louis Farrakhan's tweet comparing Jews to termites is not in violation of the company's policies. The policy on dehumanizing language has not yet been implemented.

So if you want to compare Jews to rats/insects – get it in while you can!

— Joe Bernstein (@Bernstein) October 17, 2018
Advertisement - story continues below
Farrakhan's account is far from the only example of such apparent bias and hypocrisy from Twitter. In October, The Blaze reported that while comedian Gavin McInnes was banned for alleged policy violations, video of Republican Sen. Ted Cruz and his wife being harassed at dinner, foul language included, was allowed to remain posted.
The article pointed out that the video seemed to in fact be in violation of Twitter policy, but Twitter's response to inquiry from The Blaze defended their decision. "As noted by Jack in his extensive public testimony, we enforce our Rules dispassionately and not on ideological or political grounds."
Many users would claim that evidence shows the opposite to be true. An argument could be made for a distinct pattern having developed with Twitter as to what accounts get punished and what accounts don't, based on political ideology.
Conversation