Commentary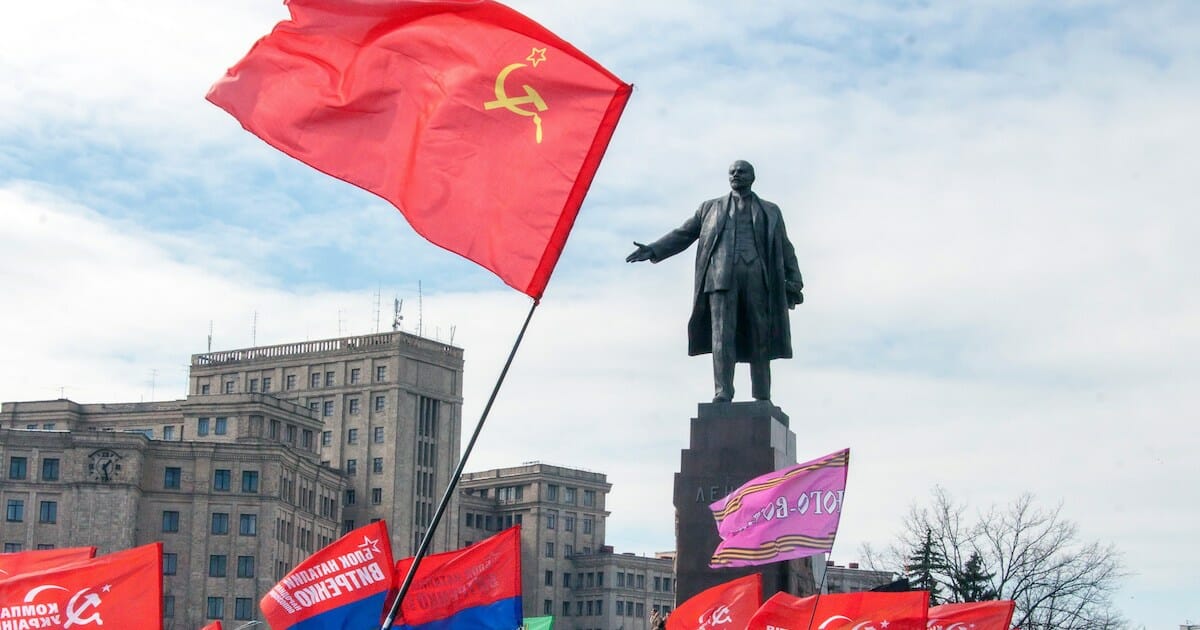 Ukraine Gets It: Former Soviet Republic Upholds Law that Equates Communism and Nazism
Much like its cousin socialism — or, as one could call it, communism-lite — we're told that communism can work, it just hasn't been really tried yet. I'd disagree, but given the obscene number of deaths that it's already caused, my position has always been that maybe it's time to just call it a rest.
The Constitutional Court of Ukraine has gone a bit further. Obviously, Ukraine has suffered more than most under the yoke of Marxist theory, having been subjected to the unspeakable horrors of the Holodomor under Joseph Stalin.
Now, both communism and Nazism are legally synonymous in the former Soviet Socialist Republic.
Advertisement - story continues below
According to Radio Free Europe, the law would ban any dissemination or display of communist symbols in the country.
"The legislation was passed by Ukrainian lawmakers in May 2015," Radio Free Europe reported.
Ukraine's Constitutional Court Upholds Law Equating Communism To Nazism https://t.co/vihrfTCzO1

— Jose M Guardia (@jmguardia) July 25, 2019
Advertisement - story continues below
"That law paved the way for the removal of all communist monuments not related to World War II and renaming public places and landmarks bearing Soviet names. Since then, dozens of statues, plaques, and other monuments — for example, statues of Soviet leader Vladimir Lenin — have been torn down and destroyed."
The ruling provoked angry reactions from the Russians, mostly because the law had been passed one year after Russia had annexed Crimea.
Do you support this court's decision?
"In their criminal nature, the communist regime and the Nazi regime were the same, and the methods of implementing state repressive policies were identical. These regimes categorically denied the possibility of a Ukrainian independent state, persecuted its adherents, and impeded Ukrainian national revival," a computer translation of the court's July 16 ruling reads.
"The decision states that the communist regime, as well as the Nazi regime, caused irreparable damage to human rights, as it exercised total control over society throughout its existence, politically motivated persecution and repression, failed to comply with international obligations, violated its constitutions. and laws," it continues.
"As a result, several generations of Ukrainians lived in an atmosphere of pervasive fear of lack of freedom, and were subject to arbitrary restrictions on civil, political, and other rights and freedoms.
Advertisement - story continues below
"The communist regime in the USSR has repeatedly initiated armed invasions of independent states, violating international obligations. One of the main causes of the greatest human casualties in the USSR, in particular in Ukraine, during the Second World War was that the Nazi regime and the communist regime had the same anti-human nature."
The court's decision cannot be appealed.
Writing at the Foundation for Economic Education in a piece published Saturday, John Miltimore argues that the "horrors of Nazi killing centers" shouldn't just be "associated exclusively with Hitler and his Nazi minions."
"'The Black Book of Communism,' an international bestseller, reveals that the handiwork of twentieth-century communists more than matched the Nazis. In fact, a glance at the figures shows the communist death toll dwarfs the bloody work of the Nazis: In China, 65 million dead; in the Soviet Union, nearly 20 million; Vietnam, 1 million; Cambodia, 2 million. North Korea is 2 million and counting. Chalk up a few million more with Eastern Europe (1 million), Africa (1.7 million), and Afghanistan (1.5 million)."
Advertisement - story continues below
Miltimore quotes Washington Post columnist Marc Thiessan: "In all, Communist regimes killed some 100 million people—roughly four times the number killed by the Nazis—making communism the most murderous ideology in human history," he wrote in a 2017 article.
And, just like Nazism, communism was full of bigotry and pseudoscientific theories that ended up sentencing people to death. Just look at Lysenkoism or the Great Leap Forward.
However, communism's utopian pretensions have saved it from the same level of scrutiny — especially in the West, where communism-lite is seeing a comeback.
"The different perceptions of the horrors of Nazi Germany to horrors of twentieth-century communism have long been a source of frustration for many who see cognitive dissonance in how the hammer-and-sickle is treated compared to the Swastika," Miltimore writes.
Advertisement - story continues below
At least in Ukraine, not anymore. One can understand why it's such a touchy subject there, but one hopes they're just the first — and not the last — country to realize the evil nature of both forms of government.
The great irony, which would be funny if it weren't so serious, is that Moscow protested, back when the law was passed, that Ukraine was using "totalitarian methods" to crush "freedom of the press, opinion, or conscience."
That's a pretty interesting tack to take, considering that's what Moscow spent most of the 20th century doing to Ukraine. That's the problem with communism: It has been tried before, and that's always where it ends up.
Truth and Accuracy
We are committed to truth and accuracy in all of our journalism. Read our editorial standards.
Conversation