Commentary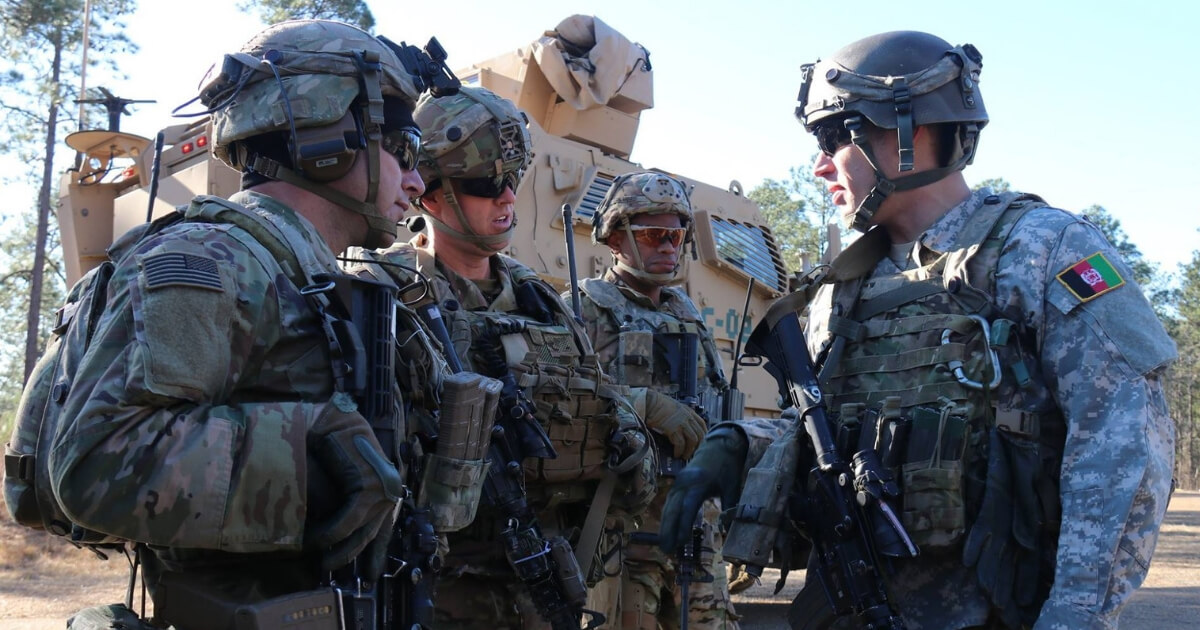 US Military Newspaper Reports on Dems' Alarming Plans for Military if They Win
For those who care about America's military, one more reason to vote "red" in the 2018 midterm elections has surfaced. On Tuesday, the Military Times gave a rundown of what could be in store if Democrats take control of the House or Senate.
For starters, Washington Rep. Adam Smith, a Democrat, would be the new House Armed Services Committee chairman, and he has been very vocal about what he would push for in that role — the same things he's advocated for years.
House Armed Services ranking Democrat Rep. Adam Smith favors Obama's approach to defense cuts | FOB Tacoma – http://t.co/4QDTyuqAgD

— Adam Ashton (@Adam_Ashton) April 11, 2013
Advertisement - story continues below
First, cuts to defense spending would be on Smith's agenda. He's been clear about this for years.
Adam Smith uses his NDAA statement to take a shot at Republicans' tax cut plan.

He calls it "the height of craven politics and irresponsibility" to increase defense spending and cut more than $1 trillion in taxes. pic.twitter.com/4O6D9zkjxM

— Connor O'Brien (@connorobrienNH) November 8, 2017
Advertisement - story continues below
The Times reported that Smith shared his thoughts on that topic during an Oct. 16 event. In doing so, he showed why conservatives are rightfully concerned about Democrats getting control of Congress.
"If you read conservative opinions about, 'What if the Democrats take back the House,' one of the biggest arguments is, 'You can't let Adam Smith be chairman of the Armed Services Committee because he wants to cut the defense budget' — and they're right. I think there's way too much waste, way too much inefficiency," Smith said.
Do you think defense spending should be cut?
While some might not see that as a bad thing, this next plan might be troubling to them.
"Smith said as chairman, he would push for Congress to reassert its oversight role, particularly in places like Niger and Yemen, where U.S. involvement is little understood by the American public," the Times reported.
"He wants the committee 'actively engaged' in fighting for the rights of women and members of the LGBTQ community to take part in military service however they desire."
Advertisement - story continues below
And that's not all.
Defense News reported in September that Smith would push for cuts to spending on nuclear defense.
"I think the Republican Party and the nuclear posture review contemplates a lot more nuclear weapons than I — and I think most Democrats — think we need," he said.
The outlet also reported in April that House Minority Leader Nancy Pelosi said members of her party "are in wide agreement the post-2001 war authorizations should be repealed."
Advertisement - story continues below
Smith addressed how they would approach that.
"Legislatively, to craft the language in such a way that it makes sure the president doesn't have a blank check to basically use military force wherever and whenever he wants, but at the same time making sure that he does have the authority to use it when necessary, is difficult," he said.
"Congress needs to pass an (Authorization of Use of Military Force)," Smith said. "We need to work together to figure out, what is our policy? What should we be using the military for right now to protect our national security?"
In the spring edition of the Strategic Studies Quarterly, co-written by Smith, was a report outlining the importance of another round of base closures.
Advertisement - story continues below
According to the Military Times, Smith has also "opposed Trump's proposed 355-ship Navy and has touted his votes to end building Northrop Grumman's B-2 bomber and Lockheed Martin's F-22 fighter."
It seems the military will be hit hard across the board if the Democrats get the power they seek in Congress. Smith has been making it clear all year what is planned if they do get it.
If conservative voters become complacent, that is exactly what may happen. And the damage would not just be to the military but to national security.
That is something America can ill afford, particularly in light of the threats the nation regularly faces from terrorism and unfriendly nations. President Donald Trump has been pushing peace through strength, and as evidenced by North Korea's stand down on nuclear testing and threats, it is usually the approach that works best.
Conversation
Notice: Due to threatened de-monetization, we have temporarily removed commenting while we build a long-term commenting solution that allows you to voice your opinion freely and allows us to continue to publish the news fearlessly and cover topics that you care about. If you would like to personally partner with The Western Journal to help us continue publishing while under relentless assault by Big Tech, please visit our
subscription page
here. We encourage you to share this article and discuss with your friends.