In its story accusing Roy Moore of inappropriate conduct with teenagers in the late 1970s and early 1980s, The Washington Post reported that none of the accusers supported his opponents. But, in fact, one campaigned with Hillary Clinton last fall and made Facebook posts supportive of Barack and Michelle Obama and the anti-Trump "Resist" movement.
The Post strongly implied that none of these women had a horse in the race, when they agreed to participate in the paper's story about the Republican Alabama U.S. Senate candidate.
"According to campaign reports, none of the women has donated to or worked for Moore's Democratic opponent, Doug Jones, or his rivals in the Republican primary, including Sen. Luther Strange, whom he defeated this fall in a runoff election," The Post reported.
Advertisement - story continues below
Debbie Wesson Gibson, who said she dated Moore in 1981, when he was 34 and she was 17, had multiple pro-Democrat posts on her Facebook page.
Her cover image dated October 29, 2016 shows Gibson signing at a Clinton rally in the neighboring state of Florida, just days before last year's presidential election. She tagged, "Hillary Rodham Clinton" in the post.
TRENDING: Vet Who Was Mocked by 'SNL' Appears on Show, Sends Powerful Message
A few weeks after Donald Trump took office, Gibson expressed her support for the "Resist" movement aimed at undermining his presidency.
Advertisement - story continues below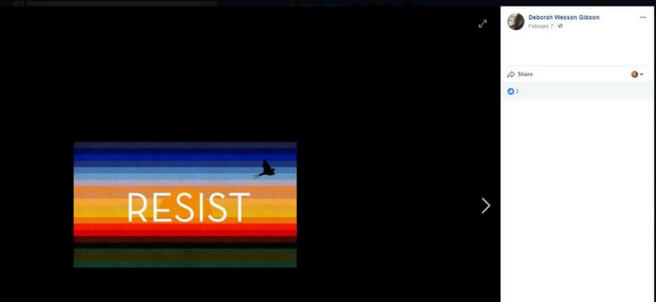 Two days later, she changed her cover photo to one of the former first couple Barack and Michelle Obama.
Moore wrote on social media on Thursday that "The Obama-Clinton Machine's liberal media lapdogs just launched the most vicious and nasty round of attacks against me I've EVER faced!"
Advertisement - story continues below
"We are are in the midst of a spiritual battle with those who want to silence our message," he continued. "The forces of evil will lie, cheat, steal –– even inflict physical harm –– if they believe it will silence and shut up Christian conservatives like you and me."
Appearing on Sean Hannity's radio program on Friday, Moore categorically denied the allegations of The Post story, the most serious being that he engaged in inappropriate sexual contact with a 14-year-old in 1979, when he was 32.
"I had nothing to do with this (alleged incident)," the judge told Hannity. "This is a completely manufactured story meant to defrock this campaign."
Advertisement - story continues below
Hannity followed up by asking Moore, "Would you agree with me that no person (who participated in such behavior) should ever serve in the United States Senate?"
"Of course," Moore replied. "If you abuse a 14-year-old, you shouldn't be a Senate candidate. I agree with that, but I did not do that."
"I never knew this woman, I never met this woman. … This never happened," he added.
The judge characterized the attack as motivated by Democrats, and perhaps establishment Republicans. The Post "has an agenda," he charged.
Advertisement - story continues below
Hannity also asked whether Moore dated the 17 and 18-year-old women listed in the Post story.
The candidate responded that he generally did not date women of that age in that time period, but would not rule out that it may have happened. The judge noted if Gibson's account is taken at face value, the dating happened with the permission of her mother.
In a statement released by the campaign on Friday, Moore condemned any who engage in sexual misconduct against minors or women.
"I have never provided alcohol to minors, and I have never engaged in sexual misconduct," he said. "As a father of a daughter and a grandfather of five granddaughters, I condemn the actions of any man who engages in sexual misconduct not just against minors but against any woman."
Advertisement - story continues below
"I know that a lot of people wonder why this story was written," Moore added. "I can't fully answer that because as much as I have disagreed vehemently on political issues with many people over the years, I cannot understand the mentality of using such a dangerous lie to try to personally destroy someone."
Moore's wife Kayla Moore added in an interview with The Western Journal that the judge said he "would have never done" what the now 53-year-old accuser, Leigh Corfman, described.
Kayla also stated that the couple has been receiving multiple reports over the past month from people around Etowah County, where they live, about The Post calling residents seeking negative information about the judge in relation to women.
White House press secretary Sarah Huckabee Sanders told reporters on board Air Force One on Friday concerning the controversy, "Like most Americans, the president believes that we cannot allow a mere allegation, in this case one from many years ago, to destroy a person's life."
Advertisement - story continues below
"However, the president also believes that if these allegations (contained in the Post story) are true, Judge Moore will do the right thing and step aside," she added.
Last month, The Post's editorial board endorsed Moore's opponent, Democrat Doug Jones.
We are committed to truth and accuracy in all of our journalism. Read our editorial standards.