Commentary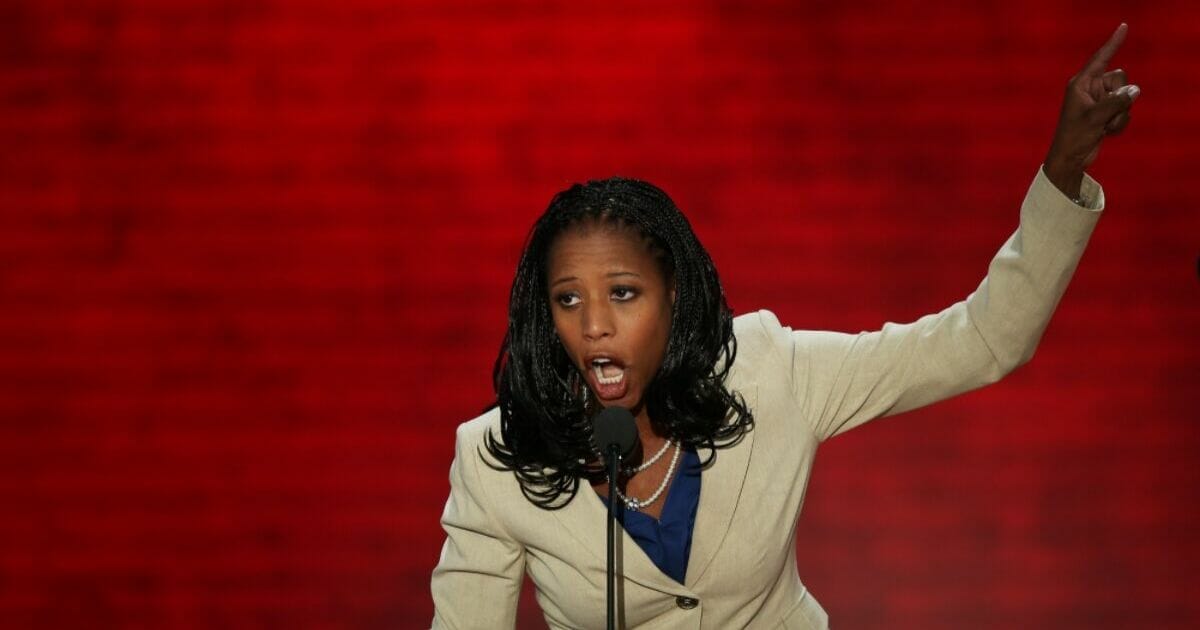 Watch: CNN Panel Attacks Black Former GOP Congresswoman For Not Calling Trump Tweets 'Racist'
On the heels of a tweet storm by President Donald Trump that encouraged Reps. Alexandria Ocasio-Cortez of New York, Rashida Tlaib of Michigan, Ilhan Omar of Minnesota and Ayanna Pressley of Massachusetts to go back to their countries of origin if they were unhappy with the United States, the liberal media erupted in rage.
Much of the establishment media labeled Trump's tweet "racist" and a firestorm of replies ensued from the four congresswomen. Networks scrambled to bring on as many guests as they could muster to reinforce the anti-Trump narrative.
According to the Washington Examiner, a "New Day" CNN panel on Monday featured former Republican Rep. Mia Love of Utah, New York Times journalist Frank Bruni and CNN contributor Bianna Golodryga.
Advertisement - story continues below
The show's hosts and panelists pressured Love to call Trump's tweets "racist," but the former congresswoman proved herself a level-headed thinker and explained why his tweets weren't, in fact, racist.
"Just to be clear, do you see those tweets as racist?" host Alisyn Camerota asked Love.
Love argued in her reply that while she wasn't pleased with the president's recent comments, his tweet was far from racist.
"Racist is a very — I take that word incredibly seriously. I don't — I'm not in the president's head. I do not think that these comments help," she answered. "I am not going to get into whether he is racist. I don't think that those comments help him. I don't think that the comments help his narrative. I'm incredibly frustrated, I continue to be frustrated," Love replied.
Advertisement - story continues below
As Love delivered her answer, Bruni shook his head in disgust as if he couldn't believe that a black former lawmaker wouldn't be offended by Trump's tweets.
The other panelist, Bianna Golodryga, a Moldavian immigrant, was mic'ed up after Love refused to join the anti-Trump train.
"Let's stop dancing around this issue, it's a racist comment. It's a racist comment any time somebody says go back to the country from which you came," Golodryga said.
Bruni, who was still squirming by the time the hosts afforded him a turn to speak, spewed a few lines of expected anti-Trump drivel and expressed utter shock that Love wouldn't stoop to CNN's level.
"Mia Love said she's frustrated, Republicans are frustrated, I'm frustrated with that interview. All due respect, I have no idea why she's dancing around calling these comments racist. She's no longer in Congress and still seems unwilling to call out the president's behavior for what it is. Those were racist — no, please, my turn, those were racist Tweets," Bruni said.
Love, who'd clearly had enough of the panel's manufactured liberal outrage and Trump Derangement Syndrome, clapped back at the entire crew, shutting them down.
Advertisement - story continues below
Do you think CNN is a fake news network?
"I see the bigger issue here. The bigger issue to me is when I go out and see how the world views us, I see the world looking at us tearing each other apart," she said.
"I'm sorry, don't tell me how I should feel about what somebody says about me because I have grown up as a black woman in America my entire life," Love fired back. "I have been taught that I will not allow anyone make me a victim."
You can watch the heated exchange in the video below.
Advertisement - story continues below
And playing the victim card is what many Democrats — especially the radical crew at the core of the controversy — are doing, all in an effort to undermine Trump and his administration, especially during the ongoing border crisis.
All of the liberal media networks, especially CNN, know that if enough people appear on various shows and start dropping the "racist" word enough times, that enough of its viewers will blindly believe it's accurate. It's political theater mixed with psychological warfare against its sheep-like audience.
You don't have to be a Trump supporter to understand that actual racism is light years removed from what Trump tweeted. That's the difference between Love and the panel she faced.
Advertisement - story continues below
As a woman of color, she understands the true meaning of that word, unlike anyone else on that panel.
Conversation