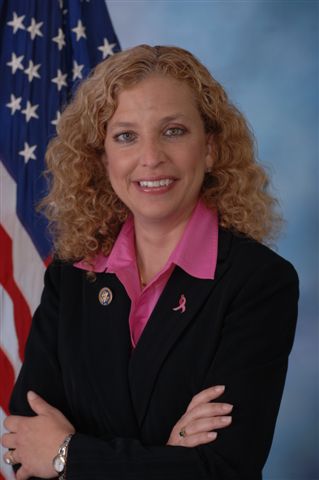 What income is Debbie Wasserman Schultz hiding?
According to breaking news from TheSharkTank.net, a Florida based website, Congresswoman and DNC Chair Debbie Wasserman Schultz has been living the high life. The machine gun-mouthed Schultz, who never misses an opportunity to attack Mitt Romney for the wealth he has accumulated, spent a week on a Caribbean cruise staying in the Royal Caribbean Line's most expensive cabin on the Oasis of the Seas. Debbie, her husband Steve, and her three children spent a week in the "Royal Loft Suite" which is priced at $33,151.65 for a family of five.
Advertisement – story continues below
While Debbie has been slamming Romney for having "offshore" investments, she has maintained a Swiss bank account, an interest in an offshore drug company, and another account in the Bank of India. Through all of this, the pathetic Wasserman Schultz has called Romney a "One percenter", trying to make the case that Romney's wealth means he cannot relate to the average American.
During an interview in February, Schultz, whose government salary is $174,000, said she is "middle class", despite having an income three times the $54,194 medium salary in her Congressional District – FL 20.
Debbie's husband Steve is listed as a vice president of commercial lending at Community Bank of Broward, a small institution with just 8 branches. For the family to drop $33k, or 18% of her reported gross yearly income in a single week, he must be doing very well at his little bank.
But there is more to the story of Debbie's true wealth. Unlike real "middle class" Americans, she has a "second home" and a separate piece of land in Newbury New Hampshire.  By one account, Debbie's Granite State home is worth $503,400.
Advertisement – story continues below
In June 2010, when the Democrats still controlled Congress, Wasserman Schultz was a vocal leader in the fight to keep the fees banks pay merchants for handling debit card transactions from being reduced by federal law. It may be a coincidence, but someone should ask the "transparent" Ms. Wasserman Schultz if she has anything to say about the fact that on November 24, 2010, she and her husband got a new mortgage on the New Hampshire property from Wells Fargo (the second largest debit card bank in America.)
The mortgage was worth $374,500, which seems high considering the real estate market was already tanking, and Zillow.com currently sets the value of the home at $359,100.
Is $359,100 a lot of money to lend to a couple who has an income of $174,000 (her reported income) plus that of a "commercial lending vice president" at a small Florida bank? We'll never know because there is something else the Shark-Tank.net story tells us that adds more suspicious smoke to this fire: Debbie won't release her income tax returns PERIOD!
What income is Debbie Wasserman Schultz hiding?
Follow Coach at twitter.com @KcoachcCoach
The views expressed in this opinion article are solely those of their author and are not necessarily either shared or endorsed by the owners of this website.
What do you think? Scroll down to comment below.