Commentary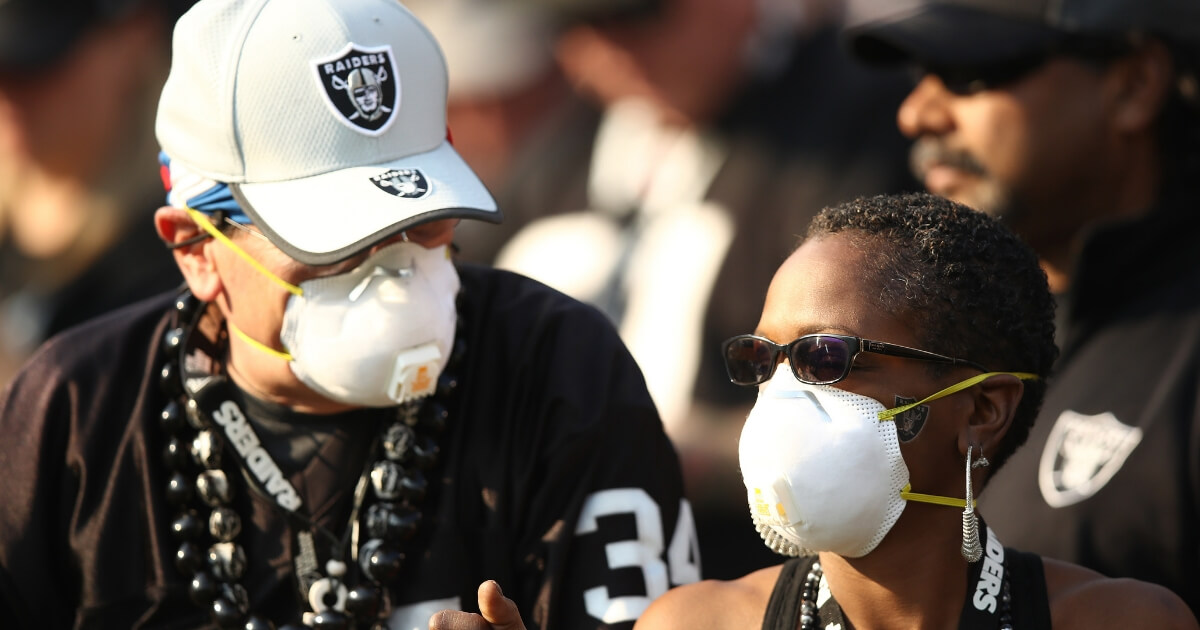 After Years of 'Green' Policy Fails, Cali Cities Now Handing Out Breathing Masks
There's a saying about a certain road being "paved with good intentions." Some in California are now living that very saying.
For years, California has adapted a wide range of green policies. All-too-often, however, the results are problematic, and even destructive to the state. And now, the culmination of mismanagement of water, prescribed burns and underbrush cleaning has led to turning the state into a tinderbox.
And it gets even worse. Those fires are causing so much air pollution that breathing masks are now being handed out, according to the Daily Republic.
Advertisement - story continues below
Ugh. Another huge fire in California, and lots of smoke gets trapped in Silicon Valley. The fire's further away, so it doesn't smell as bad as the Mendocino fire, but I did yard work today and I just sneezed blood. Stay safe & wear a breathing mask when going outside, friends. pic.twitter.com/GtZabVokFz

— Harold (@spaceseeker19) November 10, 2018
According to the report, people who live as far as one hundred miles away are now victim to the "thick, gray air in their neighborhoods." But it isn't just when it can be seen that it is a problem.
The pollution from the fires can be so minuscule that it can directly enter the bloodstream, free to do its damage.
Advertisement - story continues below
While South San Francisco and Daly City are already giving out breathing masks, money is being raised by a group to do likewise in Oakland.
The Daily Republic advised that surgical masks are not effective for this application. However, N95 or N100 respirator masks, often sold by hardware stores, are "the mot effective" option.
Do you believe that California's green policies have contributed to their wildfire situation?
Although President Donald Trump has been criticized for blaming the fires on mismanagement, he is not alone in that belief, as he shares it with Interior Secretary Ryan Zinke.
There is no reason for these massive, deadly and costly forest fires in California except that forest management is so poor. Billions of dollars are given each year, with so many lives lost, all because of gross mismanagement of the forests. Remedy now, or no more Fed payments!

— Donald J. Trump (@realDonaldTrump) November 10, 2018
Advertisement - story continues below
Zinke pointed out that allowing conditions that fuel the fire is no way to protect habitat. Good forest management is.
And according to WJLA a Univesity of California Cooperative Extension fire scientist agrees with him. Dr. Kate Wilkin also elaborated on his point.
"Together, poor land management, poor land use planning and the onset of climate change, we have created the perfect environment for the perfect firestorm in California. It's completely expected and it's going to get worse." WJLA went on to note that the situation is so bad in Calfironia a 2017 U.S. Forest Service report showed that only a little over one percent of the forests in the state are treated to reduce fire risk.
Advertisement - story continues below
Treatment includes forest thinning and prescribed burns. Senior environmental policy fellow at the Heartland Institute, H. Sterling Burnett explained that "We've had at least a couple decades of a hands-off forest policy, so you get tinderbox conditions in national forests. It's 30 years of mismanagement."
So any Californians who care about air quality, their own health, and the environment may want to rethink any green policies they have been supporting. Good intentions are not enough. They have to make good sense to actually be effective.
Conversation