Commentary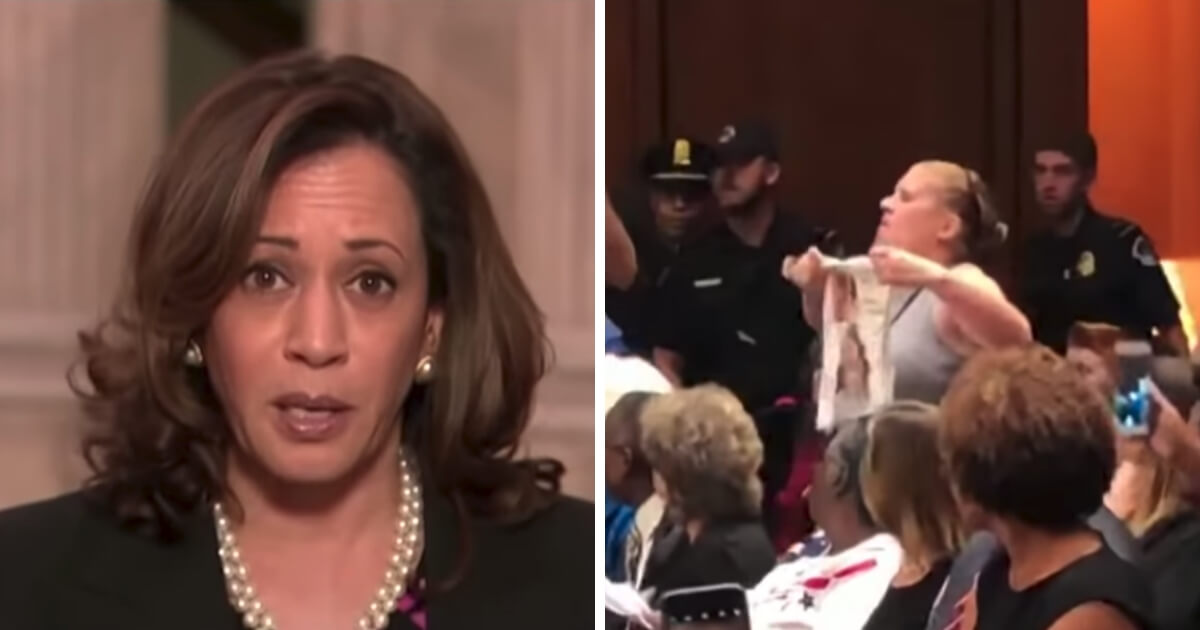 Kamala Harris Tries Defending Protesters; Suddenly, Protester Tanks Her Interview
The confirmation hearings for Supreme Court nominee Judge Brett Kavanaugh in the Senate Judiciary Committee that began Tuesday have been an absolute fiasco from the moment they started.
Democrats on the committee immediately sought to indefinitely delay the hearings and took turns using every sort of excuse, parliamentary procedure and obscure committee rule they could think of — all to no avail.
Concurrent with that failed effort came repeated disruptions from loud and angry protesters who had managed to get inside the audience at the hearing, requiring police and other security team members to haul the protesters out one by one as they revealed themselves.
Advertisement - story continues below
California Sen. Kamala Harris, who was the first to lead the elected-Democrat portion of the obstruction and delay tactics at the hearing, set out to defend the protesters at the hearing during an appearance Tuesday evening on MSNBC, according to The Washington Free Beacon.
Unfortunately for her, the network played some video clips while Harris was speaking that completely undermined the message she was attempting to get across to viewers.
Harris began by speaking about the reams of documents from Kavanaugh's time in the Bush White House that have been requested by Democrats but not provided to them — they've received more than 42,000 pages out of several hundred thousand requested — and reiterated the Democrats' narrative that the hearings should be postponed or suspended indefinitely until all documents are produced and adequate time for review has been provided.
Host Chris Hayes shifted gears somewhat and asked about the delay tactics and "hysteria" of protests from the audience, and played a clip of Republican committee member Sen. Ben Sasse of Nebraska speaking about that very issue.
Advertisement - story continues below
Sasse said in the clip during the hearing, "People are going to pretend that Americans have no historical memory, and supposedly there haven't been screaming protesters saying 'women are gonna die' at every hearing for decades.
Are you tired of the Democrat-led delay tactics, obstruction and protests at Kavanaugh's nomination hearing?
"So, the fact that the hysteria has nothing to do with (Kavanaugh), means that we should ask what's the hysteria coming from?" Sasse continued. "The hysteria around Supreme Court confirmation hearings is coming from the fact that we have a fundamental misunderstanding of the role of the Supreme Court in American life now."
In response to Sasse's remarks, Harris skipped over the substance of it and instead focused in on his use of the word "hysteria," which Harris asserted had some sort of misogynistic intent on his part to dismiss the female protesters, or some other such feminist nonsense that avoided the point.
"I think it's a mistake to refer to women who are using their voice to protest a flawed process, to refer to them as 'hysterical,'" said Harris. "There is a whole line of discussion and writings on how the word 'hysteria' has been used to talk about women who own their power."
Advertisement - story continues below
Harris then shifted back to talking about the many documents that had been requested by Democrats and the limited time available to review what had been provided. She then sought to smear Kavanaugh as some sort of shady "political operative" who wasn't worthy of a seat on the Supreme Court.
"There is so much on the line and so much at stake, so to suggest that people who understand the seriousness of this and are protesting the lack of transparency, the lack of due process, to suggest that they're hysterical is really to throw out a red herring and not deal with the real issue, which is that this hearing is severely flawed and it should be postponed until we can vet who this nominee really is," Harris said.
Except, while Harris was defending the protesters as being serious and anything but "hysterical," MSNBC, perhaps unwittingly, undermined her statement as she was still delivering it by playing video of protesters screaming loudly — and acting hysterically, one might say — inside the hearing as they were being physically removed.
Harris thought she could defend the protesters at Kavanaugh's confirmation hearing by suggesting the use of the word "hysteria" to describe their behavior was a sexist smear, and MSNBC probably wanted to help Harris in distributing that message.
Advertisement - story continues below
But the video of the actual protesters behaving in a hysterical manner while Harris was saying otherwise only served to reinforce Sasse and undermine Harris.
Conversation