Commentary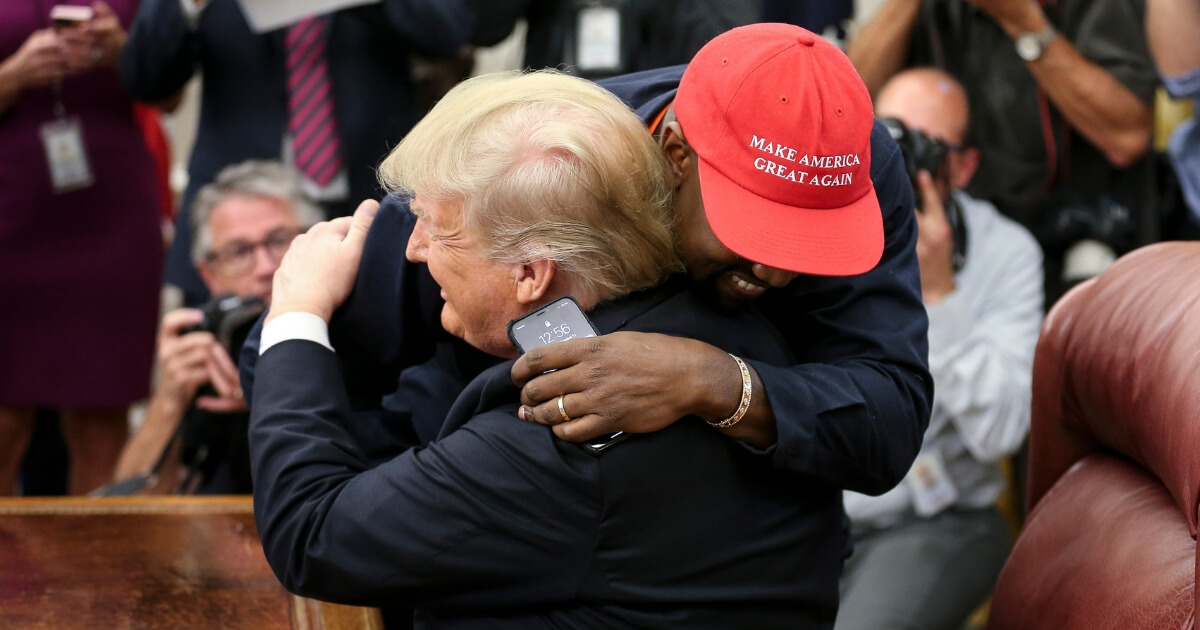 Legendary Black Comedian Stuns Leftists by Defending Kanye West
Entrepreneurial entertainer and rapper Kanye West met with President Donald Trump in the Oval Office of the White House on Thursday, and the apparatus of the political left — the Democratic Party, Hollywood and the media — absolutely lost their minds.
West was brutally mocked and disparaged for the admiration and respect he expressed for Trump. His mental health was called into question, as was his loyalty to the black community — an accelerated continuation of the incredible abuse he already had received from the left over the past two years for the same things.
But there is at least one liberal member of the black entertainment community who isn't particularly bothered by West's open support of Trump, even as he largely disagrees with much of what West has said in recent months.
Advertisement - story continues below
Hilarious comedian Dave Chappelle sat down several days ago — prior to West's White House meeting with Trump — for an interview with CNN's Van Jones set to air Saturday evening.
The topic of West's support of Trump and the "Make America Great Again" agenda inevitably came up for discussion, and Chappelle appeared to have mixed feelings on the matter. He made it clear he disagreed with West's choice to support Trump but nevertheless respected his right to make that choice.
"First of all, you know, Kanye's an artist, man. And he's a genius," Chappelle said.
"Whatever he's saying right now, I think that the angle he's seeing things from is about the division that he sees," the comedian continued, in reference to West's repeated pleas for more displays of love and respect for others instead of constant expressions of divisive hatred.
Advertisement - story continues below
"And he's not inconsistent with what he's saying. For instance, a decade ago I read a quote where he said he wanted to take the Confederate flag and reappropriate it some other kind of way," Chappelle said. "Now it's a MAGA hat and whatever, man."
The incident Chappelle referred to actually occurred five years ago, in 2013, when West had placed a Confederate flag on his jacket and told some Los Angeles radio hosts that since that particular flag was broadly understood to represent slavery by some, he was taking it and making it his own to prove a point.
Are you glad to see Dave Chappelle defend Kanye West's choice to support Trump?
Chappelle also seemed to take issue with the incredible divisiveness in our political discourse these days, likening it to a nasty fight between family members or spouses in which things are said that are later regretted.
"The thing that's scary about this presidency is after it. I don't know if you've been married before or had a girlfriend and said something in a fight that was so wrong," he said.
"And then after that … we're still family, we're still around each other. But man, I sure did say all that s—, didn't I?" added Chappelle.
Advertisement - story continues below
As for West himself, Chappelle said, "I'm not mad at Kanye. That's my brother, I love him, I support him."
"But you know, I don't have to agree with everything that he says, I just trust him as a person of intent," he continued.
"But, uh … he shouldn't say all that s—," the comedian added with a grin, to much laughter from the audience.
Chappelle has previously made it clear that he is no big fan of the president, but he seems to be generally accepting of that fact that West is a big fan of Trump. If Chappelle can admit that he is OK with that, others can admit it too, and that could very well serve to allow others who feel similarly as West — but have remained silent to avoid the backlash he's received — to speak openly as well.
Conversation