Sports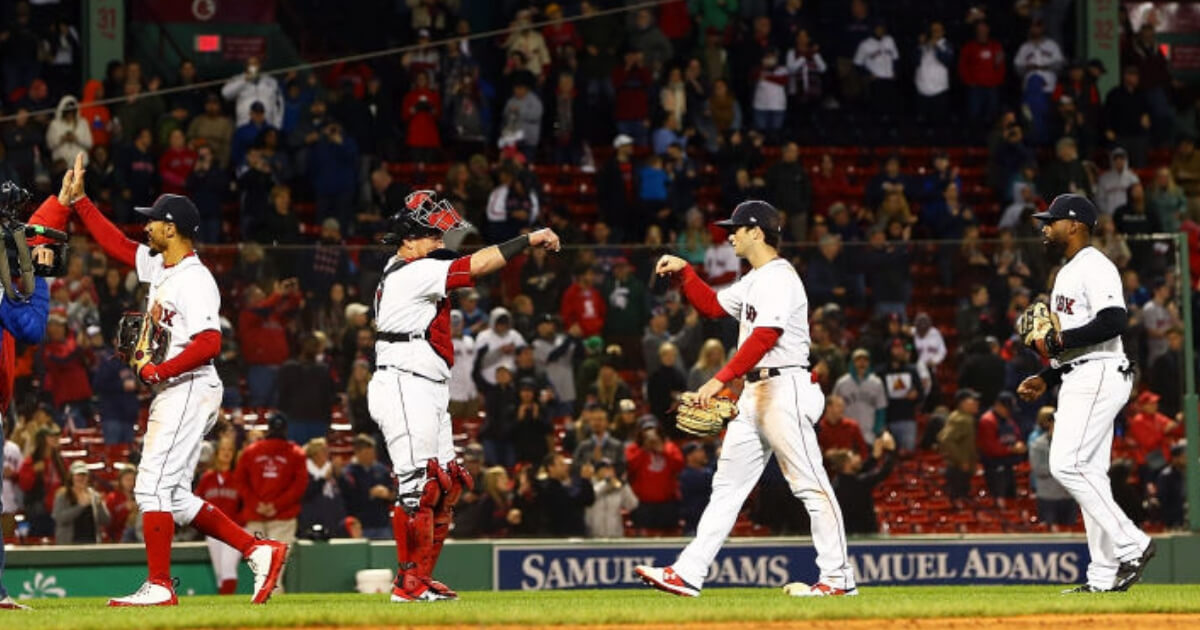 Red Sox Officially Set Franchise Record for Wins
In the 118-year history of the organization, no Boston Red Sox team has ever won more games in the regular season than this year's edition.
With a 6-2 win over the hapless Orioles on Monday, the Red Sox notched their 106th win of the season, beating the mark of 105 wins set by the 1912 Red Sox.
1️⃣0️⃣6️⃣ WINS!

A new franchise record! pic.twitter.com/rstkLdhRhE

— Red Sox (@RedSox) September 25, 2018
Advertisement - story continues below
That 1912 Red Sox team, led by Tris Speaker and Smokey Joe Wood, went on to win the franchise's second World Series.
Expectations are high for this year's Sox to win it all after being knocked out in the AL Division Series each of the last two years.
HISTORY. pic.twitter.com/zMcIYl4K7k

— Red Sox (@RedSox) September 25, 2018
Mookie Betts hit his 32nd home run of the season to pace the Red Sox, while Nathan Eovaldi got the win.
Advertisement - story continues below
The Red Sox go into Tuesday's game against the O's with a 106-51 record, meaning they could conceivably win 111 games if they each of their remaining five games of the season.
If they get to 110 wins, they would be just the seventh team in MLB history to do so. The others are the 1906 Cubs (116-36), 1909 Pirates (110-42), 1927 Yankees (110-44), 1954 Indians (111-43), 1998 Yankees (114-48), and 2001 Mariners (116-46).
Will the Red Sox win the World Series?
Veteran Dustin Pedroia, who was a part of two Red Sox championship teams in 2007 and 2013, addressed the team after the record-breaking win.
"He just said we have a special group," Betts said when asked what Pedroia said to the team, according to the Boston Herald. "He's enjoyed being around when he's been here. He kind of keeps us all level-headed, lets us know what we did wrong or what did right, what we can work on, all those types of things. He's a veteran guy that's been around, has done everything we're trying to do. It's great for him to be here."
Red Sox confirm Sale will start Game 1 of ALDS.
https://t.co/wuEMQQAG48 pic.twitter.com/CNgVilJSao

— theScore (@theScore) September 25, 2018
Advertisement - story continues below
Pedroia has been battling a knee injury that has kept him on the shelf for all but three games this year. He won't be on the team's active roster for the playoffs.
By clinching the best record in the majors, the Sox will have home-field advantage throughout the postseason.
"It's a historic franchise. For me, personally, coming from where I come (in Puerto Rico), being able to manage at the big-league level, I'm the second Puerto Rican to ever manage in the big leagues, you guys know how I feel. … For this to happen is very special," Red Sox first-year manager Alex Cora said, according to the Herald.
"We sit down at home and sometimes we're in awe, like, this is really happening? It's been great. It's been fun. We're going to call timeout and enjoy this one, and we're going to get back to business (today). But we should enjoy this one," Cora added.
Conversation