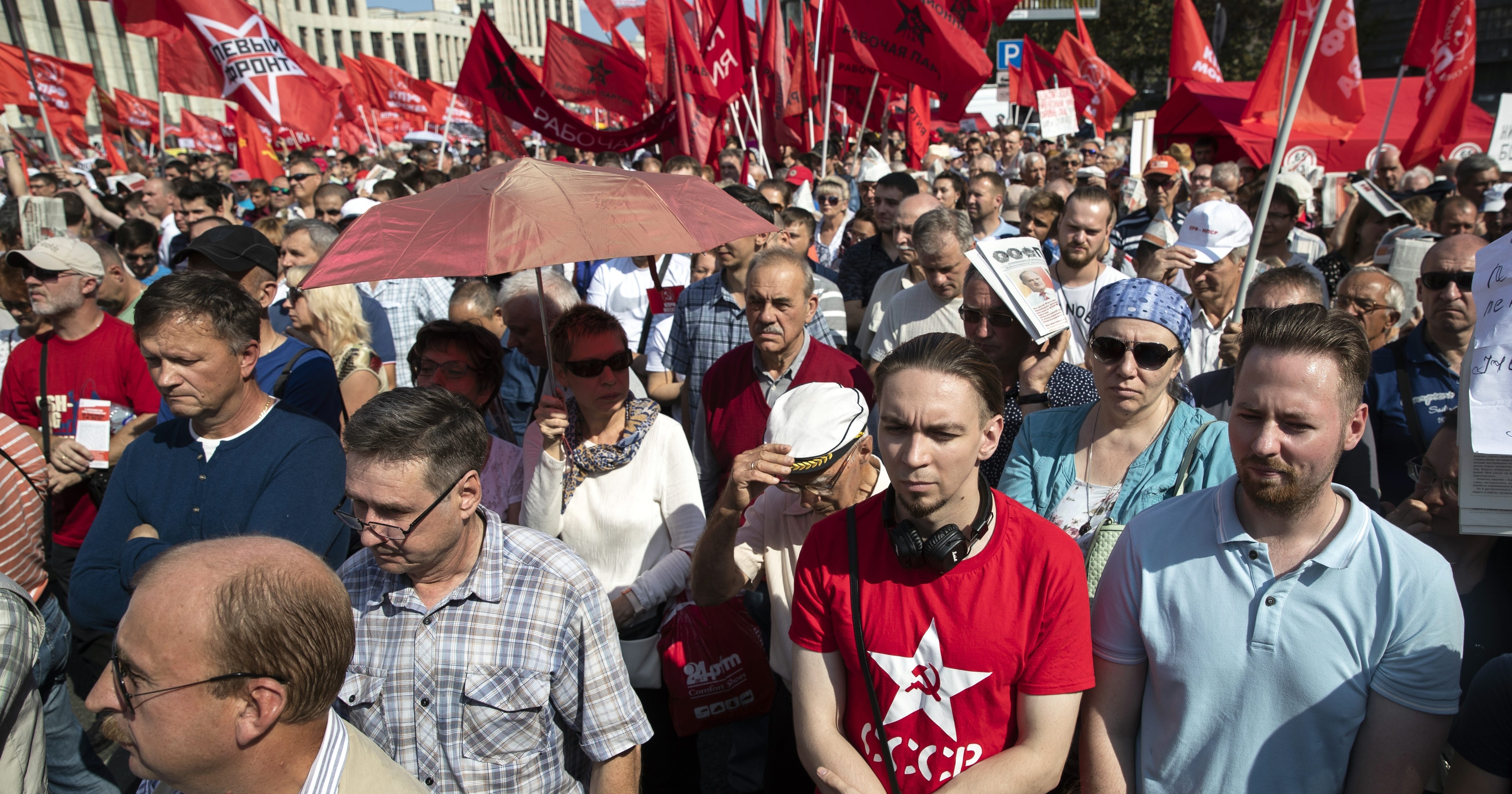 Communists March in Russia After Government Plan To Change Pension Age
Russians held rallies throughout the country Sunday to protest a government plan to raise the age for receiving state pensions.
Several thousand people gathered in central Moscow for a protest organized by the Communist Party. Another Moscow protest organized by the A Just Russia party attracted about 1,500 people.
Other demonstrations were reported in at least a dozen cities throughout the country including Vladivostok in the Far East, Simferopol in Russia-annexed Crimea and Omsk, Barnaul and Novosibirsk in Siberia.
Advertisement - story continues below
No arrests were immediately reported. The rallies had official sanction.
The plan was introduced in June and has passed first-reading in the lower house of parliament. But widespread opposition has persisted and President Vladimir Putin's approval ratings in polls have fallen notably since the plan was announced.
In an unusual televised address to the nation, Putin last week conceded that the pension age for women will be raised only to 60 rather than the proposed 63. The current pension age for women is 55.
The plan would retain the raising of the men's pension age from 60 to 65, implementing the steps up over five years.
Advertisement - story continues below
The plan has attracted opposition from a notably wide specter of age groups and political beliefs.
Alexei Navalny, the anti-corruption activist and Putin foe who has built his movement on relatively young and well-educated urbanites, has called for his supporters to rally nationwide next Sunday.
People appearing to be in the 20s and 30s made up a large part of the Communist-called rally in Moscow.
Younger opponents of the move fear that keeping older people in the workforce longer will shrink their own job opportunities, while older people complain that they may not live long enough to collect significant benefits.
Russia's average life expectancy was notoriously low in the 1990s, but has risen in recent years and is now about 67 for men and 78 for women.
Advertisement - story continues below
Proponents of the pension age-raise say that rising life expectancies would overburden pension resources if the eligibility isn't adjusted.
The pension reform was announced in June on the eve of the opening of the Russia-hosted soccer World Cup and many critics saw the timing as an attempt to introduce a controversial idea while Russians were distracted by the tournament's excitement.
But Putin's polling numbers dropped significantly.
A weekly survey by the Fund For Public Opinion found 61 percent saying they fully or mostly trusted Putin in mid-August, down from 75 percent just before the pension reform proposal.
The Western Journal has reviewed this Associated Press story and may have altered it prior to publication to ensure that it meets our editorial standards.
Conversation