Commentary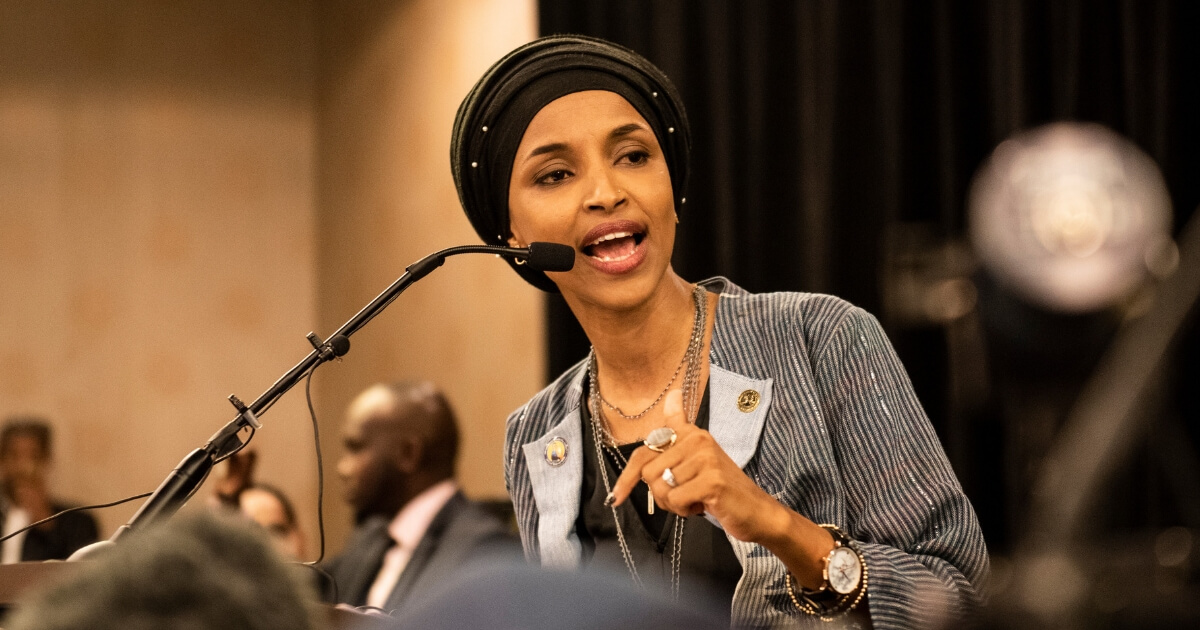 Shocking Tweet from New Muslim Congresswoman Shows Dems Aren't Serious About Anti-Semitism
A December New York Times piece on Rep. Ilhan Omar, the Somali-American Minnesota Democrat sworn in on Thursday, began with a story from her youth about her being bullied for wearing a hijab.
"Her father 'sat me down, and he said, 'Listen, these people who are doing all of these things to you, they're not doing something to you because they dislike you,'' Ms. Omar recalled in a recent interview. 'They are doing something to you because they feel threatened in some way by your existence.'"
I don't think you can get any more overt than that, but there you go: If you don't like the 37-year-old Rep. Omar, it's because she's the first U.S. representative to wear the hijab. The implicit message, as per The Times' headline, was that was why she's being "Vilified."
Advertisement - story continues below
There are two things that remained conspicuously unmentioned in the article, both of which are more than a little related to one another. The first was that there was absolutely no mention of how Rep. Omar connected with voters and young activists on social media.
Connoisseurs of any Times-penned hagiography of a Democrat politico under 40 knows that there has to be a mention — several, if possible — of how savvy they are with the Twitters and the Facebook-nets and the Snapchatagrams that the older generation simply can't comprehend. Yet here, nothing. Not one mention of a sick burn on some retrograde fogey with a single meme, not one picture of her taking a selfie with an excited group of college undergraduates, no doubt activists all, indicating how she was inspiring the digital generation. It's almost like they deliberately overlooked it.
There's a reason why they did. The second thing they overlooked was this tweet from 2012, which is the real reason so many people feel the need to "vilify" Omar:
Israel has hypnotized the world, may Allah awaken the people and help them see the evil doings of Israel. #Gaza #Palestine #Israel

— Ilhan Omar (@IlhanMN) November 16, 2012
Advertisement - story continues below
And it's not exactly as if there's too much subtext to, "Israel has hypnotized the world, may Allah awaken the people and help them see the evil doings of Israel. #Gaza #Palestine #Israel." It's pretty much just text at that point.
Do you think Ilhan Omar should apologize for her old tweets?
It's not as if Omar is rushing to apologize, either. Take this representative "sorry not sorry" tweet about the "apartheid Israeli regime" when someone called her out on it via Twitter.
Drawing attention to the apartheid Israeli regime is far from hating Jews. You are a hateful sad man, I pray to Allah you get the help you need and find happiness. https://t.co/SvEXjlxlEN

— Ilhan Omar (@IlhanMN) May 31, 2018
Advertisement - story continues below
Thankfully, there have been plenty of distractions over these past few weeks, both government-wide and Omar-involved, which have let the Democrats quickly usher anyone who's remotely interested past the controversies she's created.
There were other puff pieces ("Ilhan Omar's Tweet About Being Sworn In To Congress Is So Meaningful," Elite Daily; "Ilhan Omar celebrates her journey from Somali refugee to member of Congress," Vox). There was the fact that, in a vacuum, the first Somali refugee to become a member of Congress would be an intrinsically inspiring moment.
But it's not. It's not just because of old tweets, it's not just because of the fact that she didn't apologize for them and it's not because she seems to have doubled down on her talk about the "apartheid Israeli state."
Also unmentioned is the fact that shortly after the election, Rep. Omar announced that she was for the BDS — Boycott, Divestment, Sanctions — movement against Israel after telling the electorate she didn't feel it was appropriate.
Advertisement - story continues below
During an August primary debate, according to The Forward, Omar told the audience that BDS was "not helpful in getting that two-state solution."
In an interview with the website MuslimGirl shortly after the election, however, it was stated that "Ilhan believes in and supports the BDS movement, and has fought to make sure people's right to support it isn't criminalized. She does however, have reservations on the effectiveness of the movement in accomplishing a lasting solution."
It's a quote that's been bandied about a number of times over the years, although I personally first heard it attributed to the legendary New York newsman Gabe Pressman by William F. Buckley: "Why spoil a good story with the facts?" Well, because Omar's position on Israel matters. There've been plenty of open anti-Semites in the halls of Congress over our 200-odd years as a nation, shamefully, but we've been moving in a better direction for over those centuries and it would be safe to say we probably wouldn't want to go back.
Therein lies the problem: Anti-Semitism isn't just lapping at the fringes of the progressive left anymore. The Women's March movement has been rocked by accusations of anti-Semitic behavior and — coincidence of coincidences — co-founder Linda Sarsour found herself in Ilhan Omar-related trouble after accusing Jewish liberals who took issue with Rep. Omar's BDS stance of having dual loyalties between America and Israel, according to the Jewish Telegraph Agency. In unmerrie England, hard-left Labour Party leader Jeremy Corbyn has been dogged by numerous rows over alleged anti-Semitism — and he could be the next prime minister of America's biggest ally.
Advertisement - story continues below
That's at a macro level. At a micro level, we still want to pretend that the controversy over Ilhan Omar is that she's Muslim and that she wears the hijab. It isn't. She's openly voiced her disdain for the state of Israel. She refuses to apologize for that disdain. She apparently believes the Jewish state to be morally equivalent to apartheid states like South Africa and Rhodesia and wishes to choke it off with the same sort of measures that were used against them.
In The Times' article, the closest the writers got to explaining why anyone might have an issue with the intrinsically awesome Rep. Omar is a Christian pastor who apparently had a problem with the newly minted congresswoman changing a 181-year-old rule about head coverings on the House floor, who said that America "is now going to look like an Islamic republic." That's apparently why she's being vilified. All the news that's fit to print, unless it creates a snag in the narrative-weaving.
Conversation