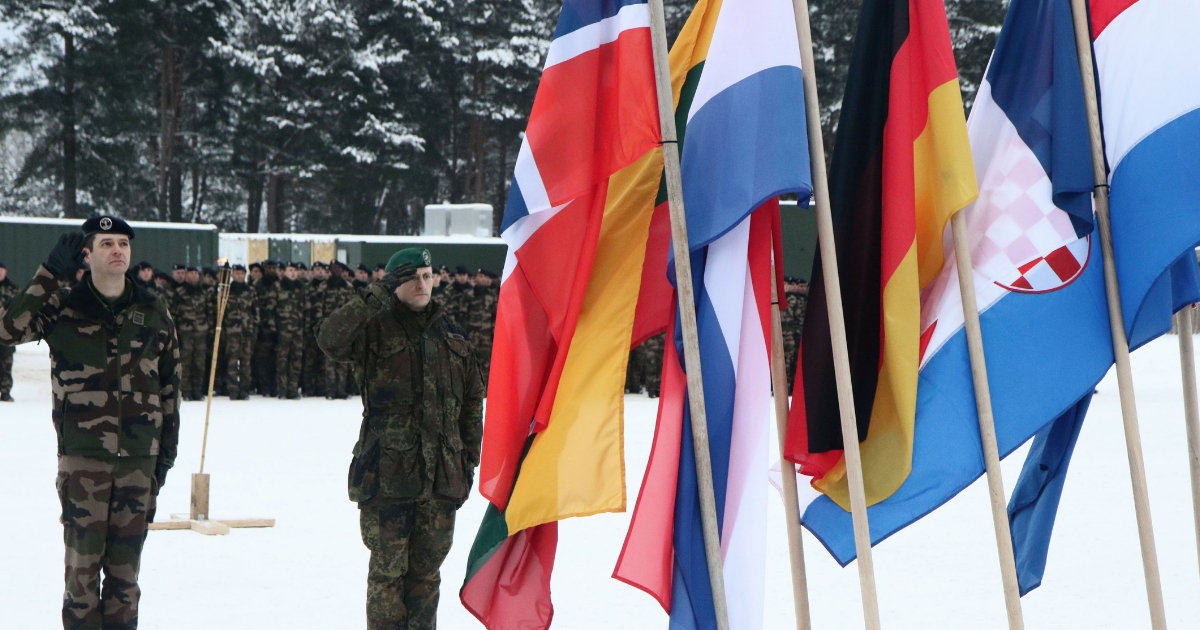 US Doubles Down on Treaty, Vows To Strike Russia If Necessary
America's envoy to NATO used strong, stark language Tuesday to describe a possible U.S. response to Russia's development of a missile system that could give Russia an edge in any future European conflict.
Ambassador Kay Bailey Hutchison said that if Russia continues to develop a ground-launched cruise missile of a type banned by the 1987 Intermediate-Range Nuclear Forces Treaty, the United States could have to "take out the missiles that are in development by Russia in violation of the treaty."
Hutchison's comment raised European eyebrows.
Advertisement - story continues below
"If she is saying that if the diplomatic route doesn't work we will destroy the missiles, that's obviously dangerous and risks triggering a war that could go nuclear," said Daryl Kimball, the head of the Arms Control Association, according to The Guardian. "I cannot recall anything like this in the post-Cold War period."
NATO Secretary General Jens Stoltenberg admitted the U.S. is not alone in its worries, CNN reported.
"After years of denials, Russia recently acknowledged the existence of a new missile system, called 9M729. Russia has not provided any credible answers on this new missile. All Allies agree that the most plausible assessment would be that Russia is in violation of the Treaty," he said.
Hutchison said now that Russia has been caught, it has a choice: stop work on the missile on its own or be forced to do so.
Advertisement - story continues below
"We have been trying to send a message to Russia for several years that we know they are violating the treaty. We have shown Russia the evidence that we have, that they are violating the treaty. They are building a medium-range ballistic missile in violation of the INF. That is a fact which we have proven," she said.
Hutchison said the U.S. is looking for ways to work with its allies that would bring Russia into compliance with the treaty.
Is the U.S. right to talk tough to Russia?
"But there will come a point in the future in which America will determine that it has to move forward with a development phase that is not allowed by the treaty right now. That's not imminent, but we are laying down the markers so that our allies will help us bring Russia to the table," she said, according to a transcript of her remarks released by NATO.
At that point, America will act, she said.
"The countermeasures would be to take out the missiles that are in development by Russia in violation of the treaty. So that would be the countermeasure eventually," she said.
Advertisement - story continues below
She was asked by a media representative if by "to take out" she meant to have the missiles withdrawn.
"Getting them to withdraw would be our choice, of course. But I think the question was what would you do if this continues to a point where we know that they are capable of delivering. And at that point we would then be looking at a capability to take out a missile that could hit any of our countries in Europe and hit America in Alaska," she said.
Hutchison said no action is imminent.
"We are not moving in that direction right now, but we are trying to tell Russia, and you know, the United States Congress told Russia last year when they passed the Armed Services Bill about this time last year, that we know they have violated the treaty and we are beginning the research capabilities that are allowed by the treaty to deter a medium-range ballistic missile. So I think they are on notice. I think Congress has spoken. And I think it is time now for Russia to come to the table and stop the violations that we know they are making," she said.
Advertisement - story continues below
Spokesman Dmitry Peskov said Russia "prefers not to pay extra attention to statements by ambassadors while we have too many uncertainties with the messages on the higher level."
Conversation
The Western Journal is pleased to bring back comments to our articles! Due to threatened de-monetization by Big Tech, we had temporarily removed comments, but we have now implemented a solution to bring back the conversation that Big Tech doesn't want you to have. If you have any problems using the new commenting platform, please contact customer support at
commenting-help@insticator.com
. Welcome back!