Commentary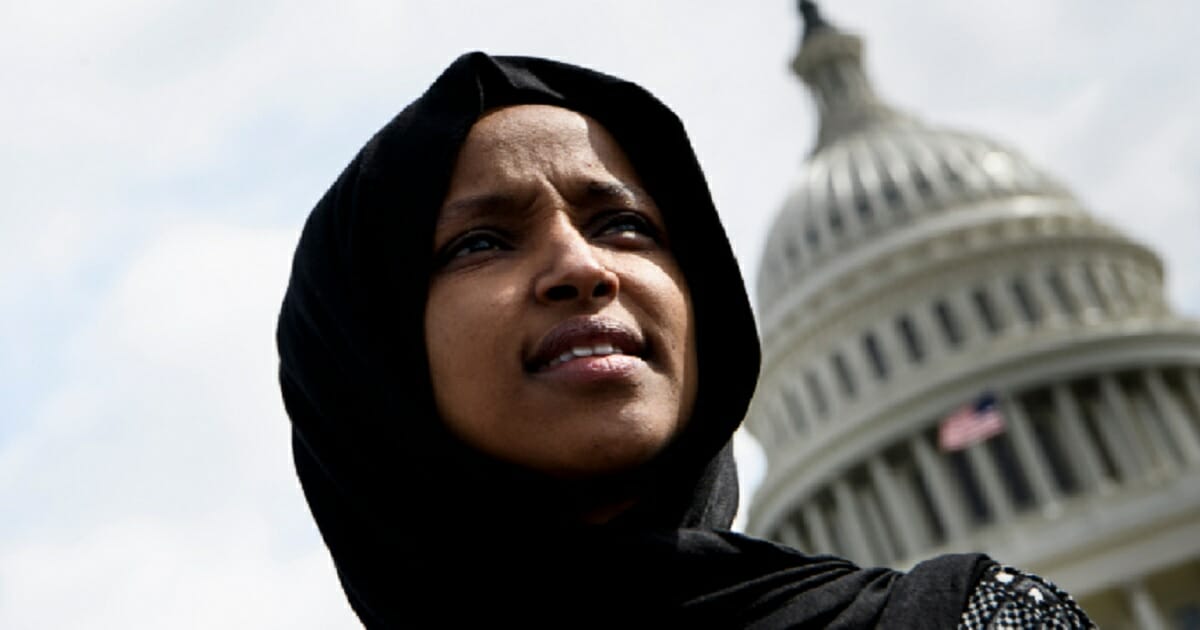 2020 Dem Hopefuls Throw American Values out the Window To Defend Omar's Despicable 9/11 Comments
If her rhetoric weren't so serious, Rep. Ilhan Omar could be described as the gift that keeps on giving.
From a political point of view, she makes liberals look so bad it can only be good for conservatives. And it helps that her fellow Democrats are willing to throw American values out the window to protect her, too — assuming those values existed in the first place.
Weeks after Democrats watered down a resolution designed to chastise the Minnesota representative for making anti-Semitic remarks — instead making it into a meaningless omnibus "all hatreds matter" bill — Democrats have rushed to the defense of Omar after President Donald Trump tweeted video of her making controversial remarks about the 9/11 attack.
Advertisement - story continues below
Omar made the remarks while speaking at a fundraiser for the Council on American-Islamic Relations back in March, saying that "CAIR was founded after 9/11 because they recognized that some people did something."
Trump tweeted out the footage interspersed with video of the attacks, along with the statement, "WE WILL NEVER FORGET!"
WE WILL NEVER FORGET! pic.twitter.com/VxrGFRFeJM

— Donald J. Trump (@realDonaldTrump) April 12, 2019
Advertisement - story continues below
The media was quick to note that the footage was "edited." As The Hill put it, "much of the criticism against Omar leaves out the end of her quote, in which she says many Muslims were unfairly connected with the attacks."
So what was the rest of the quote? "CAIR was founded after 9/11 because they recognized that some people did something and that all of us were starting to lose access to our civil liberties." That still reduces 9/11 to merely an instance where "some people did something."
Do you think Democrats should censure Ilhan Omar for her remarks about 9/11?
(Oh, and CAIR was founded in 1994; Omar's office said she misspoke and that she meant to say it grew in size after 9/11. I don't think too many people were concerned about that, however.)
Now, I totally understand that Democrats might try to minimize this. That's what our politics are, after all, and the Democrats have displayed a disgraceful reluctance to hold Rep. Omar fully responsible for literally anything she says.
What I didn't expect, however, was that a 2020 presidential hopeful would accuse the president of "inciting violence against a sitting congresswoman" by publicizing Omar's remarks.
Advertisement - story continues below
The "inciting violence" comment came from Massachusetts Sen. Elizabeth Warren, who said the remark also put every American Muslim at risk:
The President is inciting violence against a sitting Congresswoman—and an entire group of Americans based on their religion. It's disgusting. It's shameful. And any elected leader who refuses to condemn it shares responsibility for it.

— Elizabeth Warren (@ewarren) April 13, 2019
And she wasn't the only presidential candidate willing to take Omar's side.
Advertisement - story continues below
Omar's fellow Minnesotan, Sen. Amy Klobuchar, pointed out that some crazy guy made a phone call to Rep. Omar's office in which he allegedly threatened to kill her and therefore we can't criticize her for reducing 9/11 to "some people did something," or whatever:
Someone has already been charged with a serious threat on Congresswoman Omar's life. The video the President chose to send out today will only incite more hate. You can disagree with her words—as I have done before—but this video is wrong. Enough.

— Amy Klobuchar (@amyklobuchar) April 13, 2019
Pete Buttigieg, the mayor of South Bend, Indiana, also echoed the fact that since someone allegedly threatened Omar's life, none of her offensive utterances can be criticized.
Advertisement - story continues below
The threats against the life of @IlhanMN make clear what is at stake if we fail to to do this, and to beat back hate in all all its forms.

— Pete Buttigieg (@PeteButtigieg) April 13, 2019
Buttigieg is expected to officially announce his campaign for the Democratic nomination on Sunday, according to WSB-TV in South Bend.
Former Colorado Gov. John Hickenlooper and current Washington Gov. Jay Inslee are also apparently running for president.
Advertisement - story continues below
You'd be forgiven if you didn't know this fact, since both are below 1 percent in the RealClearPolitics polling average. Both of them, predictably, dismissed Omar's remarks and instead focused on the perfidy of President Trump for pointing it out.
President Trump's personal attack against Representative Omar is vile and shameful. It's not just below the office, it's dangerous and dishonest.

— John Hickenlooper (@Hickenlooper) April 13, 2019
President Trump's inflammatory and dangerous rhetoric towards Ilhan Omar is jeopardizing her safety. He is deliberately putting her and all Muslim Americans in harm's way.

— Jay Inslee (@JayInslee) April 13, 2019
Advertisement - story continues below
And then there was Bernie Sanders, who said that Omar had "strength and courage," as opposed to the "racism and hate" of Donald Trump:
Ilhan Omar is a leader with strength and courage. She won't back down to Trump's racism and hate, and neither will we. The disgusting and dangerous attacks against her must end.

— Bernie Sanders (@BernieSanders) April 13, 2019
Advertisement - story continues below
Your 2020 candidates, Democrats. It wasn't just them, obviously — but then again, the other Democrats willing to defend Omar at any cost aren't running for president.
In other words, core American values like respect for their country, respect for the lives of their countrymen, and a willingness to defend stand up for that country in the face of attack by foreign enemies, have been tossed out the window by the Democratic presidential field in a shameless bid to appease the party's far left flank (and its primary-activist base).
This oughtn't surprise any of us. Ilhan Omar has avoided any serious repercussions from her own party for obviously anti-Semitic remarks during her first few months in federal office.
Now, she's reduced what's inarguably the most traumatic event to befall America in the last half-century to "some people did something" — and top Democrats are claiming that merely pointing that out is an act of hatred against not only Rep. Omar but all Muslims.
Advertisement - story continues below
All the president's tweet did was point out what the representative said and juxtapose it with the horrors she dismissed with unfortunate flippancy.
Trying to whitewash Omar's remarks by accusing the president of Islamophobia is a disgrace. Rep. Omar shouldn't be able to hide behind her own party or idiots making death threats.
Enough is enough.
Conversation