Commentary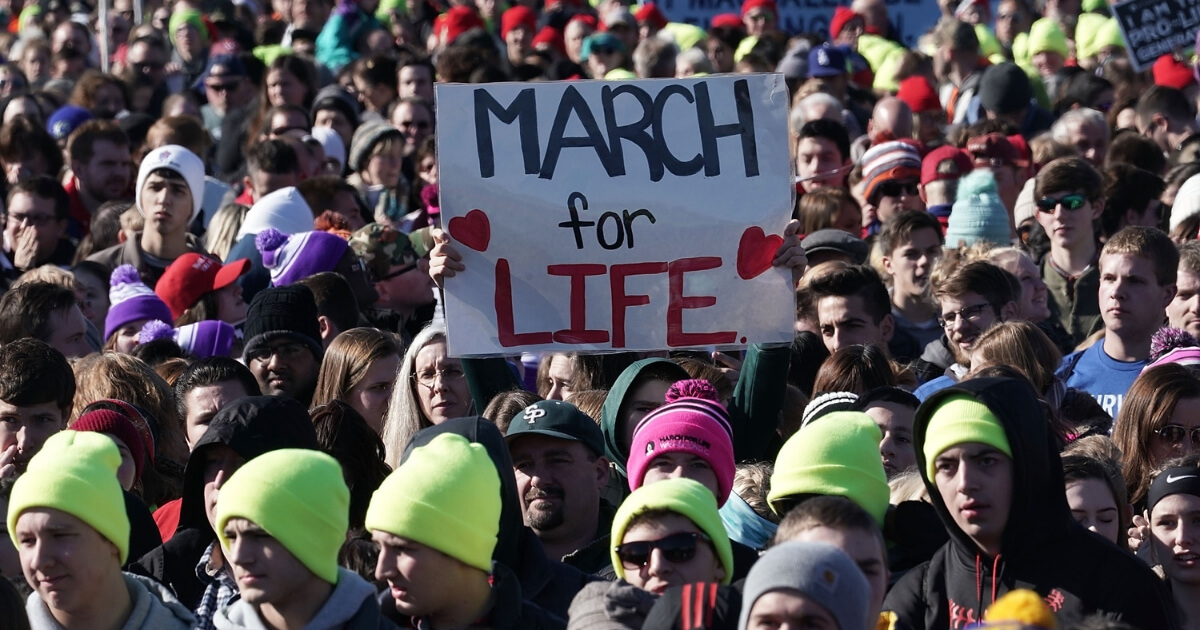 8 Democrats Join Republicans To Secure a 'Stunning Victory for Pro-Lifers'
A good sign for the pro-life cause: Democratic New Mexico lawmakers joined Republicans on Thursday to reject a proposal which would have repealed anti-abortion law.
The New Mexico House approved the bill, but it was defeated in the Senate by a vote of 24-18 when eight Democrats voted against it with Republicans, according to the Sante Fe New Mexican.
The Washington Times reports that the bill, House Bill 51, was introduced to repeal a 1969 law which makes ending a pregnancy illegal except in certain circumstances such as rape.
Advertisement - story continues below
While the law became mostly unenforceable since the Supreme Court's 1973 Roe v. Wade decision, it was not repealed.
However, following concerns that the court will revisit Roe v. Wade, abortion advocates have focused on repealing the 1969 law.
HB 51 would have repealed New Mexico law which makes it a fourth-degree felony to perform an abortion, according to the Sante Fe New Mexican.
It also would have repealed the only provision in New Mexico statute that specifically provides that a doctor may refuse to perform abortions on moral grounds.
Advertisement - story continues below
Elisa Martinez, executive director of the New Mexico Alliance for Life, told the Washington Times that HB 51 is "the most extreme abortion up to birth bill in the country."
While Thursday's vote didn't mark a change in existing abortion law, it showed both parties standing together in favor of pro-life ideology.
Do you think more Democrats will start voting pro-life?
The divisive subject reportedly drew hours of emotional discussion over this legislative session.
One Democrat who voted against the bill, Sen. Gabriel Ramos, pointed to his Catholic beliefs and urged those in the chamber to "vote your conscience."
"This is one of the toughest decisions any of us will ever have to make," Ramos told the chamber, as reported by the Sante Fe New Mexican. "I stand unified against legislation that weakens the defense of life and threatens the dignity of the human being."
Advertisement - story continues below
Besides Sen. Ramos, Democratic Sens. Pete Campos, Carlos Cisneros, Richard Martinez, George Munoz, Mary Kay Papen, Clemente Sanchez, and John Arthur Smith also voted against HB 51.
The president of the Family Research Council, Tony Perkins, pointed to the country's shifting views on abortion. He praised the Democratic senators, writing, "Their courage dealt one of the most significant blows of the year to the extreme abortion camp."
"In a stunning victory for pro-lifers, eight Democrats crossed over — killing a bill that would have legalized infanticide and given abortionists the right to destroy babies up to the moment of birth," Perkins wrote on Friday.
"New Mexico's bill was supposed to be a slam dunk. But after New York, nothing on abortion is a sure thing — not anymore," Perkins wrote on Friday.
Advertisement - story continues below
In January, law was passed in New York which codified the right to abortion and permits abortions after 24 weeks. Despite the law passing in New York's fully-Democrat controlled legislature, the extreme pro-abortion law has faced backlash from around the country.
Still, the New Mexico Senate's vote may have come as a surprise to some pro-abortion advocates who counted on Democrats voting pro-abortion.
Newly elected Democratic governor Lujan Grisham of New Mexico had strongly urged for the passing of the proposal. After Thursday's vote, she wrote in a public statement that she was "disappointed" in the outcome.
"This old, outdated statute criminalizing health care providers is an embarrassment," Grisham said. "That removing it was even a debate, much less a difficult vote for some senators, is inexplicable to me."
Advertisement - story continues below
My statement on #HB51: pic.twitter.com/d1FVp6aw0V

— Gov. Michelle Lujan Grisham (@GovMLG) March 15, 2019

The fact that the Democratic party has made being pro-abortion part of its mainline position does show how notable it is that many Democrat senators voted against the bill. It may reflect a change in how the country views abortion and abortion restrictions.
Hopefully Democratic lawmakers from other states will follow New Mexico's lead and be willing to cross party lines in defense of life.
Conversation