Commentary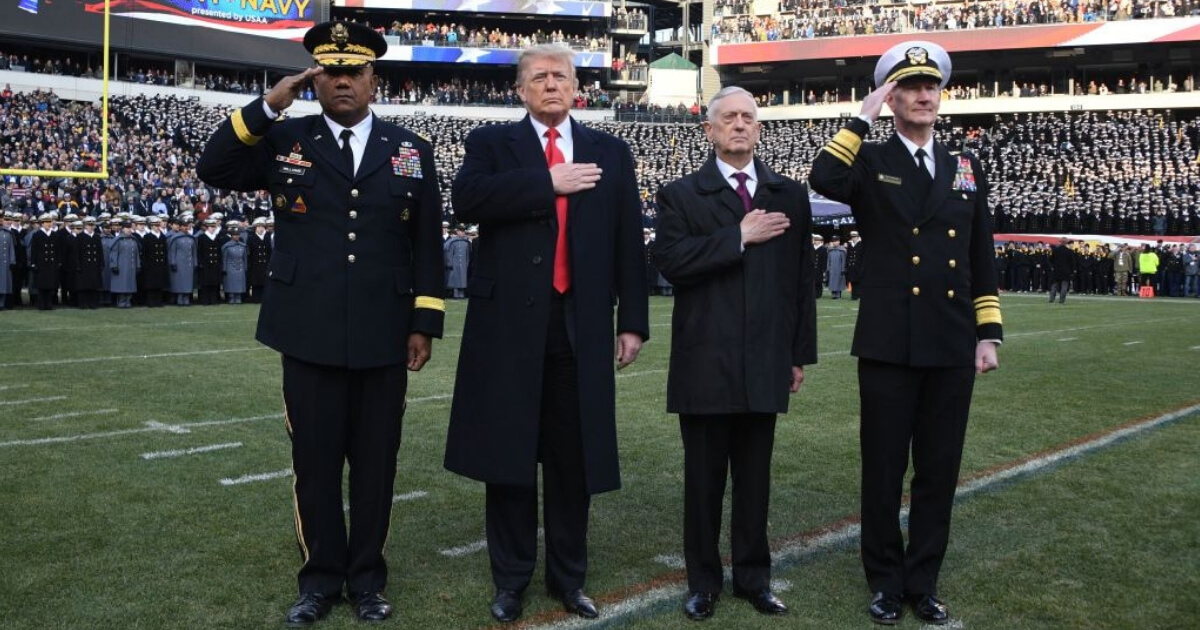 Anthem Protesters Take Note: Trump Stands Strong with Army/Navy for Incredible National Anthem Rendition
As a huge football fan, few developments were more infuriating than the proliferation of anthem protests in the league.
Maybe the only thing other more infuriating was the sheer incompetence of NFL commissioner Roger Goodell in dealing with the protests, but that's a lengthy rant for a different time.
To be fair, anthem protests within the NFL are at an all-time low since they began in 2016, and it's probably not a coincidence that NFL ratings are on an upswing after some precipitous falls.
Advertisement - story continues below
It certainly helps that the majority of NFL players are patriots (not of the New England variety.)
But even having just two players kneeling for the national anthem are two players too many.
Look, a part of me gets it — NFL players are well within their American rights to peaceably protest.
But there's a time and a place for everything, and the national anthem simply isn't the time or place for socio-political discourse.
Advertisement - story continues below
You can't blame the countless Americans who find the act of kneeling during the anthem to be the ultimate form of disrespect to the flag, the military and law enforcement.
But while the NFL continues to figure itself out, college football has been notably absent from such melodrama.
Will there still be NFL players protesting the national anthem next season?
In fact, college football's reverence for the national anthem and the American flag was never more clear than the 119th game between the Army Black Knights and the Navy Midshipmen.
Army won its third straight game against Navy on Saturday with a solid 17-10 win, but the best moment came before a single snap was played.
President Donald Trump was in attendance for the game, and he has been as vocal of a critic of the NFL's anthem protests as anyone.
Advertisement - story continues below
The NFL players are at it again – taking a knee when they should be standing proudly for the National Anthem. Numerous players, from different teams, wanted to show their "outrage" at something that most of them are unable to define. They make a fortune doing what they love……

— Donald J. Trump (@realDonaldTrump) August 10, 2018

Keeping his sharp NFL criticisms in mind, Trump was standing at full attention for the playing of the anthem before the Army-Navy game.
The Army-Navy joint rendition of the National Anthem is perhaps the most beautiful rendition you will ever hear.

It will give you chills 🇺🇸

God bless America.

God bless the young, kickass men and women of our Armed Forces. pic.twitter.com/rfIIXueTrp

— Benny (@bennyjohnson) December 8, 2018

It was a truly beautiful and goosebump-inducing rendition of the anthem played before the game.
Advertisement - story continues below
And to be clear, the anthem was made all the more amazing because the leader of this awesome country stood tall and proud for the anthem.
Conversation